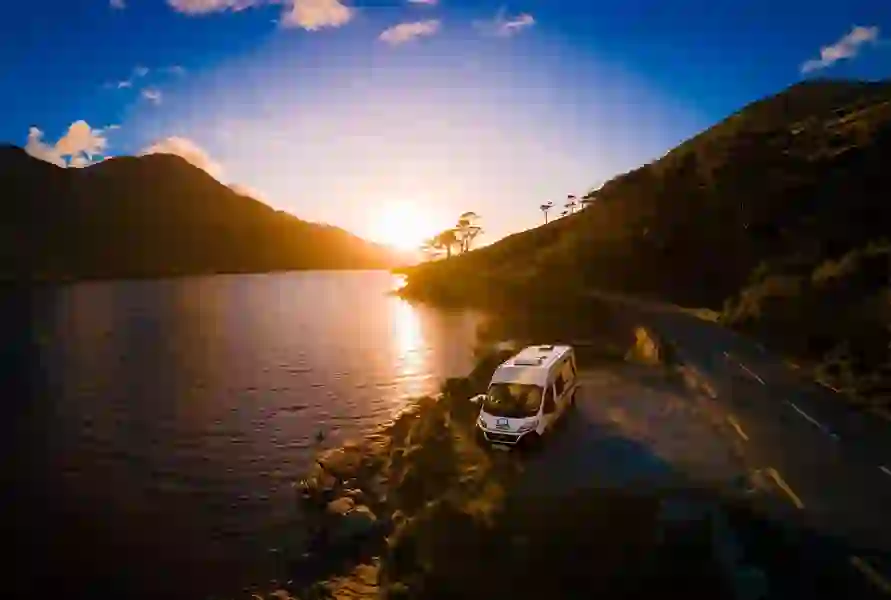 Camper van holidays in Ireland
A camper van holiday is a great way to explore the island of Ireland. From traversing epic routes such as the Wild Atlantic Way or the Causeway Coastal Route, to going off the beaten track to see hidden gems, you get to see the Ireland's wondrous landscapes on your own terms. You're in the driving seat on this trip, literally!
But before you embark on this exciting adventure through valleys, glens and colourful towns and villages, you'll need to know the basics. This handy page covers everything from the rules of the road and campsite locations to information on parking up for the night. So hop in, buckle up and let's hit the road...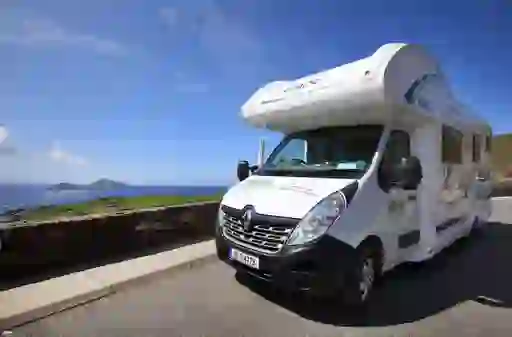 5 top tips
Vehicles drive on the left-hand side of the road on the island of Ireland.
You cannot park up for the night in a camper van anywhere without permission.
Campsite rates vary but expect to pay between €35-€60/£30-£50 to park per night.
You can travel to Ireland with your own camper van, crossing by ferry from the UK or Europe to Dublin, Cork or Rosslare.
Book overnight parking spaces in advance during the high season (July-August).
Camper van hire
To hire a camper van on the island of Ireland, you must hold a valid driver's licence or an international driving permit. It's a good idea to obtain travel insurance before your trip as well. Rental prices vary by season and vehicle availability, so make sure you shop around to get the best deal! Expect to find them from about €245/£215 per night, or roughly €2,600/£2,270 for a month-long rental. When collecting your camper van, don't forget to bring your driver's licence and a credit card in the name of the renter.
The camper vans themselves come in all shapes and sizes. Most vehicles sleep either two, four or six people. So whether you're a van life couple or a family of six, you'll find the perfect home on wheels here in Ireland. For more information on what to book and where, visit our camping and caravanning hub.
Driving laws
Everyone in your camper van must wear a seat belt at all times.
It's against the law to drive under the influence of alcohol or drugs.
It's against the law to drive while using your mobile phone.
Toll roads
There are no tolled roads in Northern Ireland.
There are tolled roads in the Republic of Ireland. Generally, you can pay at the toll booth on the road using either coins or a debit/credit card.
The M50 eFlow Barrier System is an exception. This is a barrier-free toll system on the M50 ring road around Dublin. You must pay the toll before 8pm the next day and can do so online or in branded Payzone outlets.
Service stations
There are plenty of service stations, particularly on main routes.
Simply fill up at the pump and go inside the station to pay. Most service stations accept credit cards and cash. Some will have self-service pumps, so you can just pay and go.
Signposts
In the Republic of Ireland, road signs show distances and speed limits in kilometres.
In Northern Ireland, road signs show distances and speed limits in miles.
Dos and don'ts
Don't pitch up anywhere on site. Most campsites have dedicated pitches and will allocate you a spot.
Do dispose of your rubbish and recycling in the correct bins on site.
Don't let children wander around the campsite unsupervised.
Do observe quiet times on campsites, such as late at night and early in the morning.
Gas and electricity
Bring an adequate supply of gas for your visit to avoid difficulty with replenishing the stock. Ensure appliances are installed and maintained correctly. Ensure there is adequate ventilation in your camper van and use a carbon monoxide alarm.
Most campsites offer between 6 and 10 amps. The blue Euro male/female connection is standard.
Other queries
Check-in and check-out times vary between campsites. Check directly with the campsite before you travel.
Each campsite has its own rules about allowing pets or not. EU Member State citizens can bring their pet cat or dog if they have an EU Pet Passport. For more information, see our page about bringing your pet to Ireland.
Rest areas
Motorways have pull-in areas for short rest stops.
Smaller countryside and coastal roads also have rest areas where you can pull in, stretch your legs and enjoy the view.
Parking up for the night
Your final destination for the day should always be an authorised place to stay.
Book parking spaces in advance during the high season (July-August).
Disabled parking spaces
If you have an EU Parking Permit for People with Disabilities, you can use this in any vehicle in which you're travelling. UK Blue Badges and Australian and New Zealand Disability Parking Permits can also be used on the island of Ireland.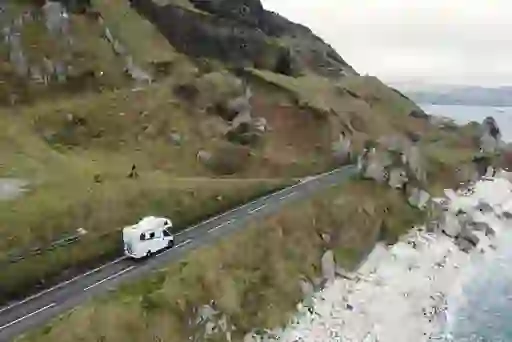 Top places to visit
Many campers head straight for the west of Ireland, where tourist favourites such as the Cliffs of Moher and Killarney await. Inch Beach Campsite in County Kerry is an excellent hub from which you can explore this breathtakingly beautiful region.
In Northern Ireland, Kilbroney Caravan Park in County Down is a good bet for outdoorsy types. Here, you can explore Kilbroney park, forest and the nearby Mourne Mountains. Dust off those hiking boots!
Elsewhere, both Lough Key Caravan & Camping Park in County Roscommon and Dunmore East Holiday & Golf Resort in County Waterford promise fun for all the family, with a range of activities including swimming, tennis, kayaking and zip lining.
For a detailed overview of campsites, including glamping, family friendly, countryside and city break options, visit Camping Ireland, the official website of the Irish Caravan and Camping Council.
Also, our Camping on the island of Ireland page contains valuable information on sustainable camping, luxury glamping spots, mobile home sites and much more.