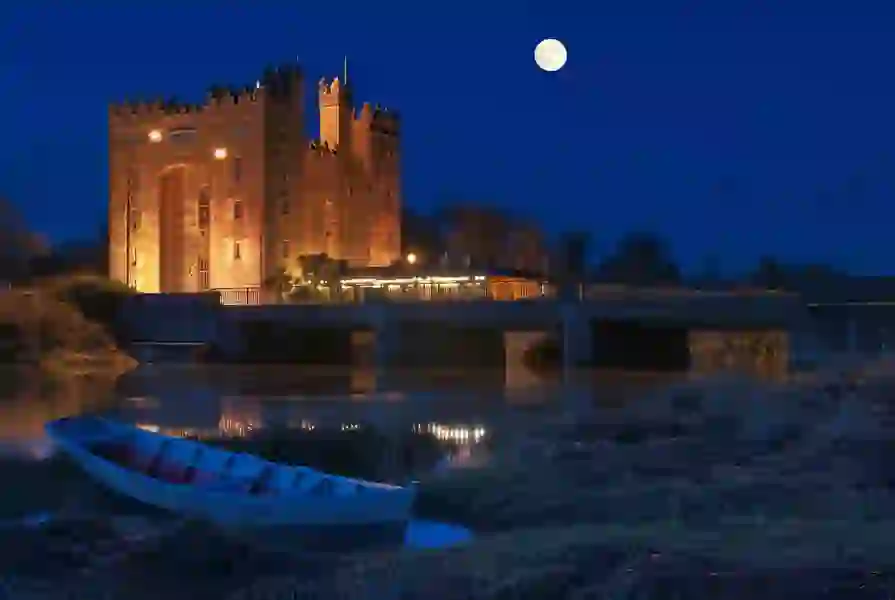 10 fun things to do in Ireland at night
The craic (fun) doesn't stop on the island of Ireland when the sun goes down, you just need to know where to find it! Luckily, we've hopped aboard a haunted house on wheels, dined at some of the finest establishments on the island and kayaked under starry skies to bring you 10 of the very best late-night activities that Ireland has to offer.
Welcome to the dark side...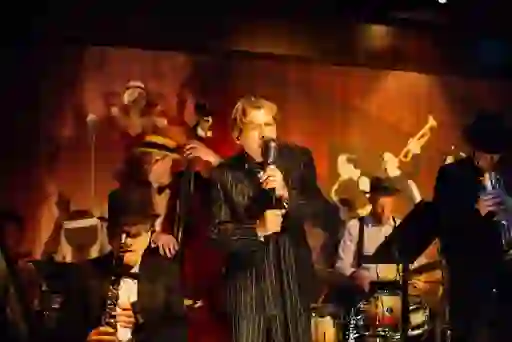 1. Bert's Jazz Bar, Belfast
Jazz hands at the ready, we're off to Bert's Jazz Bar in Belfast, the only dedicated jazz spot in the city. Not only is Bert's home to live jazz music seven nights a week (and Sunday afternoons), this sophisticated locale is part of the five-star Merchant Hotel, so there's a top-quality French bistro-style restaurant on site, too. Add to that a killer cocktail menu inspired by iconic jazz capitals of the world, and you've got all the ingredients for a perfect night out.
Historically known as the home of the Titanic, Belfast is fast garnering itself a reputation as a top city for live music, thanks to places like Bert's. In fact, the city was recently named a UNESCO City of Music, the only hub on the island of Ireland with this prestigious accolade. That's music to the ears of those who love a bop on a night out.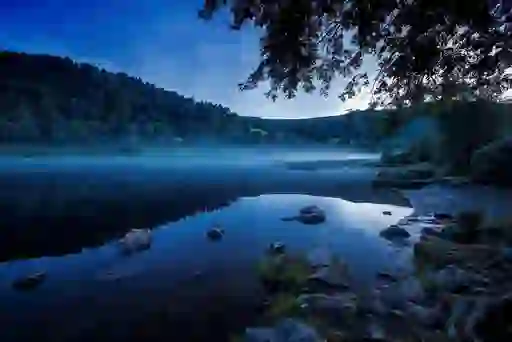 2. Glendalough Night Hike, County Wicklow
County Wicklow is one of the most beautiful counties in Ireland, its natural wonders earning it the nickname – the Garden of Ireland. So, it's saying something that even in such a gorgeous part of the island, Glendalough manages to stand out as an extra special bit of Ireland eye candy.
Enter Wild Summits, which provides a night hike and a history tour of the area. Seeing Glendalough by day is lovely, but at night you can watch Sika deer graze at sunset, see the beauty of the 6th century monastic site in darkness and experience the Milky Way reflected in the valley's pristine lakes. It's an experience you'll remember forever. The 14km-long route takes around five hours to complete and is led by a qualified guide who will regale you with local tales and folklore along the way. Ready for the hike of your life?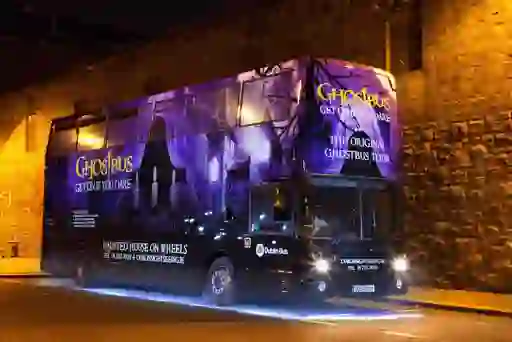 3. Ghostbus Tour, Dublin
As the home of Halloween, we know how to put on a frighteningly fun event in Ireland! Case in point: the Ghostbus Tour in Dublin, which, unlike spooky season, runs all year long. If you're a fan of horror movies or scary escape room attractions, then this is the bus to catch on the streets of the fair city.
The ghoulish experience begins as soon as you board the bus, as maze-like chambers lead to a Victorian theatre on the top deck, where professional actors will shed light on Dublin's dark side. We're talking body snatchers, paranormal goings on and even a stop off at a hidden city graveyard. Thrills and chills are guaranteed, if you dare to take a seat...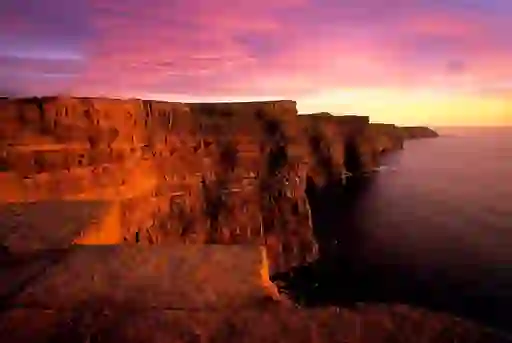 4. Cliffs of Moher Experience at Sunset, County Clare
The Cliffs of Moher in County Clare are a star attraction on the island of Ireland. Hail, rain or shine, visitors to these majestic sea cliffs are invariably wowed by their elemental beauty. So, you can imagine how wondrous a spot this is at sunset, as the sun goes down over the horizon of the seemingly endless Atlantic Ocean.
The good folks at the visitor centre realised what a special time sunset is at the cliffs, too, resulting in the Cliffs of Moher Experience at Sunset. With fewer tourists around in the evening time, it'll feel like you have the cliffs all to yourself as you wander along this iconic stretch of coastline. Seeing gorgeous sunset hues hit those timeless, sheer cliffs is a true Ireland WOW moment.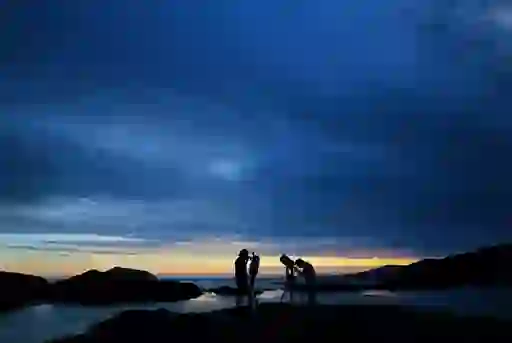 5. Kerry International Dark Sky Reserve, County Kerry
A darkness has fallen over "The Kingdom" of County Kerry. Luckily for you, the results are out of this world. The Kerry International Dark Sky Reserve is a Gold-Tier location for dark skies, due to the lack of light pollution in this remote part of the island. Access to the reserve is free but stargazing tours are also available.
If you opt for a guided experience, local tour operators will explain the moon's phases, point out planets and trace the outline of famous star constellations, as well as teach you the myths and legends associated with the night sky in Ireland. It doesn't take a pair of high-powered binoculars to see that this is one magical expedition, but you'll be provided with them nonetheless. All of this stargazing in Kerry talk has us thinking about the time Star Wars came to town, but that's a tale from outer space for another day...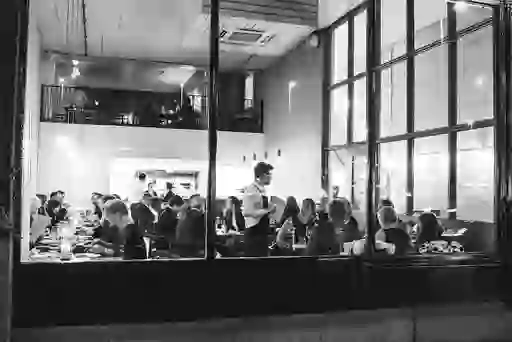 6. Michelin star dining
Excellent food is an integral part of any holiday, and Ireland doesn't disappoint in this regard. If you want to take your dinner experience to lofty new heights, we suggest booking a reservation at one of the island's many Michelin-star restaurants. From our grass-fed beef and fresh seafood to superior dairy products, Ireland's homegrown produce is second to none. Put such ingredients into the hands of the right talented chef and the results are award-winningly delicious!
In Dublin, Chapter One by Mickael Viljanen, Restaurant Patrick Guilbaud and Liath in the south County Dublin village of Blackrock lead the way with two stars each. Elsewhere, the Wild Honey Inn in County Clare is Ireland's only Michelin-starred pub, OX in Belfast highlights ingredients native to Northern Ireland and Dede in County Cork sees chef Ahmet Dede mix his Turkish culinary heritage with produce from the local area. Now, which one to book first?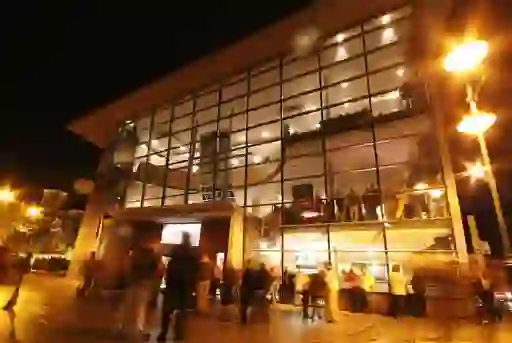 7. World-class theatre
Ireland's theatre scene is renowned around the world. We've got famous playwrights, from the Nobel Prize-winning Samuel Beckett to modern greats such as Enda Walsh and Marina Carr. And we've a plethora of incredibly talented stage actors, including Ciarán Hinds and Ruth Negga. As for the theatre venues themselves? Historic spots such as the Gate Theatre and the Abbey Theatre mix with newcomers such as the Project Arts Centre to keep the scene fresh, creative and of a very high quality.
The Dublin Theatre Festival is a calendar highlight every year, but there are great shows going on all the time in theatres across the island. Whether it's a festive pantomime in Cork Opera House, a classic Irish production in the Druid Theatre in Galway or a fun musical in the Millennium Forum in Derry~Londonderry, whichever part of Ireland you visit, a fun night out at a show is always a possibility.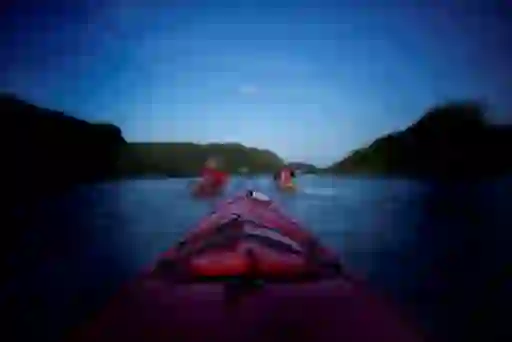 8. Lough Hyne Night Kayaking Tour, County Cork
Water activities abound on the island of Ireland, but it's usually difficult to do them in the dark! Not so when it comes to Atlantic Sea Kayaking, which provides a night kayaking tour of Lough Hyne in West Cork – a rare saltwater lake. The salt makes the water in the lough extra buoyant, so staying afloat is a breeze.
The gentle trip takes you from dusk into darkness, where you'll see the sunset, the rising moon and the starry night sky – all weather permitting, of course. During the summer, you might even see the bioluminescence in the water. If it sounds peaceful, that's because it is! Lough Hyne was also designated as Ireland's first Marine Nature Reserve in 1981, so be on the lookout for crabs, fish and seabirds as you glide along.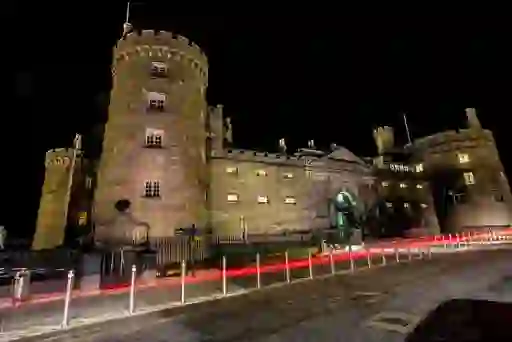 9. Kilkenny Ghost Tours, Kilkenny
A spooky walking tour in Kilkenny just makes sense. With narrow cobbled alleys, medieval ruins and a mighty castle, this historic city in Ireland's Ancient East was made for such experiences. Tours go daily at 8pm and are led by a local guide, and while the tales told are paranormal, they are all based on real stories and tragic events from the area.
Wearing a witches hat, cape and with lantern in hand, you'll traverse the dark lanes, ancient graveyards and eerie chapels of the city. Ghostly figures are even said to appear during the route, including fearsome historical characters such as the highwayman and Dr Death! Are you brave enough to book it?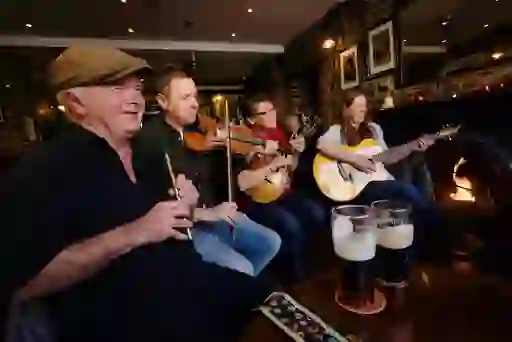 10. Trad music session in a pub
Failing all of these fun things to do at night, you could always go for the tried and tested evening out in Ireland – the local bar! Ireland's pubs are world-famous for their warm welcome, lively atmosphere and excellent selection of drinks. They're a bucket-list essential on a trip here. If you don't post a snap of a Guinness or whiskey by a roaring fireside, did it even happen?!
For a truly memorable pub night, take in a traditional Irish music session. The Mulligan family have been playing music in The Cobblestone in Dublin for five generations, so you know it's going to be good. The Crosskeys Inn in County Antrim is Ireland's oldest thatched pub, and local musicians often raise the famous roof here with their tunes. For a longer list of bars to visit for a jig, see 10 great traditional music pubs.