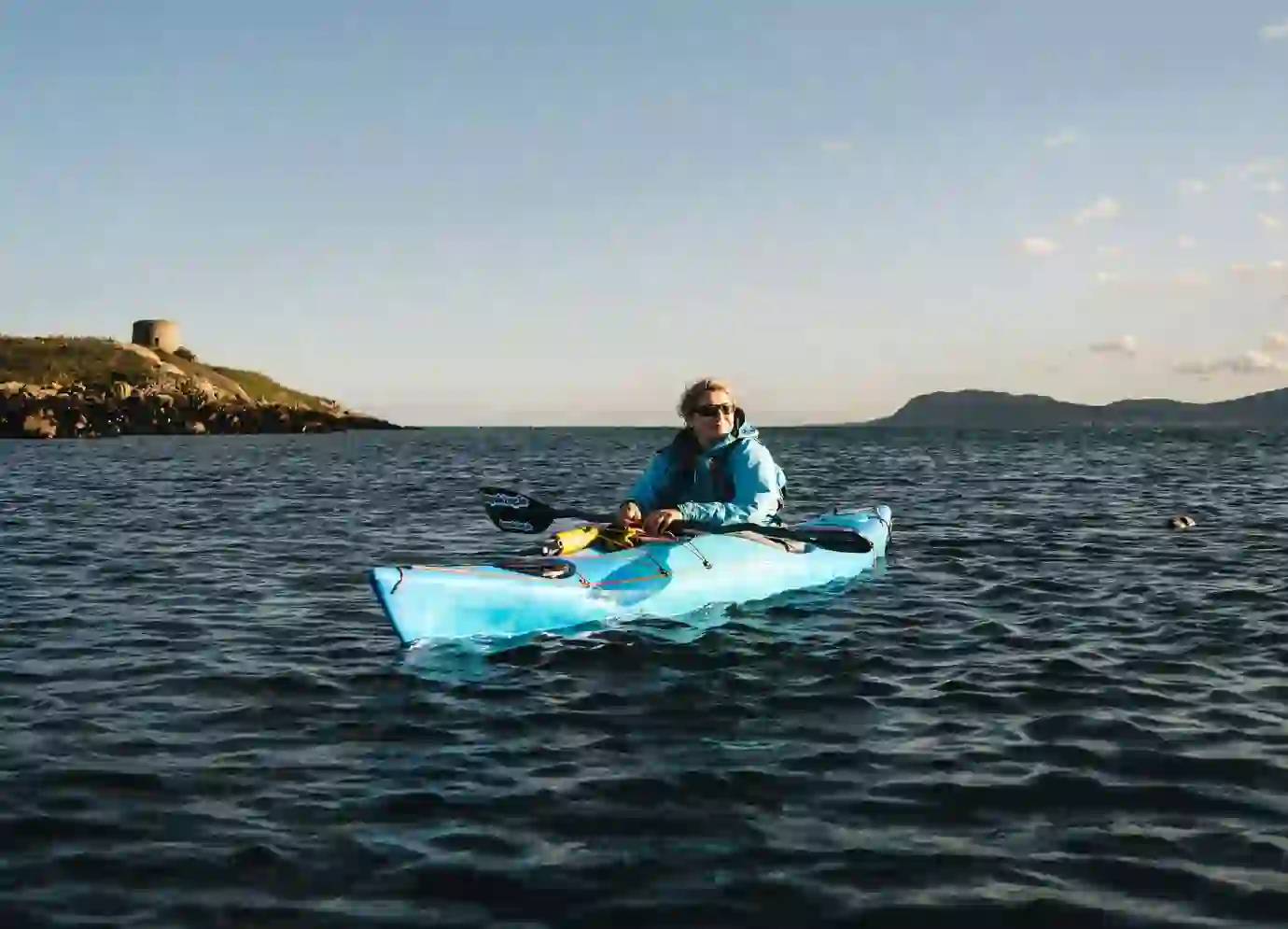 Kayaking on Dublin Bay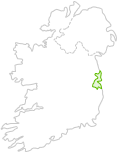 Dublin
There is a seal waving at us, silhouetted against the evening sky like a reclining monarch, head high and tail too, back arched on the rock with front flipper raised like a hand in salutation to her passing subjects. She could be the queen of Dalkey Island, half sea creature, half land mammal – one of the mermaid-like Selkies, perhaps, of which Celtic legends tell.
She'll have been basking on that rock all afternoon, our kayaking tour guide Jenny Kilbride tells us, and now that the tide is rising around her, she's not quite ready to get off her perch and back to the high-tide work of fishing for her supper.
We float in repose nearby, taking a welcome rest from our easy-paced sea-kayak trek from Bullock Harbour along the rocky coastline of south county Dublin. As our eyes adjust, more of this queen's court of seals emerge from hiding in plain sight on the rocks.
Their mottled skin is brilliantly camouflaged by the seaweed and lichen-covered rocks, shades of slate grey and taupe brown inflected with hues of egg blue and creamy white. Soon we can spot dozens of them, melting out of the living landscape that they are an integral part of. Not that they need to hide: there are no seal predators here.
"This is seal paradise," Jenny confirms. "They have their rocks to bask on, all these delicious cold-water fish to catch and no-one to disturb them. The boats can't get near them because it's too rocky at this end of the island, so it's only us kayakers, and we don't bother them."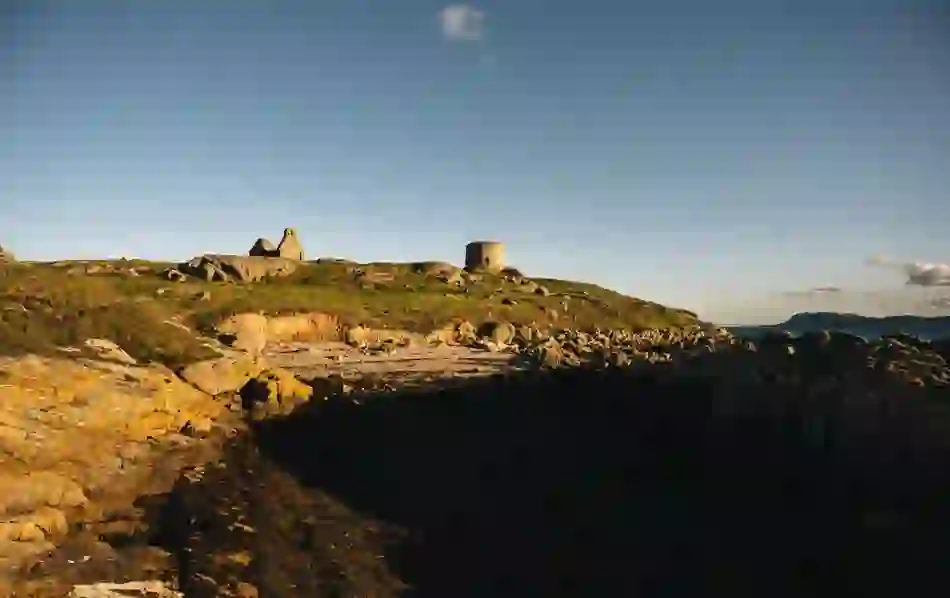 As we bob in the water the seals sing to us – well, to each other, but us groupies get to listen in too. A long-legged heron silently stalks the shore, and a cormorant pops his little black head up out of the water for a quick listen. A pair of arctic terns squabble in the sky before getting back to the business of high-speed diving for fish.
Others cry a high song that is carried over the low-lying island, echoing in the crowded warrens of rabbit holes, down past the Martello Tower (one of some 48 built on Ireland's east coast in fear of a Napoleonic invasion that never came) as far as the old British ammunition battery building that the island's herd of wild goats have long since colonised.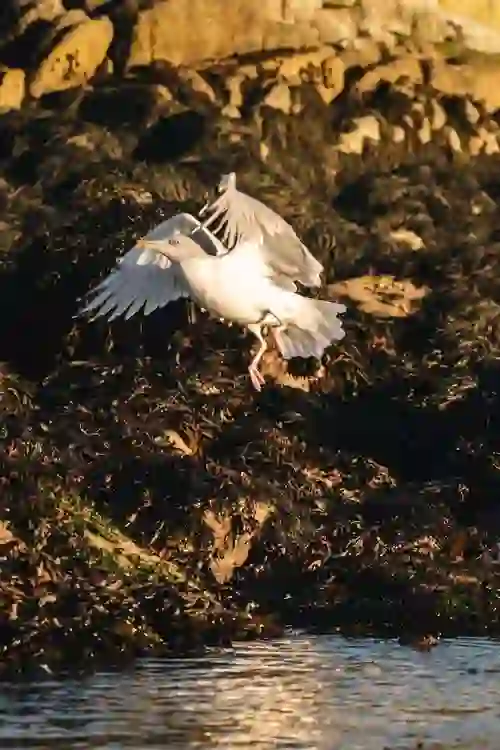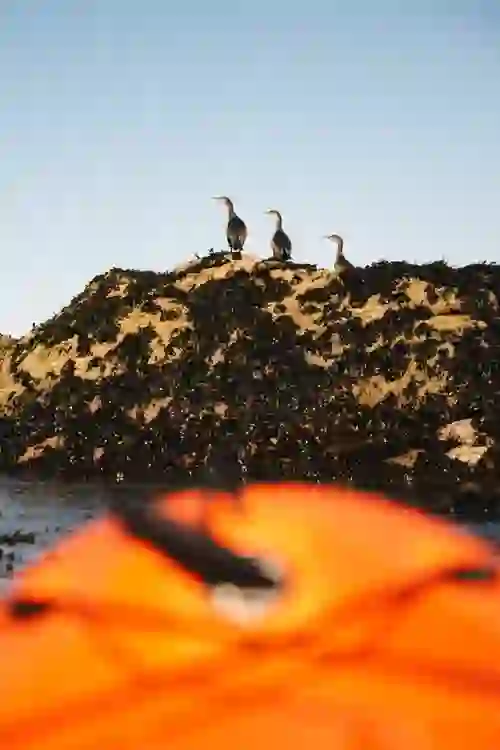 "Terns have the longest migratory path of any bird, flying from the Arctic Circle to the Antarctic and back every year."

Jenny Kilbride, Kayaking.ie
No wonder they and other sea birds love to rest, nest and roost here in the summer months. Their numbers were decreasing so local conservationists have fashioned Dalkey Island (and nearby Lamb Island and Maiden Rock) as a tern paradise too, including erecting canes to deter predatory seagulls from swooping to steal their eggs. In 2019, Arctic terns raised chicks on Dalkey Island for the first time on record. Of course, visitors to the island are asked to respect the ongoing conservation efforts and to avoid disturbing the birds. Lamb Island and Maiden Rock are both closed to the public.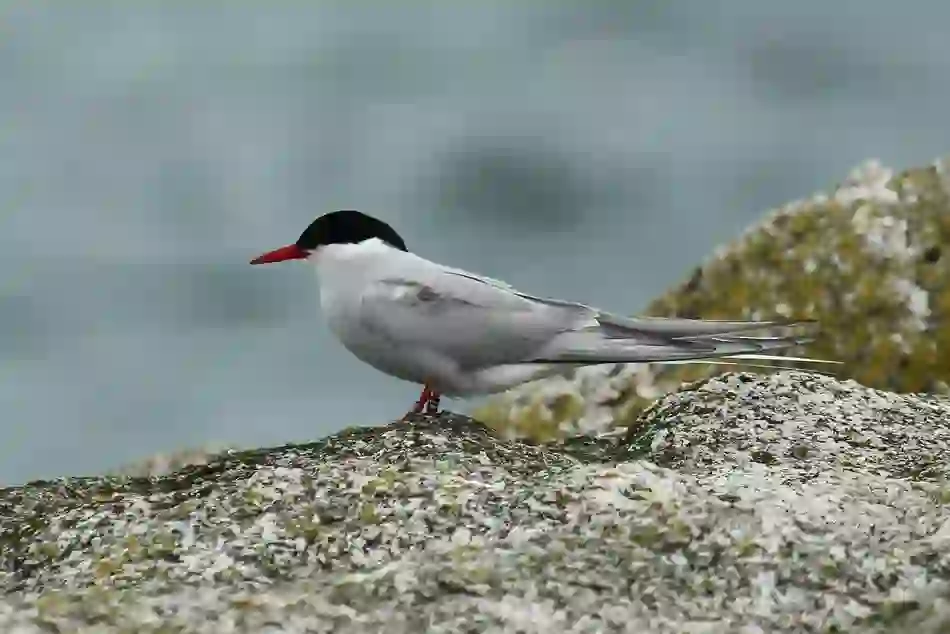 Even without tern nests to raid, it's something of a seagull paradise too, between the seaweed forests of kelp and bladderwrack and sea spaghetti that get exposed at low tide, and the tiny crabs that scuttle along the shore. The rocks above the high tide mark are inhabited with many nests – hangouts for the darker teenage seagulls that you never see in the capital city just 13km away.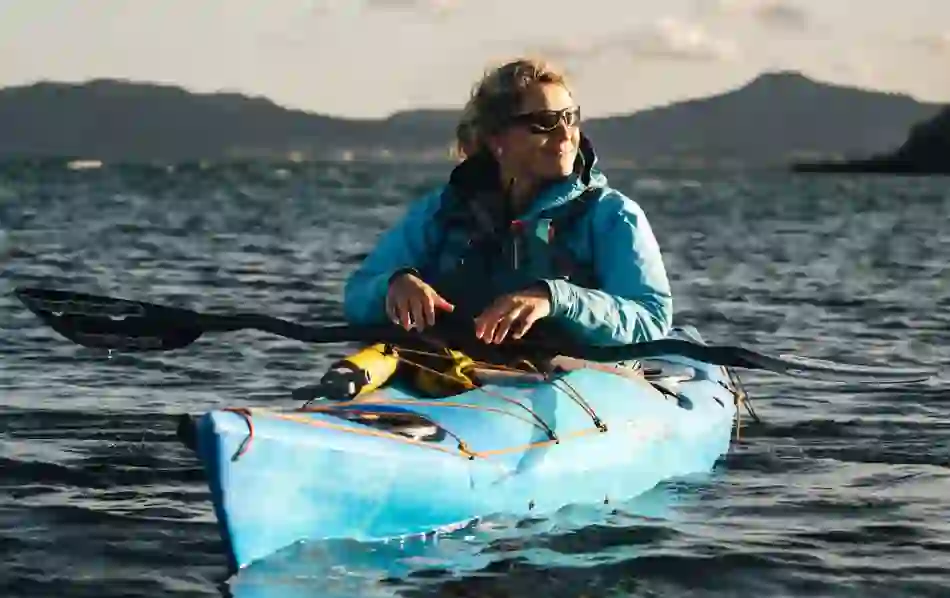 We are at the westerly end of Dalkey Island, a small outcrop of nine hectares just off Sorrento Point, which is the most southerly tip of Dublin Bay and the counterpoint to Howth Head over north. We can see the full sweep of Killiney Bay too, framed by Bray Head and the Sugarloaf and Djouce mountains in the background and Vico Road in the foreground, from which a steady stream of swimmers have been descending all day to dive off rocks into waters regularly frequented by pods of porpoise and dolphins.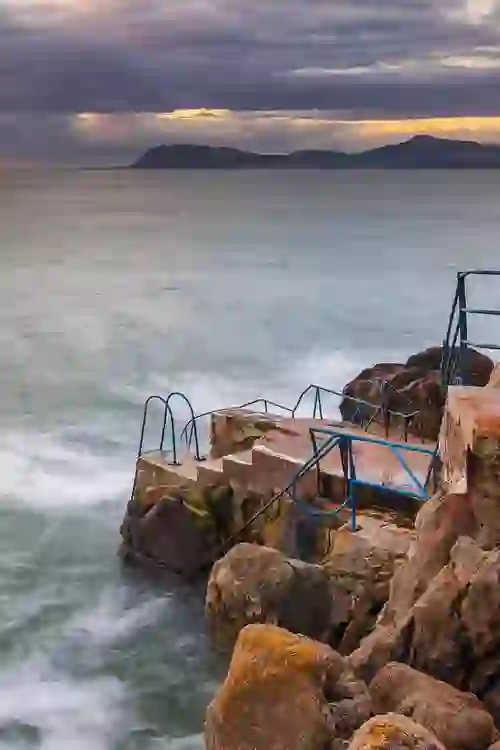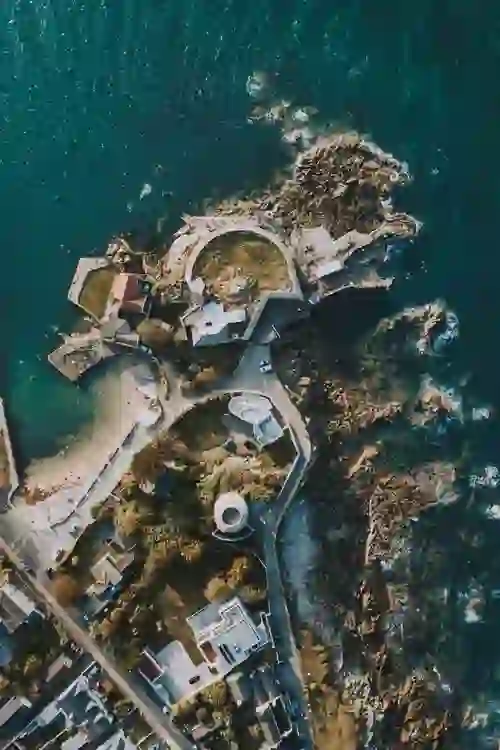 I grew up bathing in these brisk magical waters: learning to swim in the tidal safety of Monkstown's blue-flag Seapoint beach, and later in deep waters at the Forty Foot in Dun Laoghaire, its "snot green sea" immortalised by James Joyce in the opening chapters of Ulysses.
The Victorian bathing spot known as "The Vico" is my most cherished place to swim, with spectacular views that never get old. Even as a local for whom these waters are home, however, I am learning so much on this sunset kayaking trip.
Jenny is full of stories about the island's lively history. I learn that remains of arrowheads and axes show this island was inhabited from the Neolithic Stone Age; that fragments of ancient pottery suggest it may have been a trading post for the Romans, and certainly for Vikings and Normans.
And that before Captain Bligh (yes, he of the mutiny) suggested building the Bull Wall in the early 19th century as a sea wall to divert the bay's treacherous sandbanks, the area around Dalkey Sound was a key landing point for precious cargo.
So precious, indeed, that seven local castles were built in what is now the heritage village of Dalkey to protect it. Marauders were hung from gallows on the rocky outcrop from which the Muglins Lighthouse now rises, as a warning to wannabe pirates that crime doesn't pay.
Nor did I know that Dublin Bay is a protected UNESCO Biosphere Reserve, recognised for its unique biodiversity. "Actually most Dubliners I chat to don't realise that," Jenny tells me, "and that we're the only capital city in the world to be located within a biosphere, which is pretty cool."
"We're so lucky to have all this incredible nature just a short train ride from Dublin city," she says. "I particularly love coming out here on the kayak, even more than in a boat, because you're so close to the water, and you really feel a part of it."
Kayaking is akin to cycling: travelling at a slower pace, you have time to see and hear and smell details that are lost from a motorised vehicle. You can reach places that others can't, hug the coastline, dart into small bays, bob behind rocks to spy on seals.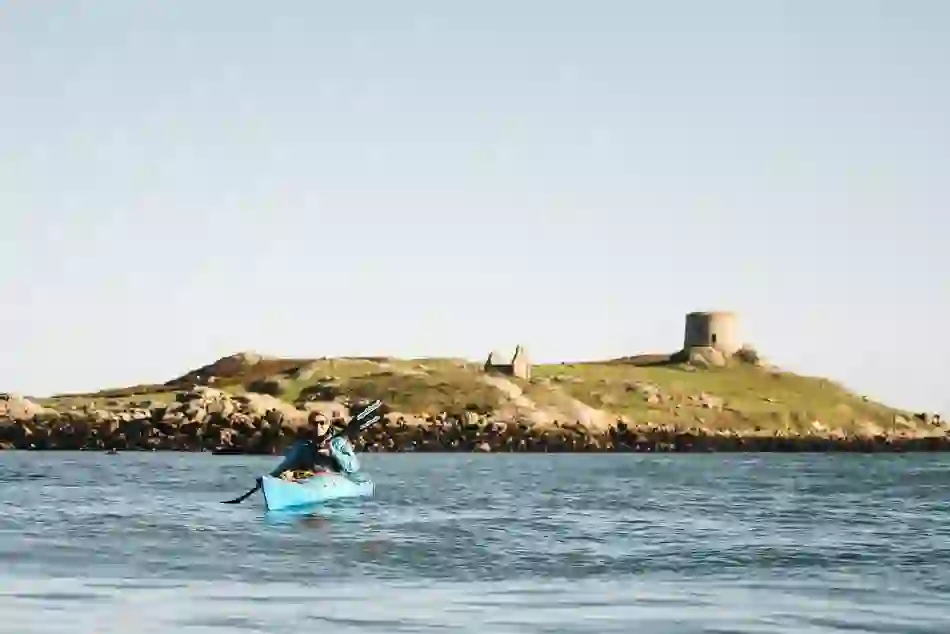 Though I come to the tour with just a little kayaking experience – and slight nerves about paddling on the open sea – I leave with new skills and a whole lot more confidence. I'm struck by how Jenny and her assistant Rob take care of us throughout the three-hour tour, teaching us the necessary paddling and safety skills before setting out, moving at an easy pace accessible to first-timers, checking in regularly to make sure that we're all feeling happy and safe. We are.
As we point ourselves towards the setting sun and hitch a ride on the rising tide back to Bullock Harbour, I consider how much we have learned. Vectors and how to use them when crossing a fast-flowing current (think like a duck). That less is more when paddling, that hugging the coastline avoids the treadmill of going against the flow.
Most of all, I have learned that there is so much to discover in the many beauty spots along the Dublin Coastal Trail – even for this local who grew up in these waters. I can't wait to hop on the DART for many more seaside adventures.