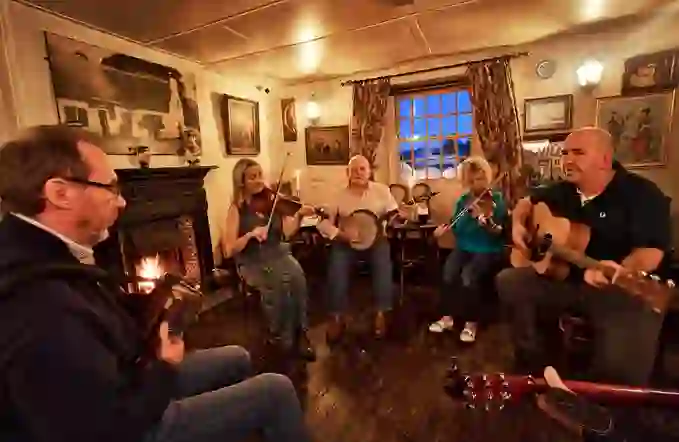 10 great traditional music pubs
The pub and traditional music are strongholds of Irish entertainment and combined, they almost guarantee a night out that you'll never forget. Savour the lament of a ballad or the enchanting rhythm of a fiddle over a drop of Irish whiskey, a fresh pull or Guinness or a good strong cup of tea. To get a flavour of that experience, we've selected 10 great pubs for traditional Irish music, where your foot will be tapping to the air of a melody or the beat of a bodhrán, within minutes of pulling up a chair to the hearth.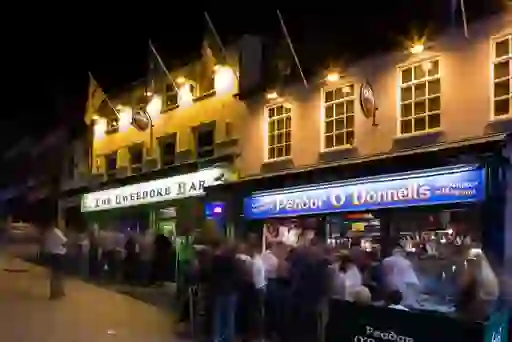 Peadar O'Donnell's, Derry~Londonderry
The old shop and bar backdrop at Peadar O'Donnell's gives a flavour of what to expect from this great little pub – the best crafted pint of Guinness for miles. However it's the famed call of the uilleann pipes and well-known traditional tunes that draw the crowds every night to this high spirited Derry~Londonderry hotspot close to city's riverfront.

Most evenings the music filters onto the narrow hilly streetscape outside the bright blue and yellow front, creating a carnival-style, good humoured atmosphere that lingers till late.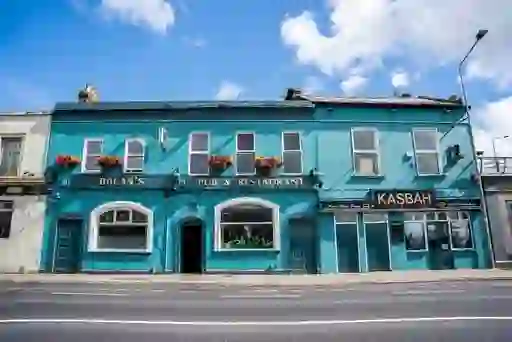 Dolan's Pub, Limerick city
Once a sleepy docker's pub on Limerick city's riverfront, Dolan's has emerged as a hotbed of local musical talent. The low ceiling front bar, crammed with an eclectic collection of paraphernalia behind the dimly lit counter, is the best place in town to catch a live traditional Irish music session.

Talented artists huddle close to the crackling fireplace while guests get lost in the melodies and moody ambiance. The bar is linked by a short hallway to The Warehouse, the premises' live entertainment venue, which showcases contemporary music as well as the best of Irish comedy.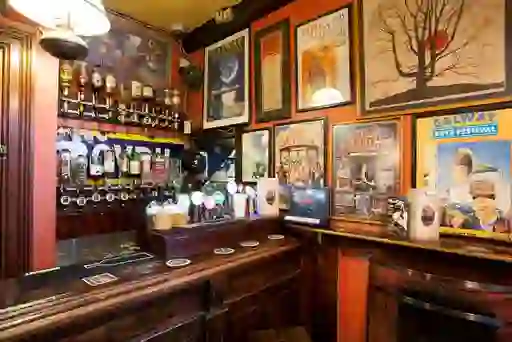 Tigh Neachtain, Galway city
Tigh Neachtain is set in the heart of Galway city's medieval quarter, on the corner of Cross Street and Quay Street, and is known for having one of the best traditional Irish sessions in Connaught.

The premises is the former home of 19th century animal activist Richard Martin, and was established as a pub by the Neachtain family in 1894. These days it's the best place to catch an "Irish Rover" – the lively song that's likely to be belted out by a trad band while you sit surrounded by wood panelling, cosy fires and picture-lined walls.
Pepper's Bar, County Clare
Clare's west coast villages like Doolin or Kilfenora have vibrant pubs where an impromptu melody can cut through the lively chat at any given moment. Serious traditional music aficionados, though, tend to head to east County Clare to hear seasoned masters at play.

Tucked into a lush valley at the foot of Slieve Aughty Mountains and a short drive from Lough Derg is Pepper's Bar, which has hosted trad maestros such as Sharon Shannon and The Chieftain's Matt Molloy for over 200 years from its crossroads location on the outskirts of pretty Feakle Village.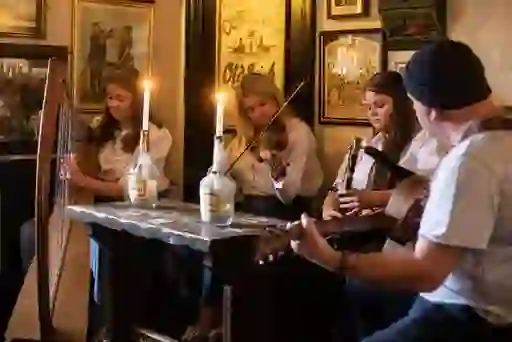 The Crosskeys Inn, County Antrim
This premises is the very epitome of a traditional Irish cottage, with a thatched roof, sash windows and whitewashed render and it has served its rural Antrim customers, in the north-west corner of Lough Neagh, for over 300 years.

The interior scale is folksy, small and very intimate with timber heritage fixtures, fireplaces and low ceilings so the acoustics are magnificent. Once a session is in full swing the atmosphere is electric, making it a magnet for some of the most talented musicians in Ireland.
Leo's Tavern, County Donegal
Leo's Tavern in the tiny County Donegal village of Meenaleck along the windswept fringes of north-westerly Ireland offers living proof that music runs in the blood. Legendary performers Enya and Clannad honed their craft at this plaster-finish 19th century tavern, while proud father Leo pulled pints and nurtured his harmonious legacy.

These days Leo's youngest son Bartley runs the show with regular performances from energetic musicians and it's a favoured haunt of musicians, locals and tourists. Inside, the walls offer a timeless reminder of glory days with gold and platinum discs that hang proudly from floor to ceiling.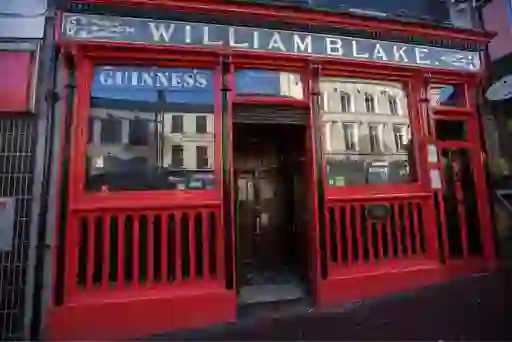 Blakes of the Hollow, County Fermanagh
The rich mahogany interiors with original brass fixtures and pillar-box red timber façade of this citadel of Enniskillen hospitality for 125 years harks back to a Victorian past. Visitors gather close to the cast-iron fireplace in this gorgeous pub to bathe in its glow, and the melodies played on harp fiddle or pure vocal and time takes on a slower pace in this unhurried part of the island.

However, it's not all about music here. Game of Thrones'® fans will be intrigued to discover an intricately carved door on site, produced from the timber of the Dark Hedges trees that fell during a recent storm, depicting settings from the famous television series.
Levis Corner House, County Cork
Musician Joe O'Leary runs this 150-year-old West Cork pub that was once operated by his grand aunts – continuing a melodic legacy that hasn't missed a beat for generations. Performers gather behind the old shop counter and shelves of groceries to play at what is surely Ireland's most inimitable venue – while guests sit on stools in the cramped quarters amongst trinkets that jam the wall space and low ceilings above.

Levis takes a short break from its traditional music roots when it becomes the nerve centre of Ballydehob's Jazz Festival for a few days in late springtime.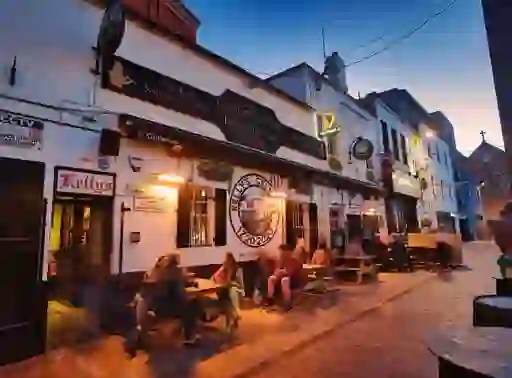 Kelly's Cellars, Belfast city
This Belfast pub dates back to 1720 – and the dark timber beams and chalky white render remain largely unchanged since that time. It has entertained many customers over the centuries, including the United Irishmen who planned the doomed 1798 Rising in the faint glow from the fireplace.

These days folk gather for the traditional Irish music sessions that kick off on Tuesday and spill into the weekend – and if you're lucky you'll catch sean-nós dancers kicking their heels up in tandem with the rhythm of the music. Kelly's corner is also the best place in Belfast for a quality pint of Guinness or to enjoy friendly local banter.
The Cobblestone, Dublin city
Located north of the River Liffey in the upcoming neighbourhood of Smithfield, this is a bastion of traditional Irish culture. The music that leaks from every orifice of this simple, plaster and timber finished establishment is top notch and it attracts legendary and upcoming performers from every corner of Ireland.

The Mulligan family, who have operated it for five generations, have their finger on the musical pulse of the bar and have nightly trad sessions from early evening until closing time, seven days a week.