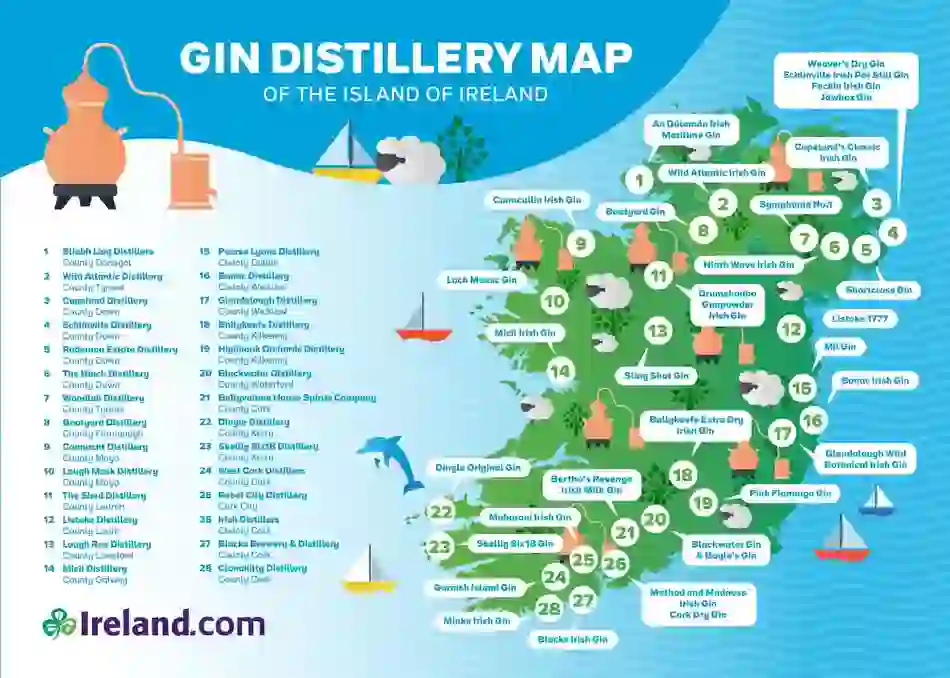 Like our infographic? Download it here.
The story of Ireland's gin takes you to some unexpected corners of the island: from record-breaking dairy cows in County Cork and organic apple orchards in County Kilkenny to foraging for wild bog myrtle on the banks of Lough Erne in County Fermanagh or for the shyest of seaweeds under a County Donegal full moon.
And in true Irish style, you'll meet the most congenial characters along the way, including cutting-edge producers who rely on age-old distilling traditions to create a spirit that is truly of its place.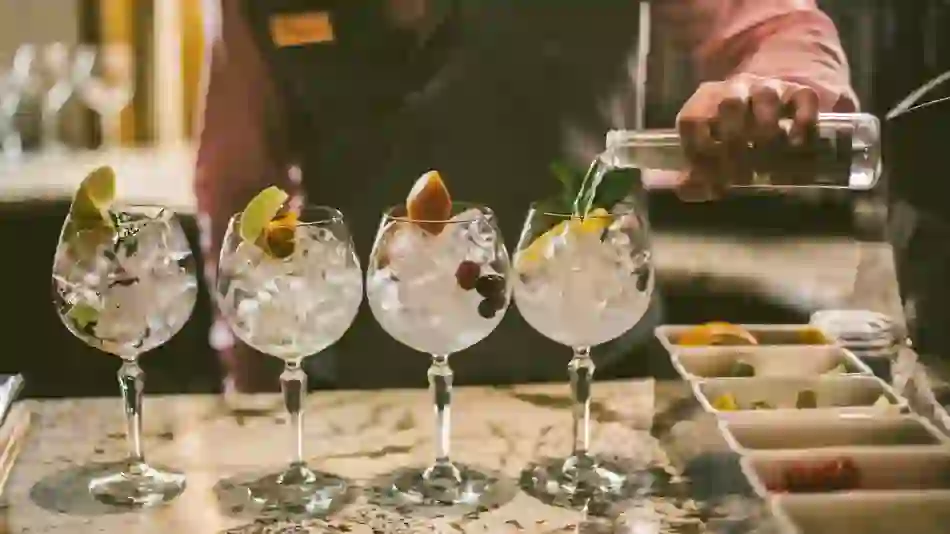 Irish gins to seek out
Moira and James Doherty in County Donegal produce An Dúlamán Irish Maritime Gin in small batches from their hand-beaten copper pot still, Méabh, using local seaweeds such as pepper dulse, Ireland's 'truffle of the sea'. "This shyest of coastal treasures can only be harvested on a full moon when the tides and the wild Atlantic work in our favour," James says, explaining the specific moon's phase recorded on every bottle's wax seal.
Over in County Down, makers of Echlinville Single Estate Irish Pot Still Gin combine homegrown floor-malted barley with whin bush petals and Strangford Lough seaweed to conjure unique flavours of the land and sea. The same distillery also produces Jawbox, a classic dry gin flavoured with botanicals, including local Belfast Black Mountain heather. And Drumshanbo Gunpowder Irish Gin marries oriental gunpowder tea with local botanicals like meadowsweet from Leitrim's fragrant hedgerows.
At County Cork's Ballyvolane House hotel, a legendary Droimeann cow who birthed 39 calves during a 49-year lifetime has been brought back in spirit in a cow-shed-turned-distillery. For producer Justin Green, Bertha's Revenge Irish Milk Gin celebrates "the dairy farming heritage of Ballyvolane, our use of whey alcohol in the gin, and our shared love of the gorgeous and gentle characters that can be found only in Ireland."
At Dublin City Gin they use organic rhubarb grown along the city's Grand Canal to flavour their spirit, while unusual alcohol bases include potatoes (at St Patrick's Distillery in Cork, who produce a Sloe & Honey Gin alongside their Classic style) and apples (Highbank Organic Crystal Irish Gin).
Meet the producers
Many of these distilleries offer tours that are as idiosyncratic as their characterful gins. Hitch a tractor tour of County Kilkenny's idyllic Highbank Organic Orchards in the company of Rod Calder-Potts, one of Ireland's most passionate food and drink producers, followed by a tasting in Ireland's smallest distillery nestled in their 17th-century stonebuilt coachyard. Then pop down the road to the Ging family farm where Ballykeefe Gin is produced from a potato-based spirit, alongside a field-to-glass whiskey from their farm's barley.
Discover the unique formula at County Kerry's Dingle Distillery where fragrant local fuchsia, hawthorn, heather and rowan berries are both macerated overnight and infused into Dingle Original Gin via a flavour basket in the still's neck. Or take afternoon tea at the historic Echlinville Manor House and a field-to-glass tour of its glass-walled still house with sweeping views onto ancient farmland.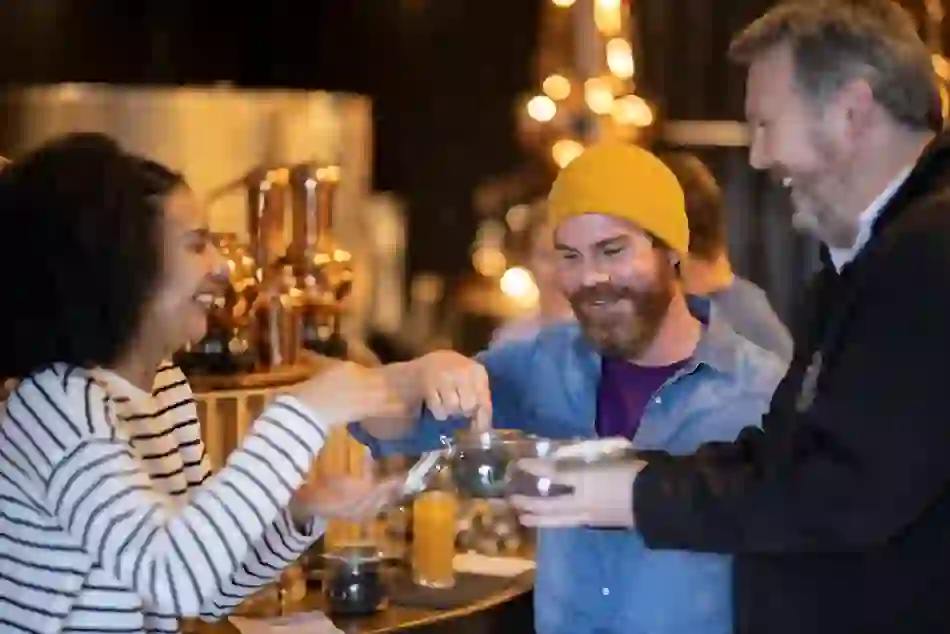 Further inland in County Down, enjoy a pre-tour cocktail before embarking on a botanical journey and tutored tasting experience in Rademon Estate Distillery, Northern Ireland's first award-winning craft distillery where wild clover imbues Shortcross Gin with the delicate essence of wild meadows.
And over in the lakelands of Fermanagh, acquaint yourself with The Boatyard Distillery which produces an Old Tom Gin with Wild Turkey bourbon casks and honey as well as the Boatyard Double Gin with organic wheat spirit nuanced with sweet gale from the family farm.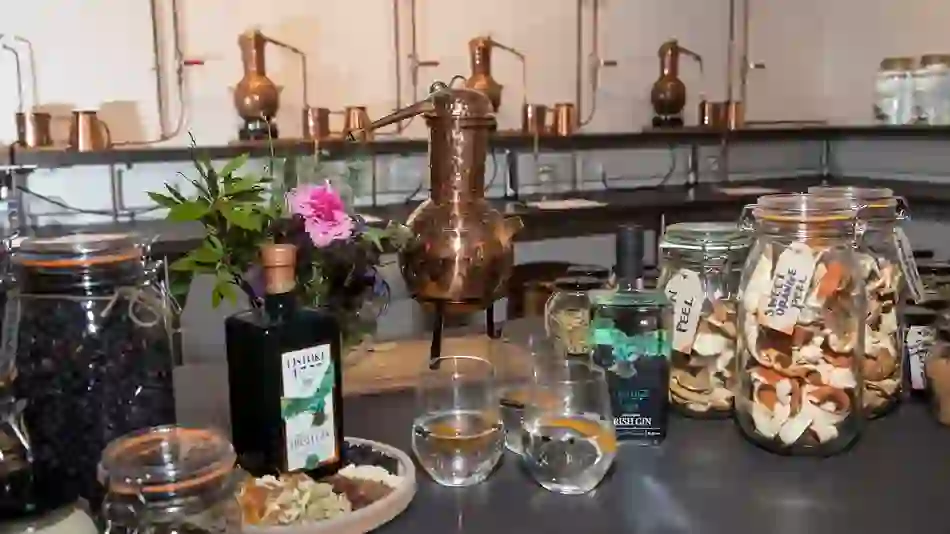 Your own personal gin experience
Still curious? You're in luck as there are plenty more unique experiences to discover, from a gin-hued cruise of Lough Derg deep in the heart of Ireland to Listoke Distillery and Gin School in County Louth – expect to leave with your own 700ml bottle of custom-made gin, and some new friends to boot.
Take a gin crawl around Castlebar in County Mayo with a curated gin trail through 13 local pubs, sampling award-winning Irish gins like Von Hallers (County Leitrim), Mór Gin (County Offaly) and Thin Gin (County Waterford). Rock up to Russell's Saloon & Gin Emporium in Dundalk, County Louth or Tribeton in Galway city to taste-test their impressive selections of Irish and international gins. Settle into the Gin Library at County Antrim's Galgorm Resort with their 80-page gin menu. Or pull up a stool at Andy's Bar in Monaghan town to avail of barman Kevin Redmond's encyclopedic knowledge of gins from near and far.
However you approach the evolving story of Irish gin, you're sure to find yourself in excellent company.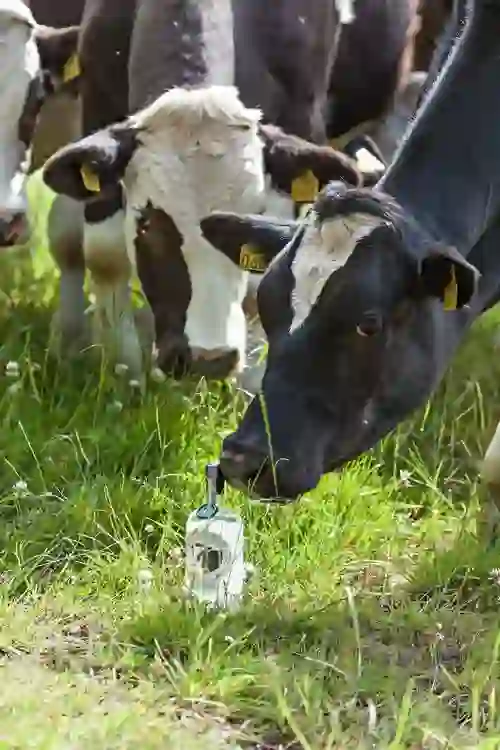 More great gin distilleries around the island