You've heard of County Clare's famous Lisdoonvarna Matchmaker Festival? Well, meet "The Outing" – its younger, more fabulous LGBTQ+ sibling. Set with the beautiful backdrop of Dromoland in County Clare, romance in every shade of the rainbow will be in the air this Valentine's Weekend from 10th-12th February 2023. As the world's only LGBTQ+ Matchmaking Festival, it's the place to find love, friendship, or both.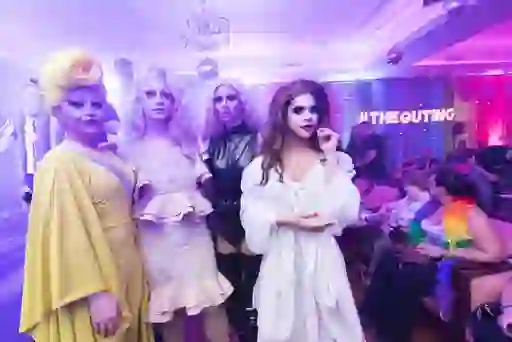 Master LGBTQ+ Matchmaker Eddie McGuinness will be on hand to pair like-minded couples. With 10 years of experience and mentoring by 4th generation expert Willie Daly, he's had phenomenal success in curating the event and finding #onelove for visitors to this spectacular part of Ireland. Entertainment has a distinct Eurovision Song Contest pedigree, with veteran performers like Johnny Logan, Katrina (Katrina and The Waves), Paul Harrington, Niamh Kavanagh and Linda Martin setting the tone.
As County Clare becomes Ireland's #OneLove destination, with a focus on Dromoland – we have eight fabulous experiences to accompany your visit.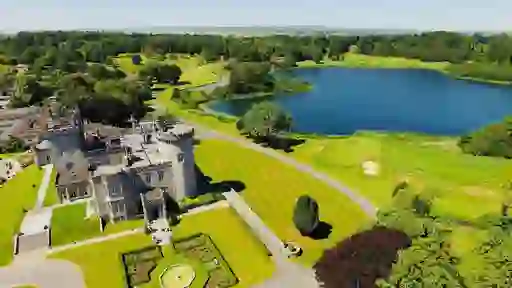 Feast like a king or queen
Mrs White's Afternoon Tea at Dromoland Castle is a most civilised way to kick off a big event with style. The warm scones with clotted cream and homemade jams, delicate pastries, finger sandwiches, specialty teas served in silver pots and elegant China and, of course, Champagne, all hark back to a more elegant era. Dromoland Inn also serves afternoon tea, or for something epic, head with your tribe to nearby Knappogue in Quin or Bunratty Castle to hear tales of yore as you feast on medieval fare while sipping a goblet or two of mead in the glow of candlelight. In Bunratty, two guests can be nominated as royals while harpists and singers cast a magical spell over the evening.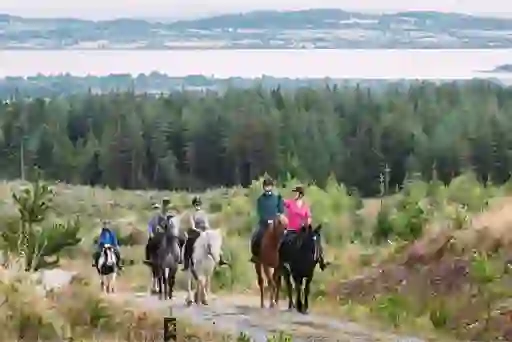 Canter through the countryside
This part of South County Clare has rolling wooded countryside with gentle slopes that can offer staggering views over the River Shannon, so it's no coincidence that horse riding is a popular local activity. Castlefergus Equestrian, a family-owned stable close to Dromoland, is located by a 15-century tower house. Pony treks cross meadows, beneath old railway arches or alongside a river at a bespoke space.
For a sweeping stretch along north County Clare's beautiful landscape, Mountain View Trekking offers horseback trails along tranquil winding green roads into the mysterious and ethereal Burren region. The mountain trek swirls up 365 metres over the ocean with views of the Cliffs of Moher, Aran Islands and Connemara Mountains.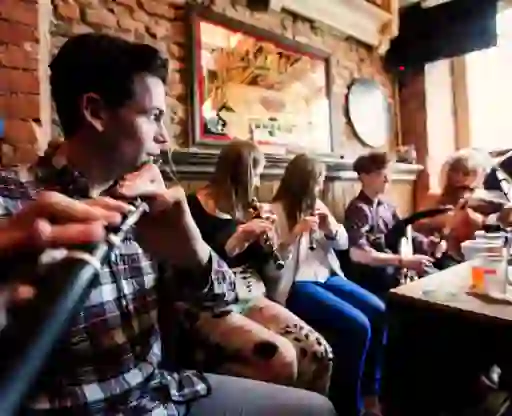 Follow foot-tapping harmonies
County Clare is the cradle of Irish music and some of the greatest talent gravitates towards the pubs and venues close to Dromoland. A short drive away is Ennis, the County Town and home of The Fleadh Nua Festival. On any given night Abbey Street is alive with the sound of fiddles and Uilleann Pipes.
Brogan's Bar is in the heart of town and hosts traditional sessions while Nora Culligans has an earthier, rockier harmonious backdrop. Drop into Custy's Traditional Music Shop to relive the experience in vinyl or CD. Closer to home base, Dromoland Inn offers a musical respite in the bar while Durty Nelly's in Bunratty Village has impromptu sessions.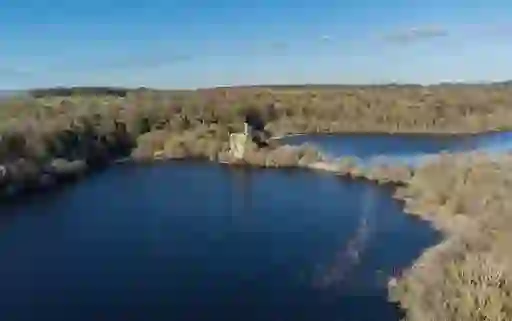 Take a walk on the mild side
Energetic visitors will be eager to explore the Mid Clare Way, an easy 150-kilometre loop route that starts and ends a short stroll from Dromoland. Known locally as Slí na Méaracán – or the Way of Foxglove Flowers, the trailhead is in Newmarket-on-Fergus and the hike ascents to the western slopes of the Slieve Aughty range, with panoramic views across to the limestone hues of Mullaghmore and the Burren.
Contrasting to other County Clare coastal hikes, the Mid Clare Way explores the lakes and forest in the county's medieval heart. It can be accessed at one of seven manageable key trailheads including Dromore Woods, which is a glorious nature reserve in a peaceful location with its own loop trail.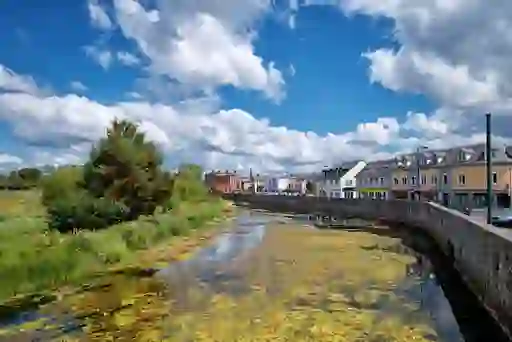 Have a retail therapy session
This area isn't about large-scale high street shopping – but if you're hunting for something unique, you're in luck. Gleeson's Goldsmiths, in Ballycasey Craft Centre, is a fusion of local landscape and exquisite jewellery design. Rings, necklaces and bracelets are forged with elements of The Burren and Ogham stone etchings using platinum, silver, gold or leather as core material.
Blarney Woollen Mills in Bunratty Village has Irish-crafted clothing and home wear with an outdoor heated restaurant. In Ennis, Scéal Eile Books is a beautifully curated goldmine of out-of-print or rare publications from local and international writers, while Laura Vaughan Design Studio offers bespoke Irish earthen, wax and canvas gifts.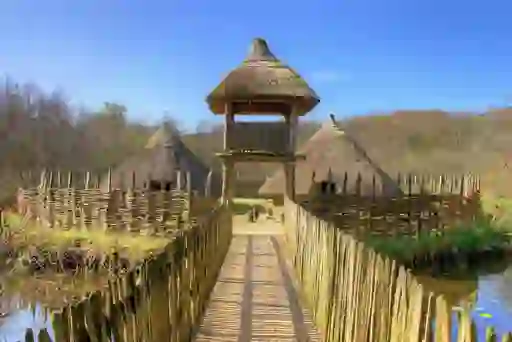 Catch up on the local history
Dromoland and its environs are steeped in history – from the crowning of Brian Boru as King of Munster in a natural auditorium at Magh Adhair to the greatest Bronze Age find north of the Alps at nearby Mooghaun. To capture that ancient beating heart, take a short trip to the pretty little village of Quin.
It has an exquisite main street with a narrow stone bridge that leads to the gates of a sprawling Franciscan Friary – where it appears that time has stood for centuries. Craggaunowen and Bunratty Castle and Folk Park are the places to idle away a few hours in a wonderland of Irish architecture. The latter has a magnificent 15th-century castle and 19th-century streetscape along with a plethora of other historical buildings.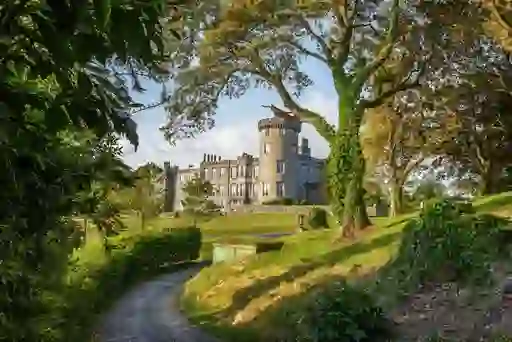 Pack for a romantic picnic
For generations, Lord Inchiquin, the head of the O'Brien clan, would amble across the meadow from Dromoland Castle to picnic at Mooghaun, one of the oldest and biggest Bronze Age hill forts in Europe. It's not hard to understand why they chose this site – with its rambling forest path that leads to a series of doughnut-shaped low stone walls with commanding views of the Shannon Estuary and lush local countryside.
The nearby village of Newmarket-on-Fergus has bakeries and supermarkets to create your own tailored culinary experience or the Ennis Gourmet Store can lend a hand. For something unique, guests of Dromoland Castle can request a hamper for a lakeside picnic on the estate.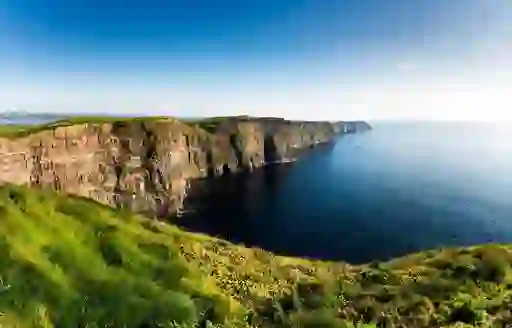 Head to the coast
It's just over half an hour from Dromoland to one of the most magnificent coastlines in Europe, so even after the best party on Earth – park sometime for a beach stroll. Lahinch always draws a steady crowd throughout the year because of its golden dunes and ocean swells for surfers. There are other flaxen and silver sandy beaches where you can often walk alone – like White Strand in Doonbeg or Clahane with its views of Liscannor Bay. For the ultimate high-octane experience, visit the Cliffs of Moher where the fresh wind wipes away cobwebs and the Aran Island backdrop has complete Insta appeal.