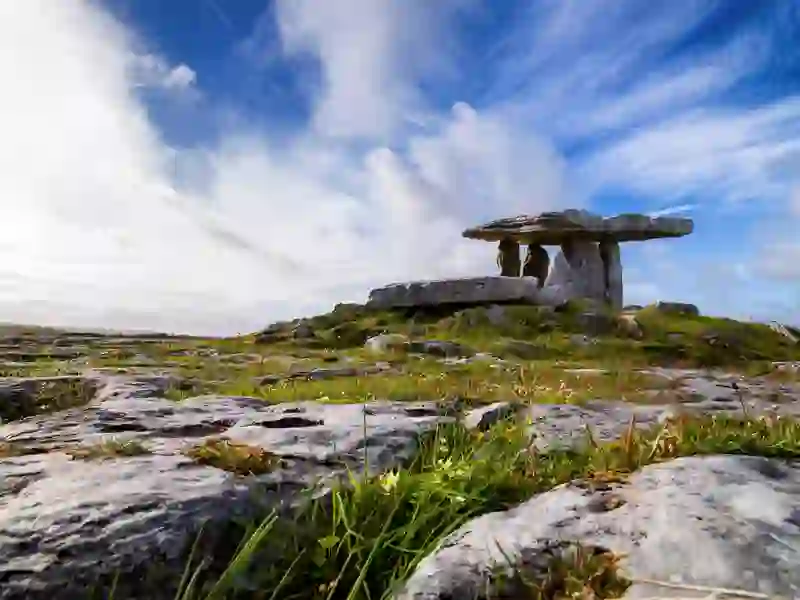 Uncover ancient Ireland's standing stones
Stones tell the story of Ireland's ancient past. You'll find them dotted throughout the lush, green countryside – standing tall like a monolith, heaped atop one another, laid out in mysterious patterns. These atmospheric sites have taken on a timeless quality down through the millennia. As an island of storytellers, it should come as no surprise that these old, old structures have also become deeply entwined with Irish myth, legend and folklore.
Intrigued? Great, because we've rounded up 10 of the very best prehistoric attractions across the island. Let's delve into a world of ritual altars, burial chambers and magical ceremonies...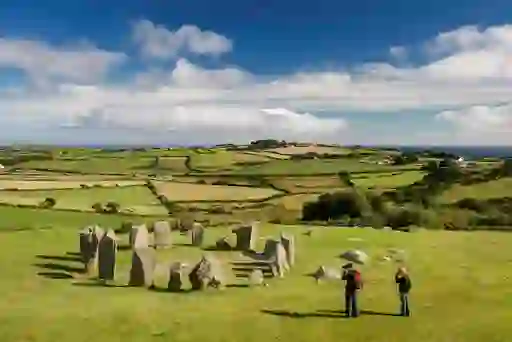 1. Drombeg Stone Circle, County Cork
The Drombeg Stone Circle in Glandore, County Cork, is known locally as "the Druid's Altar" and it's easy to see why it was given this mystical name when you visit. 17 imposing standing stones form a complete circle at the site. Two large portal stones – each a towering two metres in height – mark the entrance to the circle, and a long axial stone lies at the back. Amazingly, during the winter solstice, the setting sun aligns with these perfectly-placed rocks.
To add to the interesting history surrounding this site, an excavation in the centre of the circle found evidence of an urn burial, which dated back some 2,000 years!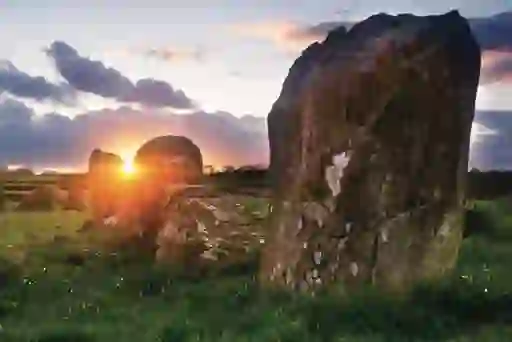 2. Ballynoe Stone Circle, County Down
Backed by the Mourne Mountains in the distance, the Ballynoe Stone Circle occupies a picturesque location in the heart of the County Down countryside. An archaeological dig at the site revealed a stone slab and a stone cist, suggesting the site once featured a court tomb or a passage tomb. Backing up this interpretation, the cremated remains of several people were found here, along with some Neolithic pottery. All of which leads experts to place this development in the late Neolithic or early Bronze-Age period.
Access to this large stone circle is via a beautiful enclosed track made up of gorse bushes and dry stone walls. It's a great spot for a few pretty photos.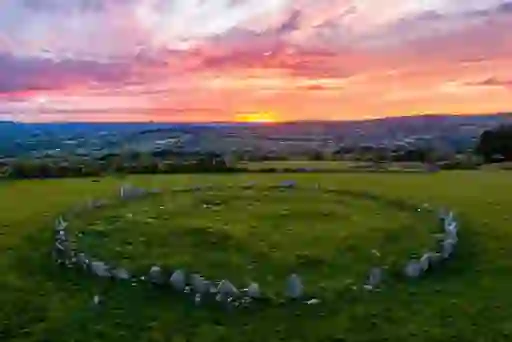 3. Beltany Stone Circle, County Donegal
Sitting atop a hill – called Tops Hill no less – just outside the town of Raphoe in County Donegal, the Beltany Stone Circle offers stunning views out over the Irish countryside. In such a naturally beautiful setting, it's no wonder prehistoric settlers decided to build a monument here that would stand the test of time.
Some 64 stones are placed in a circular fashion around a central burial mound at this impressive site, which dates from circa 2,100-700 BCE. As for the name, Beltany is derived from the ancient spring festival of Bealtaine, which is associated with the lighting of hill-top fires in a rekindling of the sun. One wonders what such an old ritual ceremony would have been like at this special place.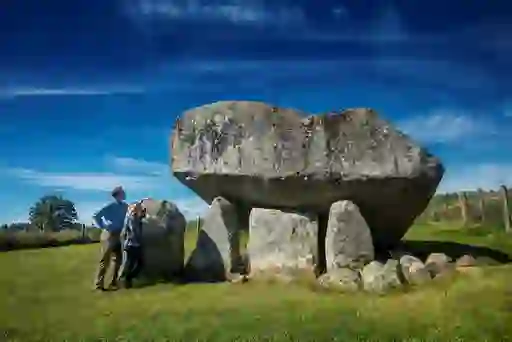 4. Brownshill Dolmen, County Carlow
The Brownshill Dolmen in Carlow is so famous that the county is nicknamed "The Dolmen County" as a tribute to the landmark. It sure is a majestic sight to behold. In fact, the huge slab of rock that sits across the top of several portal stones weighs around 103 tonnes and is believed to be the LARGEST capstone in Europe. Standing up close to this marvel, you'll wonder just how the ancient people of Ireland placed such an enormous granite stone up there!
This unque site can be found just a couple of kilometres outside Carlow town in the rolling green fields of Ireland's Ancient East.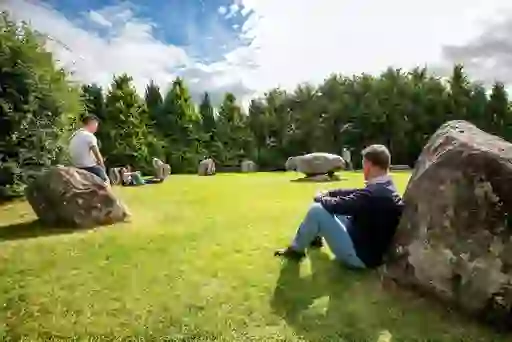 5. Kenmare Stone Circle, County Kerry
Known locally as "The Shrubberies", the Kenmare Stone Circle is situated in the charming town of Kenmare, County Kerry. 15 heavy boulders make up this egg-shaped structure. Interestingly, a large stone sits in the centre of the circle, which several studies suggest was used as an altar for rituals in the Neolithic period.
If you're looking to get away from the hustle and bustle of a busy Kenmare town centre, this stone circle is the place to go, as it offers a peaceful retreat where you can sit, reflect, and reconnect with Ireland's ancient past.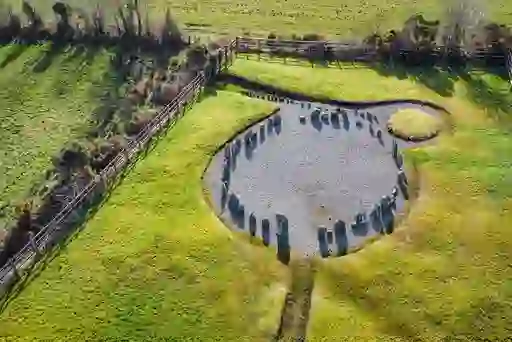 6. Drumskinny Stone Circle, County Fermanagh
Drumskinny Stone Circle is a well-restored and easily accessed site in County Fermanagh, making it a fine historical location to visit in this part of Northern Ireland. The 39 stones here measure 12.8 metres in diameter. An excavation at the site in 1962 dated it back to around 2250 BC.
As a lesser-spotted ancient site in Ireland, Drumskinny is a great option if you want to avoid the crowds and enjoy the attraction all to yourself! It's a peaceful place where one can contemplate the old ritual practices and astronomical observations which are believed to have taken place within this intriguing stone circle.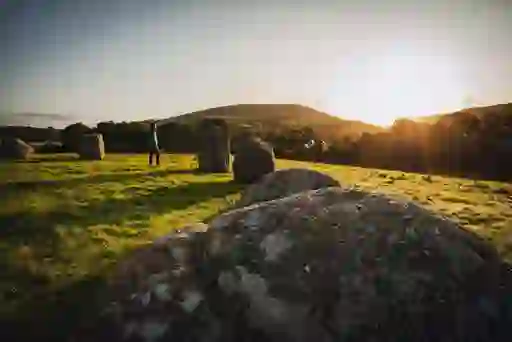 7. Athgreany Stone Circle, County Wicklow
In Hollywood, County Wicklow, there lies a stone circle with a legendary backstory that wouldn't be out of place in a Hollywood movie. The Athgreany Stone Circle is known as the Piper's Stones, for, as the story goes, a local piper and his merry band of dancers were turned to stone for violating the holy Sabbath day by singing and dancing. That's quite the punishment, but at least they are still attracting visitors to this day!
16 grey granite stones stand tall here, surrounded by green fields of horses, sheep, and other farm animals. An old, gnarly thorn tree grows around the edge of the circle – a tree that is usually associated with fairies in Irish folklore. So the feeling of being immersed in age-old myths and legends at this spot is very strong indeed.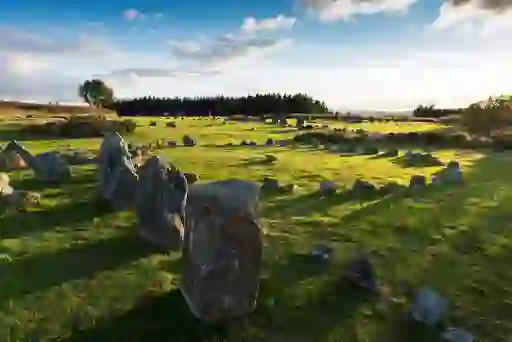 8. Beaghmore Stone Circles, County Tyrone
You read that header right, circles... plural! The numbers behind the Beaghmore Stone Circles in County Tyrone are quite astonishing: seven circles, ten rows of stones, and 12 cairns adorn this truly awe-inspiring location in Northern Ireland. Many of the stones here also bear the marks of one of the world's oldest forms of writing – Ogham, which dates back to Celtic times.
Don't miss the OM Dark Sky Park & Observatory while you're here. Beaghmore sits within the Dark Sky Park itself, and making connections between the earthly stone monuments and the vast cosmos above will really set your imagine on fire!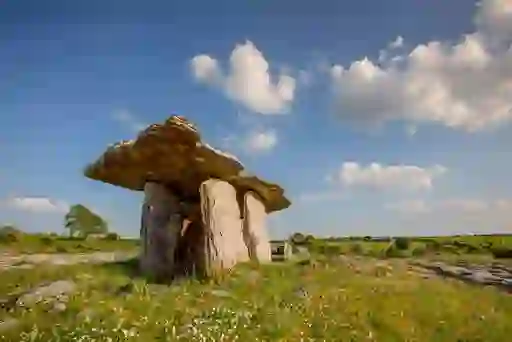 9. Poulnabrone Dolmen, County Clare
The Poulnabrone Dolmen in the Burren, County Clare, is surely one of the most photogenic ancient sites in Ireland, with its thin limestone slabs lying elegantly atop one another. It's also the OLDEST dated megalithic monument on the island, dating back 5,800 years! But the accolades don't stop there. After the Cliffs of Moher, it's the second most visited site in the Burren. Ok, now this dolmen is just showing off.
Officially classed as a portal tomb, excavations at the site in the 1980s revealed the remains of 33 people. Radiocarbon dating of the bones indicated that the tomb was in continuous use for some 600 years. Clearly, this was a much-revered location thousands of years ago. And as a top tourist attraction, it still is today.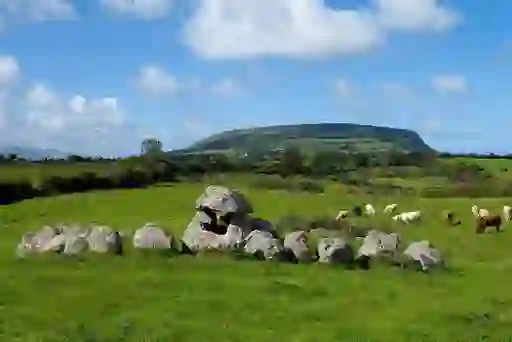 10. Carrowmore Megalithic Cemetery, County Sligo
The Carrowmore Megalithic Cemetery in County Sligo has the densest collection of Neolithic tombs in Ireland, with some 35 located on the site. Set in the shadow of the legendary Queen Maeve's Cairn that sits atop the nearby Knocknarea mountain, this attraction is a MUST for anyone interested in standing stones.
Don't miss the restored traditional Irish cottage that acts as the visitor centre, and houses an exhibition that will guide you through this wondrous complex of megalithic monuments.