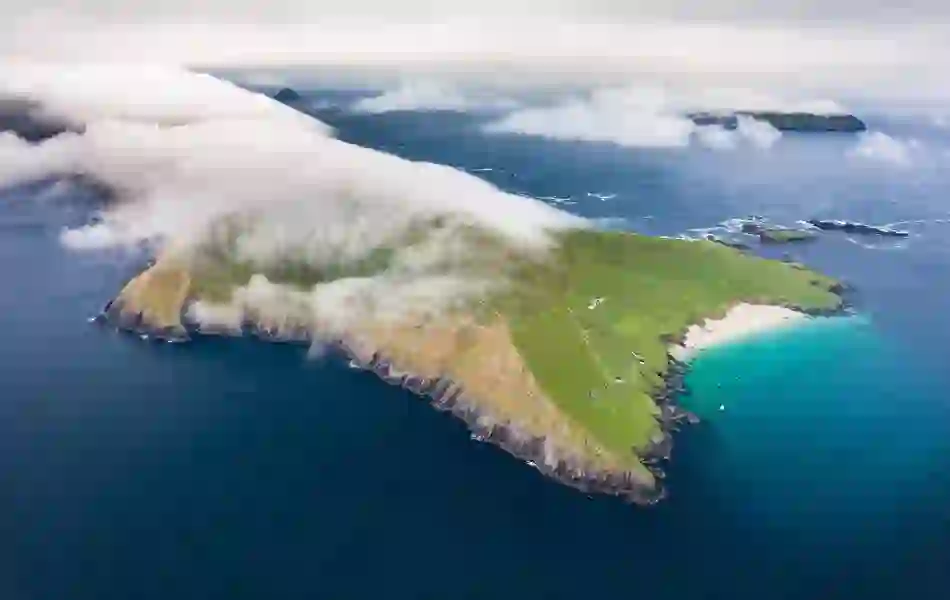 Meet the Great Blasket Island caretakers County Kerry
A unique island and a dream job
The Great Blasket is the largest of the Blasket Islands located off the west coast of County Kerry, in Ireland's southwest. The last of its inhabitants moved to the mainland in 1953 and since then, the island has gone back to nature. It's home to donkeys, sheep and its own seal colony. Dolphins, basking sharks and whales are regularly spotted off its coast. And it's a popular spot with visitors who come to experience the spectacular beauty of its cliffs and coves, and to imagine what life might have been like here.
Two people who know just what it's like to live on Great Blasket are Claire de Haas from Alkmaar, the Netherlands, and Brock Montgomery from Moose Jaw, Canada. The couple took on an amazing challenge in 2022 – for six months, they managed four holiday cottages and a coffee shop on the Great Blasket Island.
Read Claire's extraordinary account of their experience!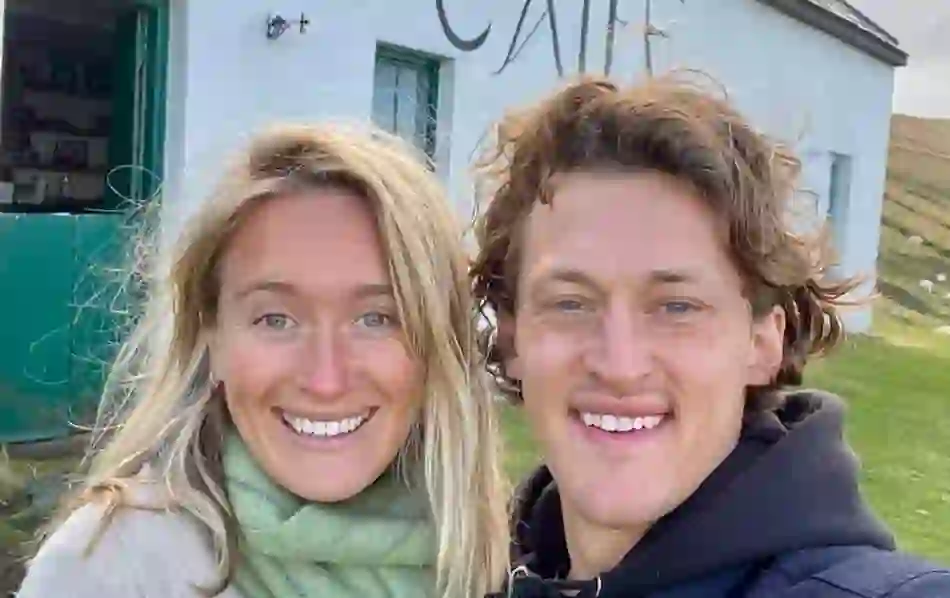 What was life like on this remote island?
Basically, life on the island was not very different from what we had imagined. We were set for an isolated existence, lots of space, wild nature and crowds during the summer months.
Of course, the first few weeks in April took some getting used to! It was still very cold, dark and grey then. We soon got our bearings and eventually, it didn't seem odd to us that we had only candles for light. We also got used to the idea of not being able to do our own shopping.
What did you enjoy most about island life?
The sound of the seals is definitely number one for me! They make the most noise early in the morning and in the evening, and I loved falling asleep to the sound. Sometimes there are up to 800 seals in the colony and in September, they stay on the beach to look after their babies. That was incredibly beautiful to see.
We decided to look after three lambs while we were there, and we were kept pretty busy with that. I grew up in the city, so it was great fun to learn how to be close to nature and animals.
We ran four cottages on the island for guests who came to stay overnight. We both really enjoyed being hosts and making people feel comfortable. The people we met and the connections we made there were so important to us. And memories of evenings around the campfire under a pitch-black starry sky with visitors singing Irish music are incredibly special.
What was most difficult about island life?
The hardest thing was when a storm rolled in and lasted longer than expected. During a storm, there are no boat tours or ferry services because boats cannot dock, and this meant there were only two of us on the island. We enjoyed the experience, but after several days it was also nice to be able to talk to other people face-to-face again!
Another thing that took some getting used to in the beginning was the fact that there was nowhere to run to for distraction. It's just you and the island, and this could be difficult at times. You are confronted with yourself and you get to know yourself well.
I am often asked what I missed most... trees! There aren't any trees on the island and I missed them immensely, especially the smell!
What is your favourite place on the island?
My most favourite spot on the island is the westernmost point where you feel like you are at the end of the world because you can't see the mainland. I also love the view of Inishtooskert during sunset.
And of course, the beach at the front of our cottage is one of my favourites. A dip in the clear salt water on a hot summer day is pure bliss. Even during a storm, sitting on that beach and admiring the rough wild Atlantic ocean is a really special experience.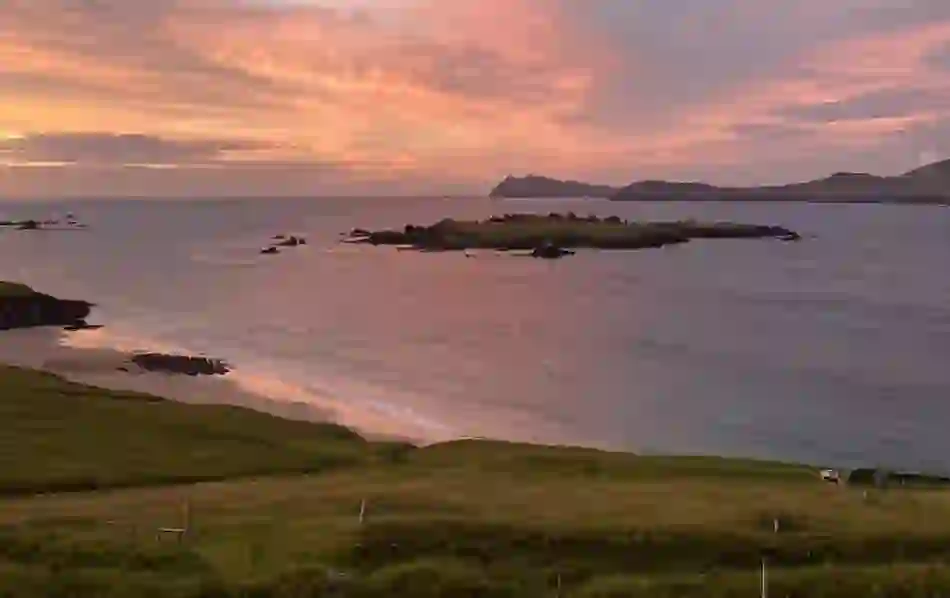 What should visitors definitely do when they visit the island?
During the summer months, there are almost daily guided tours here about the history of the island and I always recommend this to people! It gives a better idea of the conditions the island people used to endure. Many famous writers (such as Peig Sayers and Tomás Ó Criomhthain) come from the Blasket Islands, and you'll hear a lot about their experiences, too.
There are two impressive walks you can do with beautiful views all along the way. All of the paths here on the island consist of grass, so I actually almost always walk barefoot!
A day trip or staying overnight? Which do you recommend?
We'd definitely recommend visiting here for a day, but if you have the chance to stay overnight, it's worth it. You have more time to explore everything, and there's so much to see and discover! You should stay here just for the sunrise and sunset alone because they are so magical.
How did you get on with the people?
Getting to know the guests was incredibly fun. We had quite a lot of international guests during the summer, mostly Americans and Europeans. But generally, it's Irish guests who come to stay here.
Most people came here with the idea of getting away from everyday life. Some guests also decided not to use their phones at all during their stay to be extra isolated and loved taking a break from social media. And people were always very curious about our experiences and wanted to hear all about our own travel stories.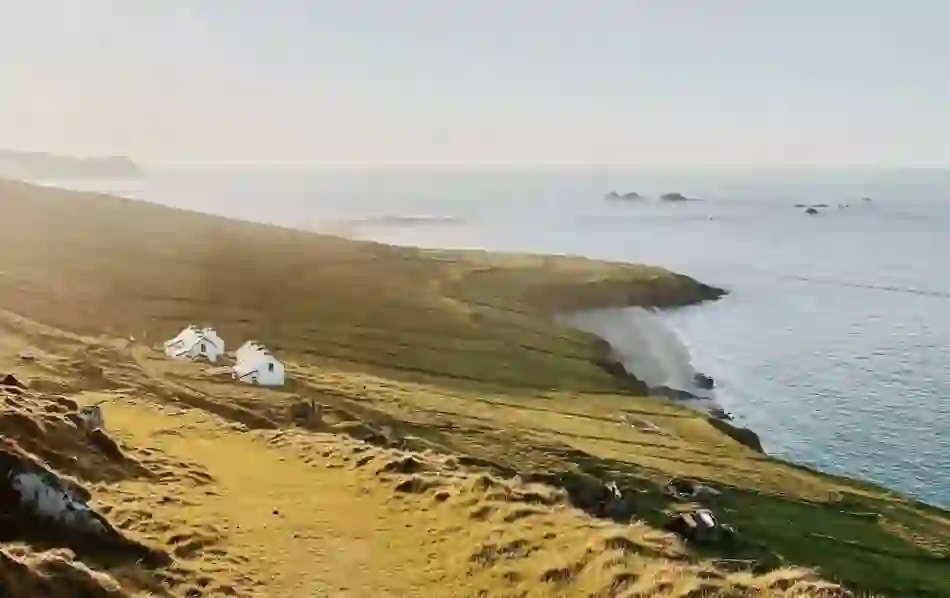 What surprised people most about your island life?
People who have never visited the island find it hard to understand that there is nothing here except the holiday homes and a few very old ruins. There is no supermarket, restaurant or shop here.
The owner of the cottages brought a supply of food for us once or twice a week and they also did our laundry for us – after all, we had no electricity or running water. We charged our phones and laptops via a solar panel and a small windmill.
But what surprised people most is that we decided not to leave the island at all until our contract expired (1 October). Many people thought that was crazy, and of course, it was!
They said to me that they wouldn't be able to stay on the island and that they would miss the outside world too much. I understand, but I also believe that we don't need that much to live a happy life. After all, what's six months out of a whole lifetime?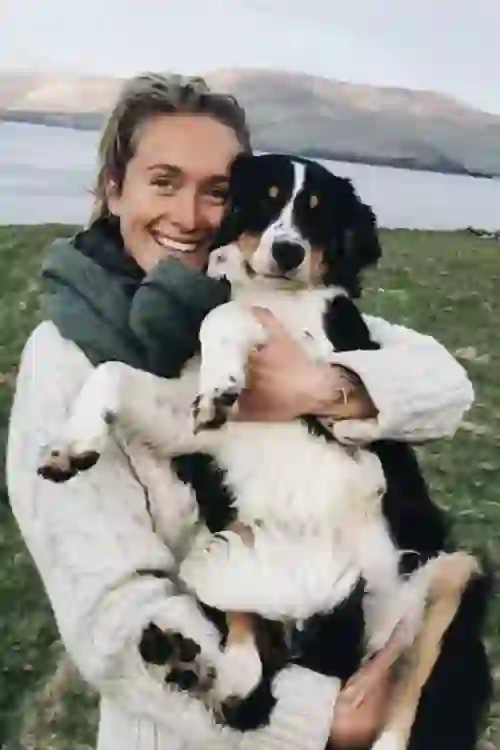 Who is the cute dog in your photos?
That's Lenny, our great friend! We picked him up from a shelter in Listowel, County Kerry, a few days before we moved to the island, and he is now almost a year old. He is a sweetheart and had a blast there.
He's now gone to an Irish family we met here on the island. As we travel full-time, we, unfortunately, could not keep him ourselves. It was a difficult choice, but the family he's gone to are great people with three small children.
Any advice for the next island caretakers?
Enjoy every moment on the island, because time really flies by and before you know it, you will be on the boat back to the mainland. Really live in the moment and try to embrace the cold, grey days too. No day on the island looks the same and the weather can completely change in a relatively short period of time, so every hike is unique!
I also recommend keeping track of your adventures in a small diary. This sounds clichéd, but this is such a unique experience and it is impossible to remember all the small, special moments. I wrote down a few words every now and then, just enough to capture a particular memory.
Want to know more?
Can you see yourself living on the island? Have a look at the application process for Great Blasket Island's administrators.
If you'd like to see what Claire and Brock did next, follow @clairedehaas and @brockmontgomeryy on Instagram.
And if you'd like to visit the island yourself, there is a daily ferry service (weather permitting) from April to September from the Dingle Peninsula and the trip takes about 50 minutes.