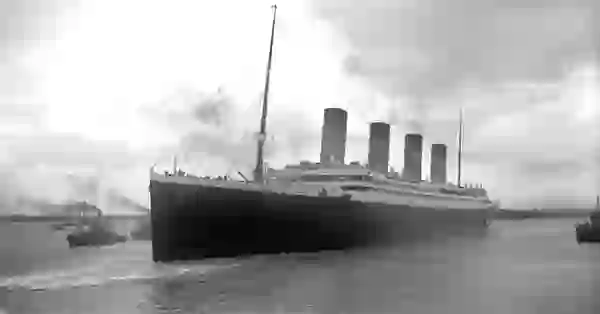 Titanic: Belfast Built County Antrim
Belfast, Titanic Town: builder of the Ship of Dreams. Take yourself down to the Edwardian-era Thompson Dry Dock where the past looms large. There's still a sense of those Belfast trades, those carpenters, fitters, plumbers and apprentices who made Titanic tick. Among them was the Guarantee Group, whose journey went from jubilation to disaster when they perished with the ship. Within sight of that dock is the vast shimmering shell that is Titanic Belfast. Nine galleries – tracing the ship's story from creation to tragic sinking – tell the entire tale on an awesome scale. Expect gantry rides, an underwater cinema show and stunning cabin recreations. If you plan to visit on a Sunday, finish your trip by booking Afternoon Tea beside a splendid replica of the famous Grand Staircase. It's a delicious experience complete with staff in period uniform, a menu inspired by the original voyage and a jazz band playing period tunes.
She was all right when she left here

The people of Belfast on Titanic
Join a Titanic tour of the area, and you can visit the old drawing offices, where Titanic was transferred from dreams to paper, or board the White Star Line's only remaining ship, the SS Nomadic at Hamilton Dock. Built as a tender to the ship of dreams, she is a modest echo of the Edwardian era when the White Star Line was a byword for quality and luxury.

Titanic tours - get all the facts from Belfast locals
Does anyone know Titanic's story more than those who live and breathe its hometown daily? We don't think so. Along with the insight of their ancestors who lived during and, even more importantly, after Titanic's build, Titanic tour guides in Belfast are unrivalled in their connection to the ship. Titanic Walking Tours and Titanic Tours Belfast, run by Susie Millar – great granddaughter of a Titanic engineer who perished with the ship – are just a couple of options available.
Titanic Belfast, an unmissable multimedia extravaganza that charts the history of Belfast and the creation of the world's most famous ocean liner.

Lonely Planet
The Ulster Folk and Transport Museum is home not only to a permanent Titanic exhibition – documenting the construction, voyage, and eventual sinking of the ship – the museum also digs right under the skin of Belfast's transport boom. Turn back the clock to Edwardian Belfast and wander through 170 acres overlooking Belfast Lough, illustrating early 20th-century rural life.

Titanic connections: eat, drink and stay
The Titanic Pub and Kitchen was once occupied by Robert Watson & Co furniture manufacturers (known for creating mattresses and tables for Titanic and her sister ships), and the pub's stylish Edwardian theme isn't just a coincidence. White Star Line posters and boarding cards add a dash of old-school drama.
So unique is Robinson's Titanic collection that visitors can stroll around the pub as if pottering through a museum. Among the stunning array are a Titanic steward's badge, a commemorative jewellery box and Philomena – a doll reputedly rescued from Titanic's floating wreckage.
This is such a dramatic structure… there's a whole other dimension that has to do with Belfast's particular role

James Cameron, Director of 'Titanic'
Choose your room well at Rayanne House and you could end up with a balcony looking out over the lough where Titanic first launched. But it's not just about a bed for the night here. In the kitchens, Chef Conor McClelland has gone to colossal culinary lengths to recreate the original Titanic First Class menu once devoured by the likes of Benjamin Guggenheim and 'The Un-sinkable' Molly Brown.
To cut a long story short, Titanic is Belfast and Belfast is Titanic. If you want the whole story, this is the place.