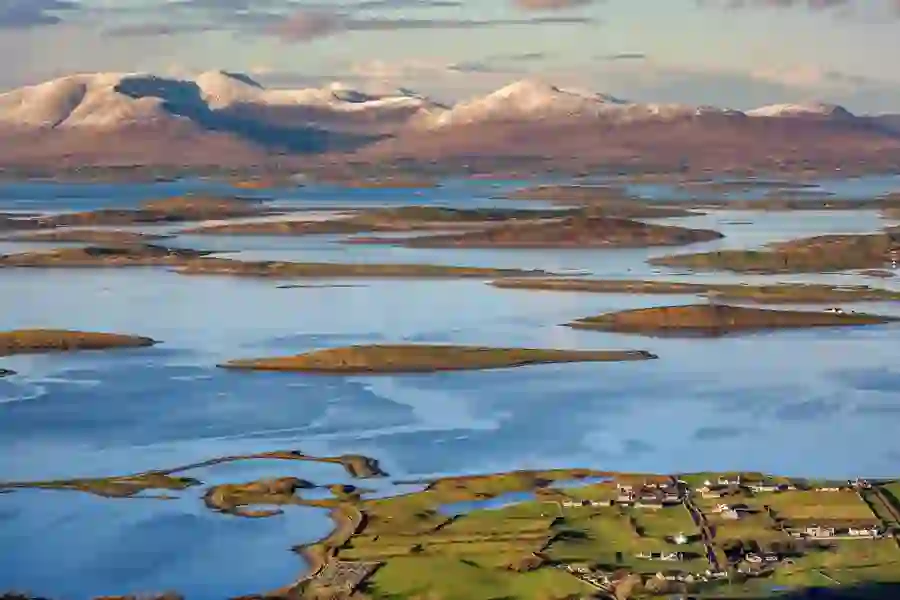 February on the island of Ireland
Spring is in the air on the island of Ireland in February. Bright yellow daffodils start to bloom in parks and gardens, animals emerge from hibernation in the countryside, and folks in towns and cities look ahead to a year of exciting events.
Chief among them is St Brigid's Day on 1 February, when the people of Ireland pay homage to one of their patron saints. And for the first time ever, it will be a bank holiday in the Republic of Ireland, meaning bars and restaurants will be abuzz with the energy of a long weekend.
Added to Valentine's Day, Six Nations Rugby, Illuminate Derry and much more, it's just one more reason to visit Ireland at this rejuvenating time of year. So, bucket list at the ready – Ireland in February travel tips are coming up!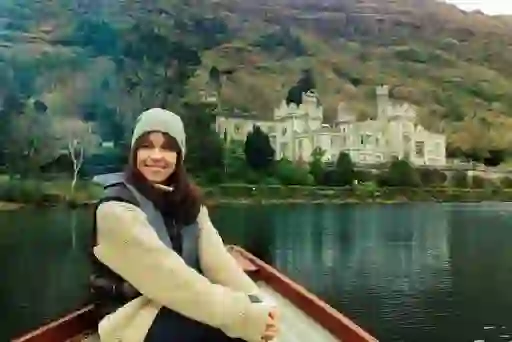 Valentine's Day in Ireland
Planning a couple's break for St Valentine's Day on 14 February? Well, Ireland has some of the most romantic destinations around, from fairytale castle hotels to cosy self-catering stays. Top of the list might be Kylemore Abbey. This beautiful castle, set within the wilds of Connemara in County Galway, was built as a "love token" by businessman Mitchell Henry for his wife Margaret in the 1870s. It's just one of the romantic must-sees on the island of Ireland, and if you're looking for more inspiration, check out our 9 ways to spend St Valentine's Day in Ireland.
For something a little bit different but no less memorable, you could visit the Relics of St Valentine himself. Believe it or not, they've been located in Dublin since 1836 and were gifted by Pope Gregory XVI! The Shrine of St Valentine can be found in Whitefriar Street Church.
And guys, if you plan on popping the question, we've got you covered. Here are 9 great wedding proposal spots around Ireland, from clifftop temples to dreamy waterfalls.
Fancy yourself as a clever cupid after all this lovey-dovey talk? Test yourself with our St Valentine quiz!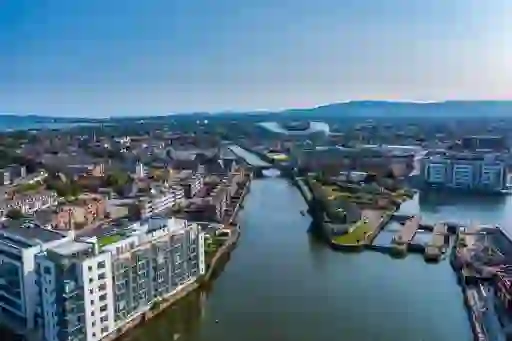 Six Nations Rugby
February also sees the return of Six Nations Rugby action to the island. Rugby in Ireland has been going from strength to strength in recent years, and the national side are now one of the best teams in the world! So, if you're lucky enough to get tickets for Ireland vs France at the Aviva Stadium in Dublin on 11 February, you're in for a sporting treat. The atmosphere will be electric and a talented Irish side will be looking to put on a show in front of 50,000 screaming fans.
If you can't get tickets, don't worry. There are loads of great pubs near the stadium where you can watch the match and cheer on with the locals. Try Searsons on Baggot Street, a favoured haunt of legendary Irish writers Patrick Kavanagh and Brendan Behan. Or visit The Bridge 1859, an award-winning gastropub that's owned by retired Irish rugby players Jamie Heaslip and Sean O'Brien.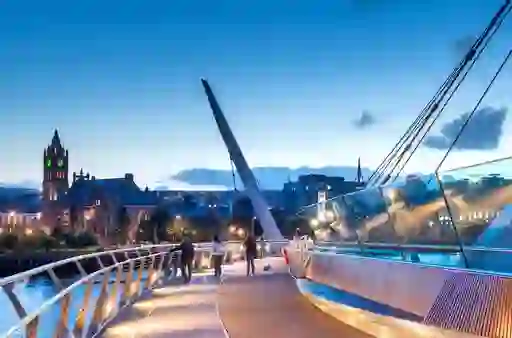 Illuminate Derry
What better city to light up after dark than the walled wonder that is Derry~Londonderry?! Illuminate traditionally runs over two consecutive weekends in February and brings a heady mix of light, colour and sound to six different sites across the city. Expect live projection shows and intimate live music celebrating the city's rich culture and heritage.
It's a fantastic time to visit the city, with locals out on the streets having fun and there's a real festival vibe about the place. Bars and restaurants will be buzzing, too. Our top picks? Enjoy tasty Asian street food at hip Mekong, then stop into Bishop's Gate Hotel for a top-notch cocktail from the bar.
If you're planning to stay a while, coastal adventures await in every direction. Head west along the Wild Atlantic Way, or go east and take in the Causeway Coastal Route – both are epic road trips.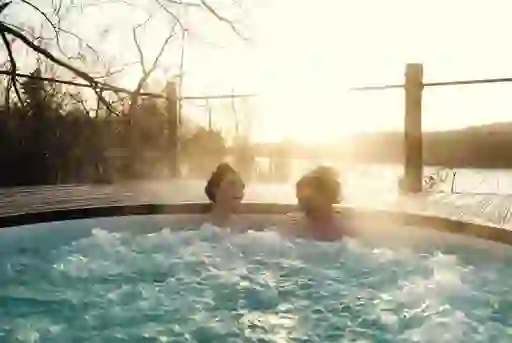 Unique places to stay in Ireland
With spring just around the corner, February is a great time to reconnect with nature. Luckily, Ireland has accommodation where you can do just that.
Finn Lough in County Fermanagh is a luxury forest hideaway where you can go lake swimming, sleep in a bubble dome, and relax in outdoor hot tubs as the cool evenings draw in. Whereas Rock Farm Slane is a glamping retreat in the heart of the Boyne Valley that champions ecotourism and is a good bet if you're looking for a more sustainable holiday in 2023. Game of Thrones® fan? Check out Winterfell Tours, where you can go glamping in the grounds of Castle Ward in County Down, where the hit TV show was filmed!
And for those looking to really get off the beaten track, why not rent a lighthouse? Yes, you can do that on the island of Ireland, too! Blackhead Lighthouse on the shores of Belfast Lough and Wicklow Head Lighthouse in County Wicklow are two excellent options. Explore the countryside by day, then cosy up in your tower by the sea at night, hot whiskey, hot tea or Irish coffee in hand, watching the waves roll in on the ancient shores below. It's an "Ireland moment" that'll stay with you forever.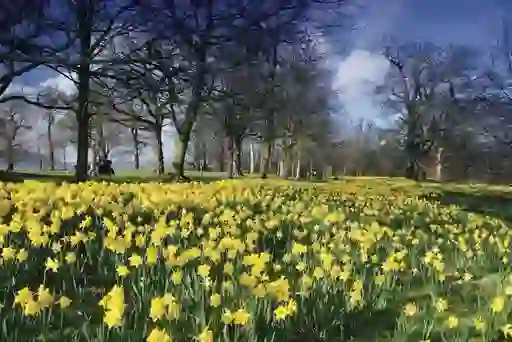 Travel tips for visiting Ireland in February
Spring might be in the air but winter is also lingering on the island of Ireland in February. As such, it's a changeable time of year weather-wise, so the best advice is to expect all four seasons in one day, and pack accordingly!
The temperature ranges from 2° to 8°, which can feel chilly in the morning and evening, but there's lots of bright sunshine in the afternoon on clear-sky days. The conditions make for some spectacular scenery, as daffodils pop up underfoot, lush green fields are bathed in afternoon sunlight, and distant mountain peaks are dusted with snow. If you're into outdoor activities, photography, or just appreciate a beautiful landscape when you see one, you're in for a treat.
For more February travel ideas, check out our bucket list of top things to do in Ireland in spring.