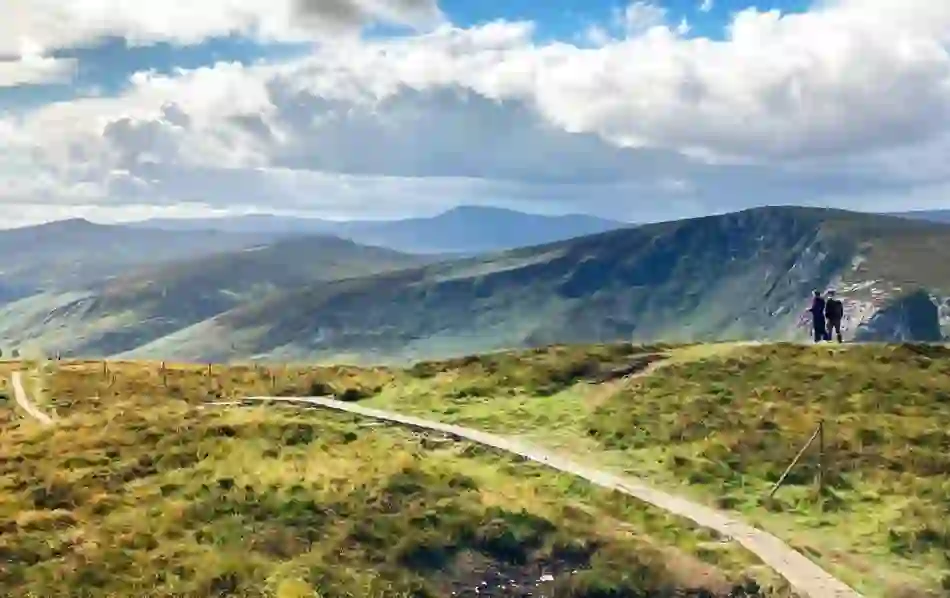 Wicklow Mountains National Park
40mins from Dublin Airport
Ochre-coloured mountains, hauntingly beautiful forests, gushing streams and placid lakes – the Wicklow Mountains in County Wicklow boast some of the most striking landscapes on the island of Ireland.
Situated surprisingly close to Dublin city, and yet with an otherworldly atmosphere, the mountains' unique landscapes have been an inspiration for poets and painters, as well as filmmakers, with major productions including Braveheart, Barry Lyndon, The Green Knight and Disenchanted all filmed here.
Wicklow Mountains National Park, Kilafin, Laragh, County Wicklow, A98 K286
Incredible walks
The Wicklow Mountains National Park is the largest of Ireland's national parks and encompasses almost 23,000 hectares. Sweeping vistas of tobacco-toned landscapes seem to appear at every turn, while the sounds of stags rutting and goats bleating are a constant reminder that this is nature's playground.
One of the most popular destinations in the Wicklow Mountains is Glendalough Valley, boasting a 6th century monastic site and a variety of walking trails, many of which offer remarkable views of the lake that shimmers at the valley's heart.
There are nine waymarked trails in Glendalough, from easy ambles to longer hiking trails such as the Spinc (9.5km), which brings you past an old miner's village, up into heather-flecked hills, and along a mountain ridge with spectacular views of the glacial lake below. Want to see things from a different perspective? Try the Glendalough Night Hike and History Tour – a five-hour walk that taes you from sunset to stargazing.
For longer walks that embrace the untamed beauty of this magical part of the island, head out on the long-distance Wicklow Way (130km), St Kevin's Way (30km) or the Miner's Way (19km).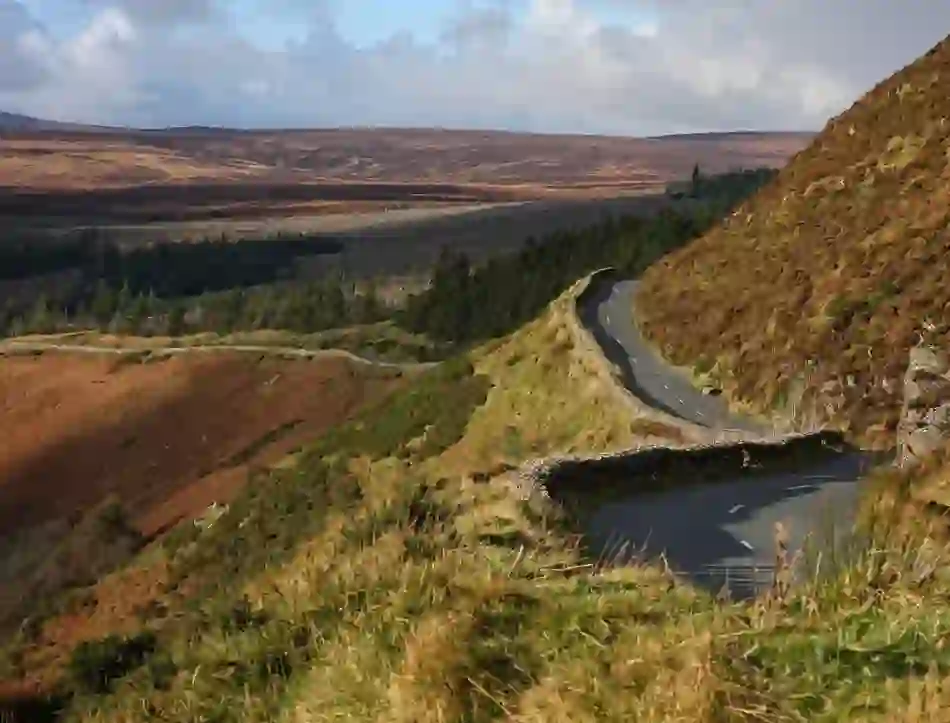 The Sally Gap
A wonderful way to experience the Wicklow Mountains is on the Sally Gap Drive, widely regarded as one of the most scenic drives on the island of Ireland. The Sally Gap is essentially a crossroads surrounded by sweeping views of blanket bog on one of the east-to-west passes across the mountains. The road is actually called Military Road and was built by the British Army after the Irish rebellion of 1798, but today it's a place of wild beauty, undulating roads and racing skies.
The circular drive starts in the village of Roundwood, and climbs up past Lough Tay, also known as the Guinness Lake because of a pale white beach that's fringed by dark water. Another highlight along the way is the Glenmacnass Waterfall, located within a desolate valley – a perfect place for a picnic.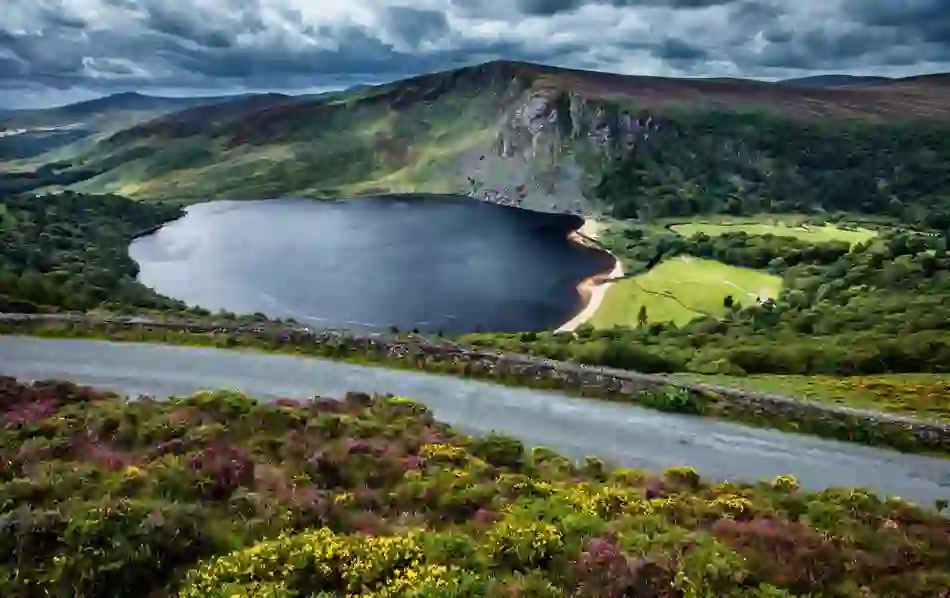 Cosy pubs and relaxing retreats
Given their proximity to Dublin, the Wicklow Mountains are popular as a day trip, but staying a little longer here will give you a chance to enjoy cosy, fire-warmed pubs, great local restaurants and snug places to stay that make Wicklow such a delightful destination.
A great stop off at the end of the Sally Gap Drive is The Wicklow Heather, a restaurant located in the pretty village of Laragh. Locally sourced organic produce dominates a menu that includes signature dishes such as confit of duck with Clonakilty black pudding, pan-fried chump of Wicklow lamb and Wicklow Hereford beef.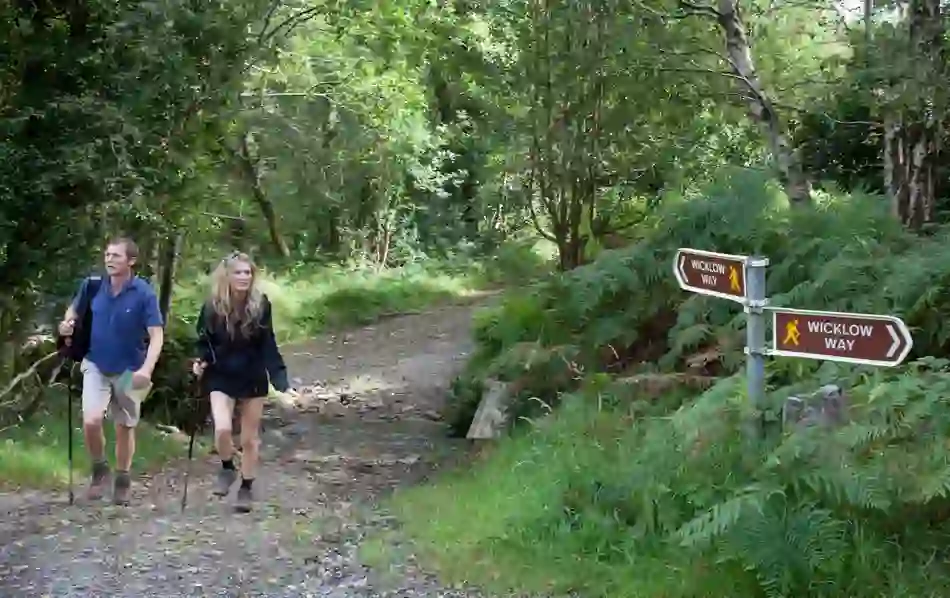 A good option in Roundwood is the popular and long-standing Roundwood Inn, which started life as a 17th century coaching inn. The atmosphere is warm and friendly and food includes traditional Irish favourites such as lamb stew. Byrne & Woods, also in Roundwood, is another great spot for a post-walk feast with pub classics such as steak sandwich and chips and burgers, alongside more elegant mains including slow-cooked pork belly and Hungarian goulash.
And finally, if you'd like your wild Wicklow experience with a side order of history and comfort, then check into the Woodenbridge Hotel. Dating back to 1608, it claims to be Ireland's oldest hotel and today boasts 29 rooms that have welcomed some of Ireland's political greats over the years including Daniel O'Connell, Michael Collins and Eamon de Valera.
Best of all, you've got the natural beauty of the Wicklow Mountains right on your doorstep.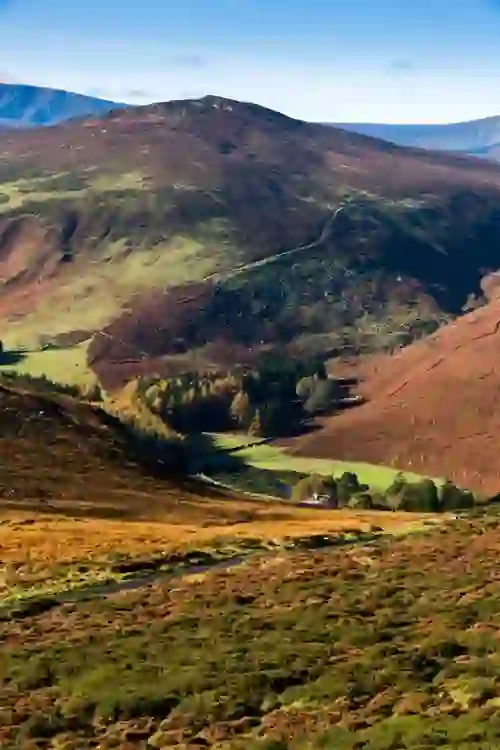 Need to know: Wicklow Mountains National Park
The Wicklow Mountains National Park is open all year around.
There are three main car parks: the Visitor Centre Car Park, the Upper Lake Car Park (both in Glendalough and charges apply) and a free car park in Laragh.
Small parking areas are available at Glenmacnass waterfall and along the Military Road on the Sally Gap Drive.
Private tour companies
run bus services from Dublin city. You can also get a local Link bus from Wicklow Town to Laragh and from Rathdrum to Laragh. Wicklow Town is accessible by rail services from Dublin.
Walking maps are available at the National Parks
website
.
Midges can be a problem on warm days in the summer, and walkers should be aware of the possibility of ticks when walking off-track.
Mammals within the park include rabbits, pine martin, deer, bats and otters while bird species include peregrine falcon, red grouse and merlin.