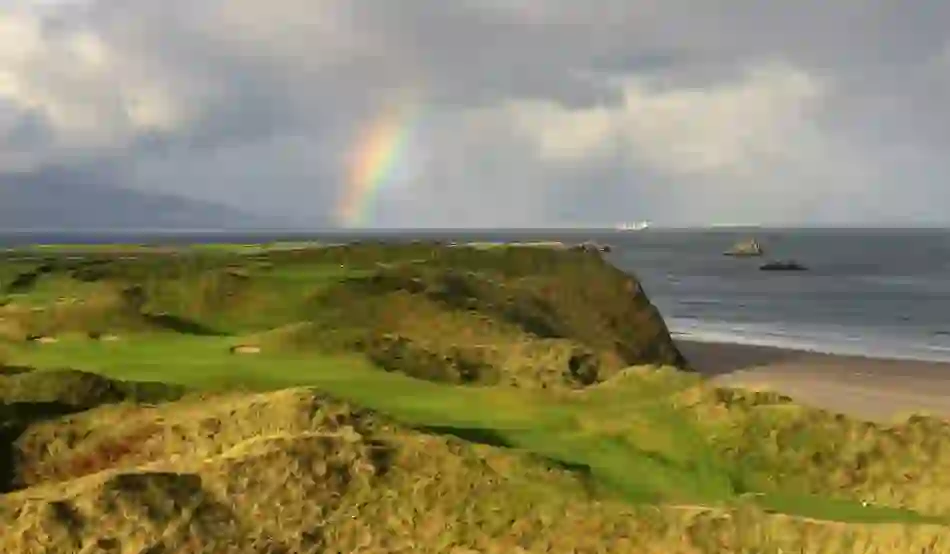 A beginner's guide to golf in Ireland
Ireland loves golf
Let's start with our credentials. Ireland has been named International Golf Destination of the Year on more than one occasion by the International Association of Golf Tour Operators. We've also produced more than our fair share of golf's biggest stars: Rory McIlroy, Shane Lowry, Padraig Harrington, Paul McGinley and Graeme McDowell, to name but a few.
But golf in Ireland is about much more than championship courses. With over 400 golf clubs, including a third of the world's natural links courses, we've been blessed by nature. But we've improved on that with golf academies, courses to suit all levels and plenty of helpful golf pros to help you get started in the game. Every year, golfers from all over the world come here to experience the fun and friendship to be found on (and off) our golf courses. If you want to join them, here are our top tips for playing golf in Ireland.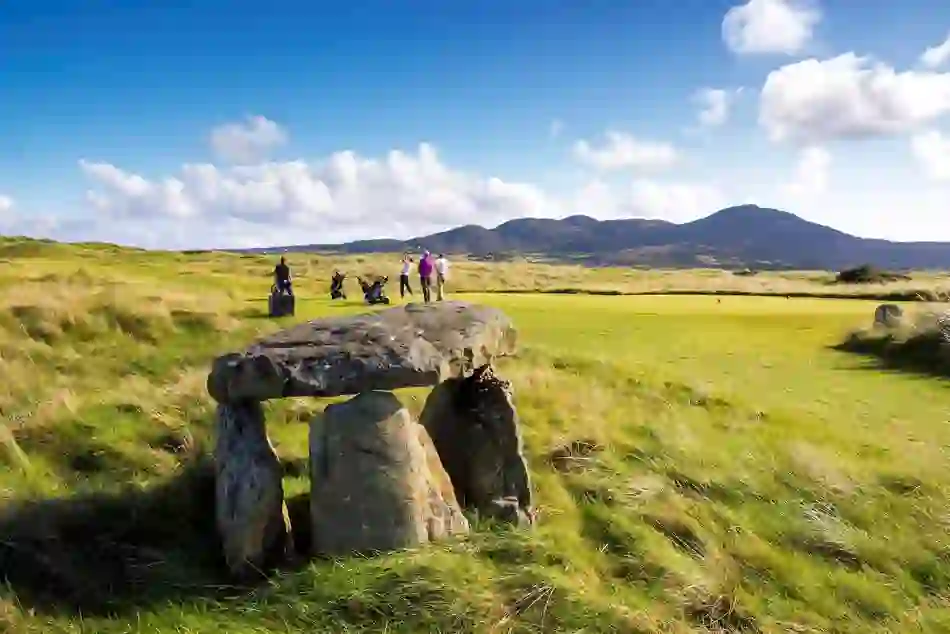 1. When to play
Most of Ireland's courses, especially links, are open all year round. However, courses are in best condition and weather is most suitable for golfing from April to October. In summer, daylight hours can stretch beyond 10pm so you can easily fit two rounds and a lazy lunch into a day before relaxing in the 19th hole to talk about that putt you almost made.
2. How to book
Many people book inclusive packages with specialist golf tour operators, who are able to arrange an itinerary including tee times and accommodation. But if you just want to fit in a round or two on your Ireland holiday, it's easy to organise your own golfing itinerary. Here are some things to bear in mind.
Always call ahead to check availability and book your tee times at your chosen course.
Most clubs offer special Green Fees for visitors and groups, so be sure to ask about any offers from the club or your tour operator. They may also know about packages that allow you to play two or three courses over your trip, so that you get to test your skill on a range of courses.
Book ahead, too, for caddies (available at bigger courses) and buggies or carts (not as common). The cost will vary for all.
One of the great things about golf in Ireland is that you don't need to have a handicap certificate to play here but if you have one, do bring it along. If you want to test your skills on some of the more challenging courses, it's recommended that you have a handicap of 18 or less for men and 28 or less for women to get the most enjoyment out of playing.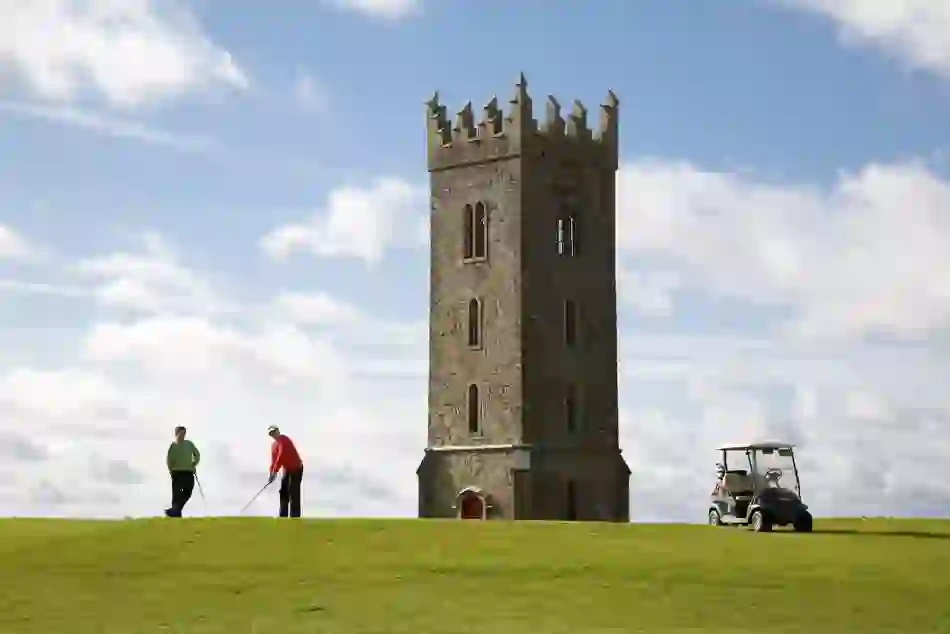 3. Where to get your equipment
If you haven't brought your own clubs with you, many places offer club hire, including golf courses – just call ahead to check. The innovative Clubs To Hire service also makes golf easy for visitors. On arrival in Dublin Airport, you can hire everything from your clubs to all sorts of related golf equipment.
Bring plenty of golf balls, too, as you're sure to lose a few!
4. How to learn
Ireland really is the place to come if you're a golfing novice thanks to the relaxed, welcoming and supportive attitude of the golfing community here. From experienced PGA professionals offering personalised tuition to dedicated golf academies using the latest technology to analyse your swing, you can avail of as much help as you need. If you're playing one of the bigger courses, consider hiring a caddie – their in-depth knowledge of the course and the game can make that dream round even more enjoyable. Many courses also have driving ranges and short game areas that allow for extensive practice before you head out on the course.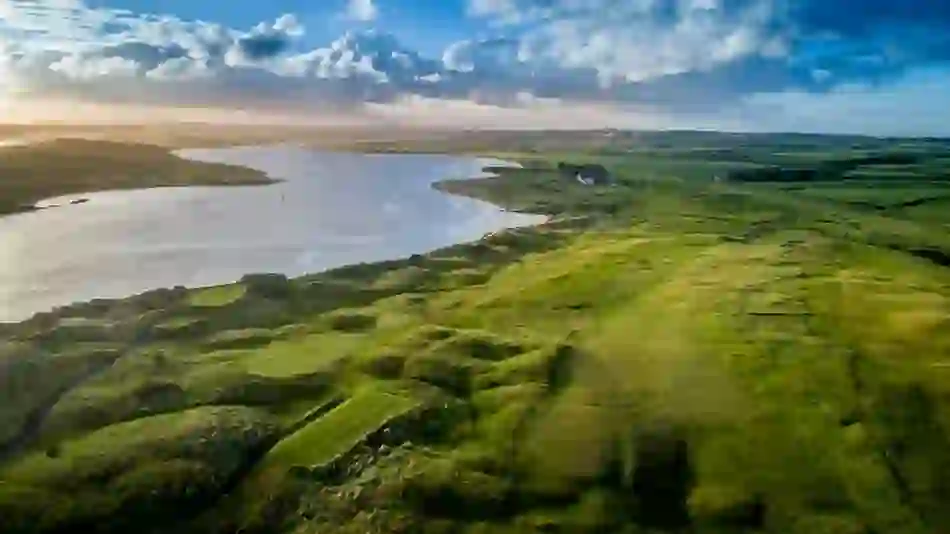 5. What to wear
Traditional dress codes are still common in Ireland's clubs. Jeans, shorts and trainers are frowned upon while some clubs might insist on a jacket and tie for the dining room. The safest bet is smart casual, with waterproof gear and sunscreen at hand just in case. Many clubs will only allow soft spikes, so do check in advance.
6. The 19th hole
Part of the pleasure of golfing in Ireland is the warm welcome and the good "craic" (fun) after a round. You see, the clubhouse itself (or the nearest pub) is a great place to trade victories or horror stories about tricky shots and near misses with other players. When the golf talk has finished, there's always more fun to be had. Enjoy a trad music session in a rural pub, sample amazing food in local restaurants, go sightseeing, take a whiskey-tasting class at one of Ireland's many distilleries. This is your chance to discover that Ireland has more to offer than golf.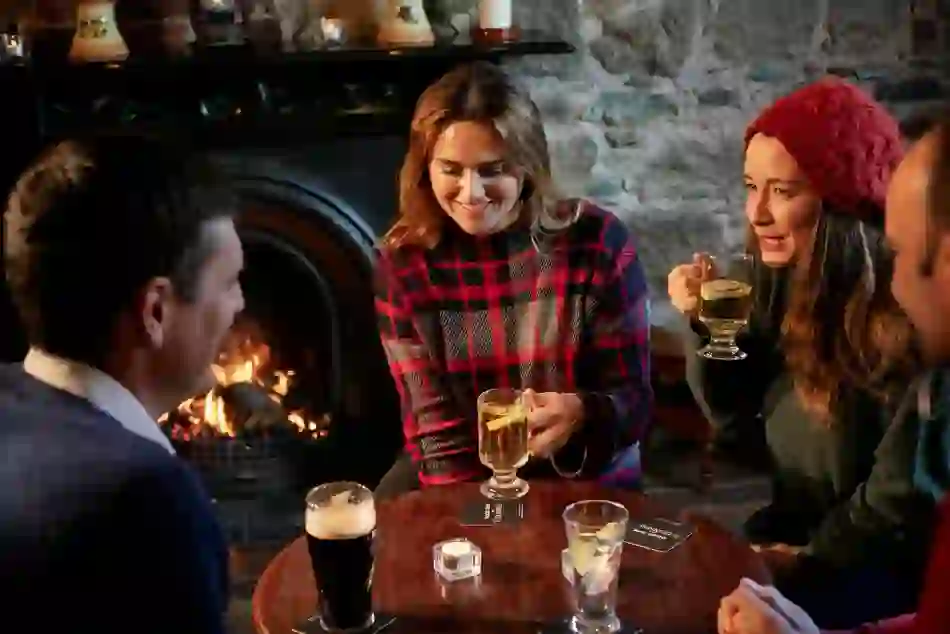 7. Where to stay
Pick a cosy B&B that can store all your gear and give you the low-down on local courses. Treat yourself to a luxury stay at a 5-star golf resort. Do it your way with self-catering accommodation that allows you to come and go as you like. Whatever golfing holiday you choose, Ireland has the accommodation to suit you.
8. Where to play
The big-name championship courses may be on many a golfer's bucket list but Ireland's smaller courses also offer that uniquely Irish mix of world-class golf in welcoming surroundings. And with more tee-time availability and lower green fees, they're often a better option for a beginner. The Golf Ireland Golf Guide offers a comprehensive list of courses around the island, which can help you make your choice.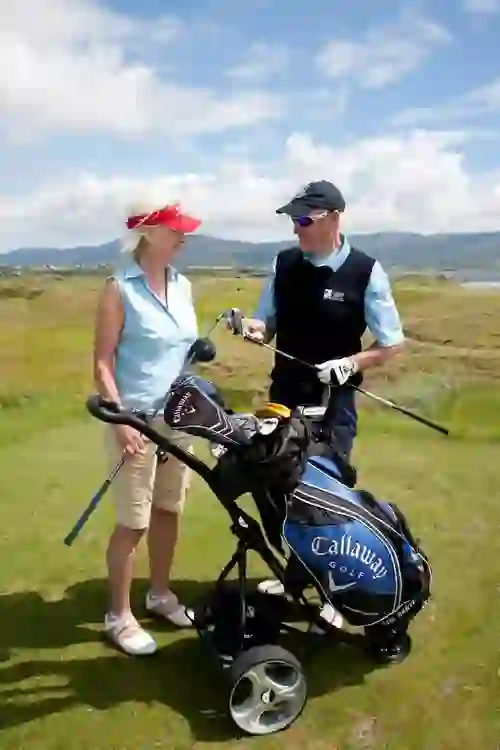 5 great courses for beginners
Castlerock Golf Club, County Londonderry
Castlerock is home to both an 18-hole and a 9-hole course, as well as a beginner-friendly practice area and short course.
Galgorm Castle, County Antrim
The golf academy boasts 24 bays as well as a short game area, where PGA staff are on hand to help you figure out your chipping from your lob shots.
Macreddin Golf Club, County Wicklow
The driving range and short game area allow for extensive practise before taking to the greens, making this a great balance for beginner golfers seeking to challenge themselves.
Ring of Kerry Golf Club, County Kerry
A mix of parkland, links and heathland golf, this course offers the novice player an excellent introduction to each type, all while surrounded by glorious scenery.
Galway Bay Golf Resort, County Galway
With a dedicated TrackMan room and the club pro, Dara Ford, on hand to help, every visitor is encouraged and enabled to make the most of their time here.