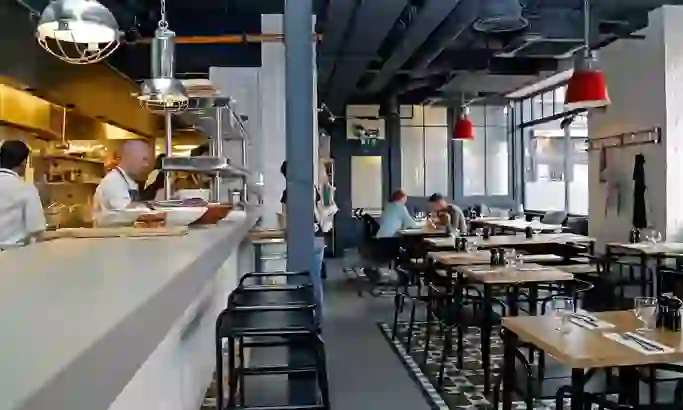 10 Irish restaurants you need to try

1. The Woollen Mills Eating House, Dublin
Location is everything in this bright "Eating House" in a beautifully upgraded old Dublin woollen shop. Vast windows overlook the River Liffey, lined with dappled beech, oak, ash and sycamore trees. The menu includes traditional Irish food throwbacks, such as Dublin coddle, making The Woollen Mills one of the go-to spots in the city. Drop in any time of day for crispy line-caught mackerel, Connemara cured ham or a comforting slice of tea cake.

2. Kai Café + Restaurant, Galway
With St Tola cheese, fish from the Connemara Smokehouse, and pheasant from Dromoland Game, Kai's focus is firmly on the quality of its suppliers for its food and drink. Jam jars hanging from the ceiling, chunky wooden benches and open stone walls make it the perfect hideaway on a blustery afternoon. Well, that and the daily-changing menu of fresh, light dishes such as west coast crab and trout caviar.

3. Farmgate Café, Cork
In the heart of Cork's foodie mecca, the English Market, the Farmgate Café dishes out big traditional dishes and comfort food like classic Irish stew, corned beef with mustard and parsley sauce, and tripe and onions with drisheen.

4. An Port Mór, County Mayo
Shaking up the foodie scene in the picturesque town of Westport in County Mayo, An Port Mór is blazing a trail with a solid commitment to local, seasonal produce with a light contemporary slant. Take a seat in the warm, elegant dining room and check out delights such as pot-roasted pig cheeks with black pudding.

5. 1826 Adare, County Limerick
The rustic old-world beauty of 1826 Adare, in a traditional thatched cottage in the picture-perfect village of Adare, makes it an ideal location for a seasonal bite. Striking a delicate balance between solid Irish cooking and modern innovation, husband and wife team Wade and Elaine Murphy are hitting the spot with fresh, comforting dishes.

6. Gregan's Castle, Ballyvaughan, County Clare
The brittle lunar landscape of the Burren in County Clare harbors some real little gems – one of them is the Dining Room in Gregan's Castle. Using the very best ingredients on his doorstep, head chef David Hurley turns out super-special plates of contemporary Irish cuisine. Great location, great dining room, and a truly special experience.

7. Mourne Seafood Bar, Belfast
The ethos of the Mourne Seafood Bar: serve the best local seafood in the most delicious way possible. And it works! Chalked-up blackboards, a laid-back atmosphere and extra-fresh produce hauled in from local ports draw the crowds night after night for everything from "oysters au naturel", smoked salmon to aromatic pots of fresh Mourne mussels. Simple and delicious.

8. Newforge Dining Room, County Armagh
Local and seasonal produce, free-range eggs and meats, and organic dairy fare – provenance and quality are key at Newforge. This dining room within a beautiful Georgian country house has one table every night for non-guests. Snap it up and savour dishes such as horseradish panna cotta with smoked County Sligo venison and watercress salad.

9. The Brewer's House, Dungannon, County Tyrone
Fancy some organic turf-smoked Donegal salmon with your pint? Get to this great gastro pub in the town of Dungannon. The quality of the cooking draws the crowds to what is one of the oldest public houses in Ulster, with a lineage dating back to the 18th century.

10. The Fumbally, Dublin
Think lunch rather than dinner at this much-loved Dublin café. It's one of a clutch of coffee shops in the city (3fE, Brother Hubbard) spearheading a new attitude to good, solid cooking. The focus is on great suppliers, served up without any attitude in a super-cool atmosphere. A city fave.