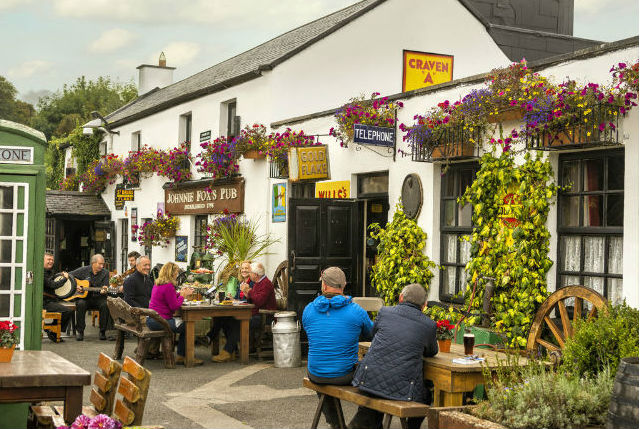 Johnnie Fox's, Glencullen, County Dublin
Famed as Ireland's highest pub, Johnnie Fox's serves up a rip-roaring Hooley (party) experience every night of the week. A traditional band serenades you while you enjoy dinner, before a troupe of Irish dancers take to the floor for a leg-kicking extravaganza accompanied by live master musicians – be sure to book in.
O'Donoghue's, Merrion Row
Pull up a stool and settle in, because this is a musical institution. Trad legends like The Dubliners and Christy Moore have struck up songs in this famed establishment, so when you're enjoying a session here, you're surrounded by legends. As the pints flow and the music sweeps over you, you'll find it hard not to burst into song.
The Celt, Talbot Street
Trust us, you won't be able to resist some foot-tapping when you walk through these doors. The Celt is known best for its dancefloor, and you'll have the chance to test out your jigs and reels as the band plays up a storm around you. Everyone is welcome to give the boards a go – don't worry if you have no moves, you'll learn the steps quickly!
The Auld Dubliner, Temple Bar
Ask anyone where the most iconic trad session in Dublin is, and they'll point you towards The Auld Dubliner. This Temple Bar mainstay is renowned for its warm welcome, along with the rising crescendo of traditional music that pumps out of its doorway, as musicians and singers join in the sessions that kick off before the sun starts to set.