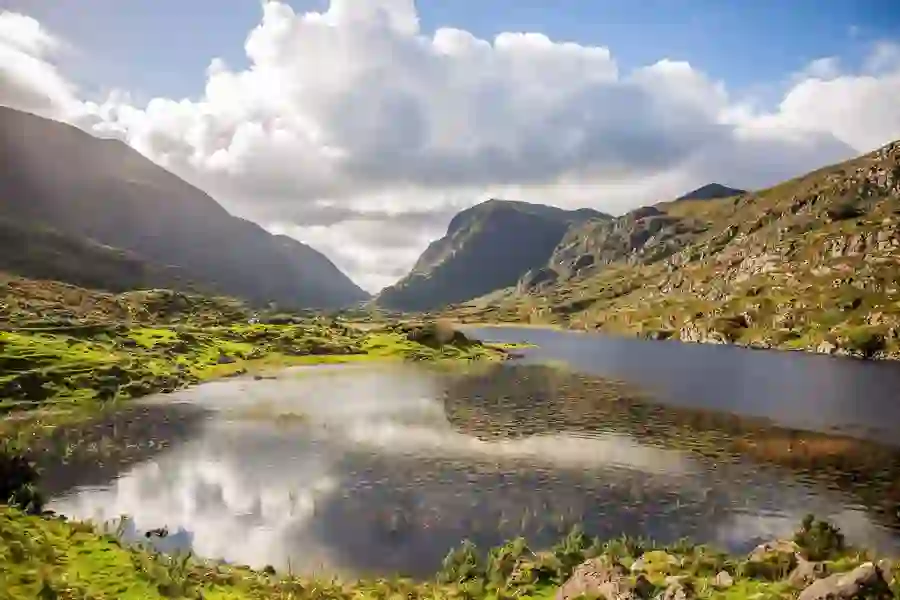 A trip around the Ring of Kerry
From Killarney to Killarney
Nearest Airport
Cork Airport
Attractions
Kylemore Abbey, Cliffs of Moher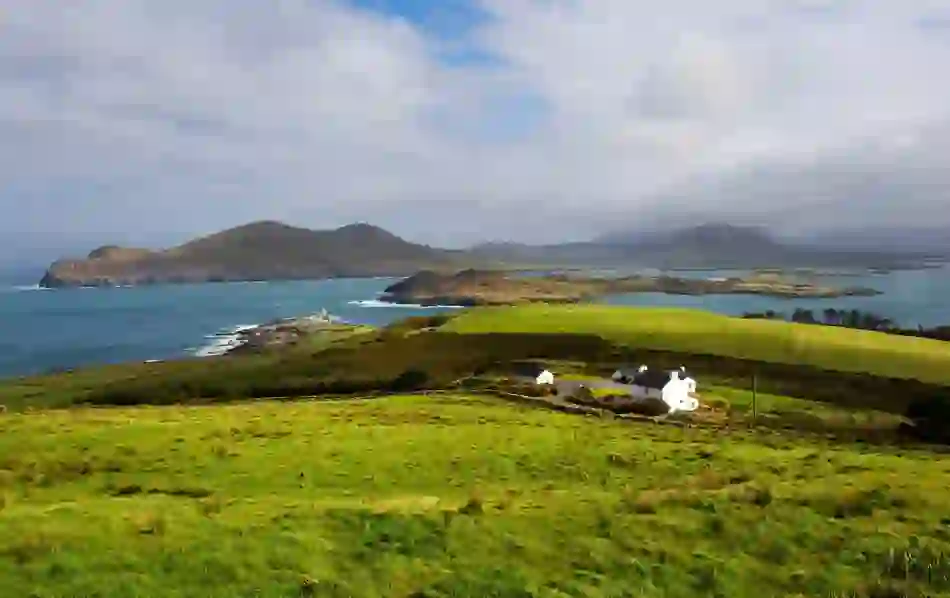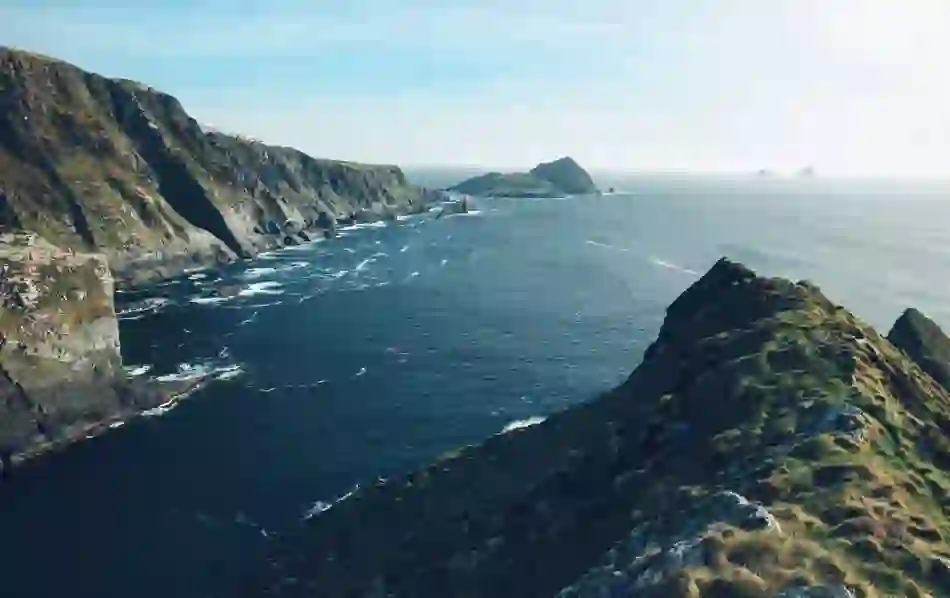 Drive, cycle, or take a bus trip around this picturesque loop in County Kerry and experience Ireland at its wildest. Whether you choose to go clockwise or counter clockwise, you're guaranteed a wealth of majestic sights and beautiful moments on the world famous Ring of Kerry.
Rugged islands, white sandy beaches, dramatic mountain passes, and a royal goat – the Ring of Kerry works its magic as you travel from rugged coastline to charming towns and villages. You can do it all in a day, but our advice? Go slow, savour the sights, get off the beaten track, and see what has made this looped route one of the most popular on the island of Ireland.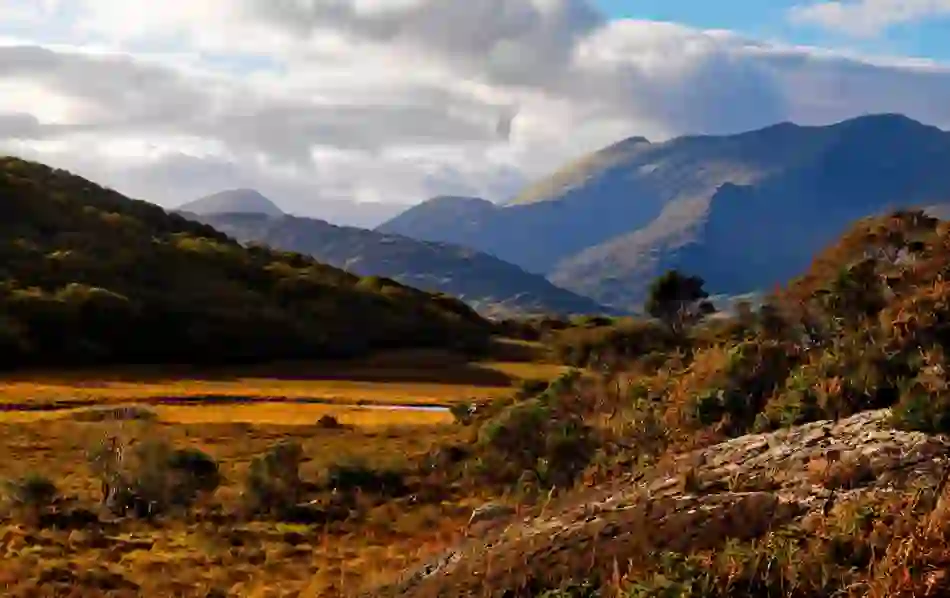 Day 1
Muckross House to Waterville
Day 1
Start in the vibrant town of Killarney before winding your way to Waterville.
Explore Day 1
Kicking it off in Killarney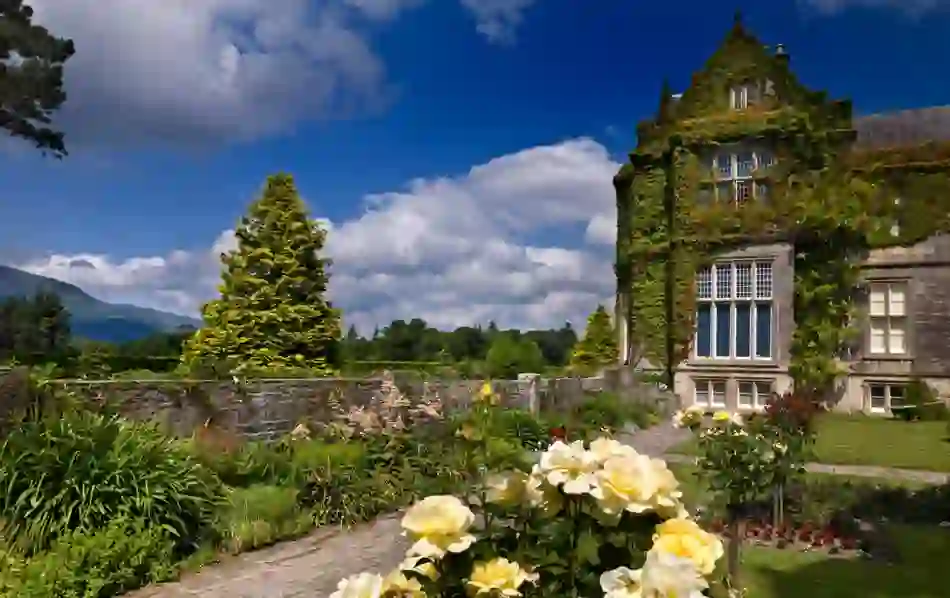 Looking for fine food, great festivals and trad music pubs where the craic is mighty? Killarney has it all. This buzzing town has an undeniable energy that makes it an interesting counterpoint to the majestic surrounding landscapes. Travellers have been lured here since the mid-18th century, drawn by Killarney's great atmosphere and friendly vibes.
Feast on an abundance of seafood fresh from the Atlantic at Quinlan's Seafood Bar; feel the joyous beats of a traditional music session in Murphy's Bar; and visit the stupendously beautiful Muckross House, a 19th century Victorian mansion that was once visited by Queen Victoria, and which is set amongst mountains and woodland.
But don't use up all your energy, the Ring of Kerry is just about to start!
Where goats are crowned king...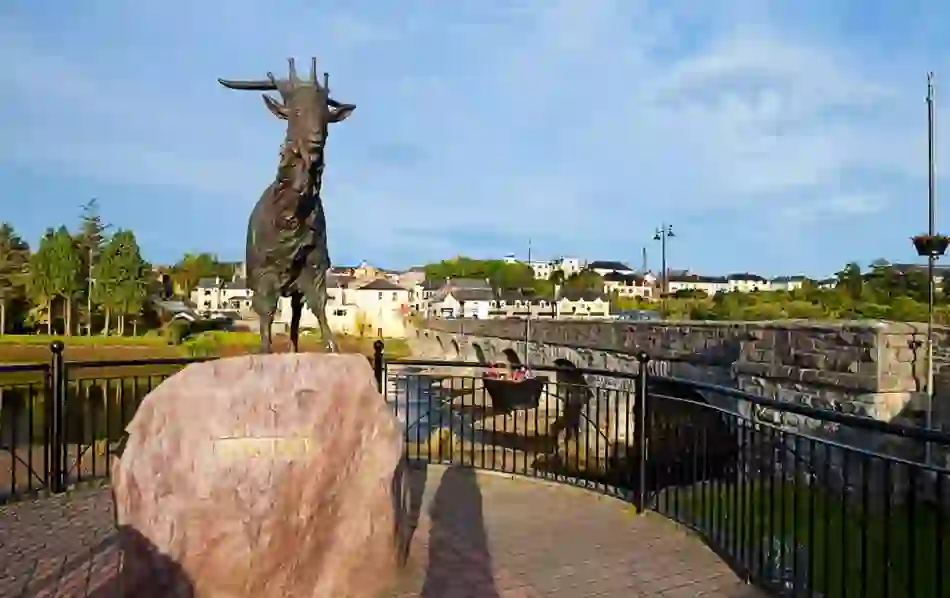 With the MacGillycuddy's Reeks mountain range and Ireland's tallest mountain, Carrauntoohil, drawing attention to your left, this first stretch of the Ring of Kerry takes you through serene pastoral landscapes and narrow roads lined with trees and hedges. As you reach the town of Killorglin, you might notice the statue of a goat perched proudly on a large boulder. This is King Puck.
Every year, a wild mountain goat is crowned king and a festival erupts in the town with several days of music, dancing and unbeatable fun. Thought to have its origins in pagan times, Puck Fair is one of Ireland's oldest festivals with official records dating back to the early 17th century. If you're not in town around festival time at the beginning of August, don't worry – Killorglin is an enjoyable melting pot of pubs, cafés and galleries.
If you have more time, make your way to Killorglin Golf Club, considered to be one of the most scenic courses on the island.
Into the heart of the Kerry landscape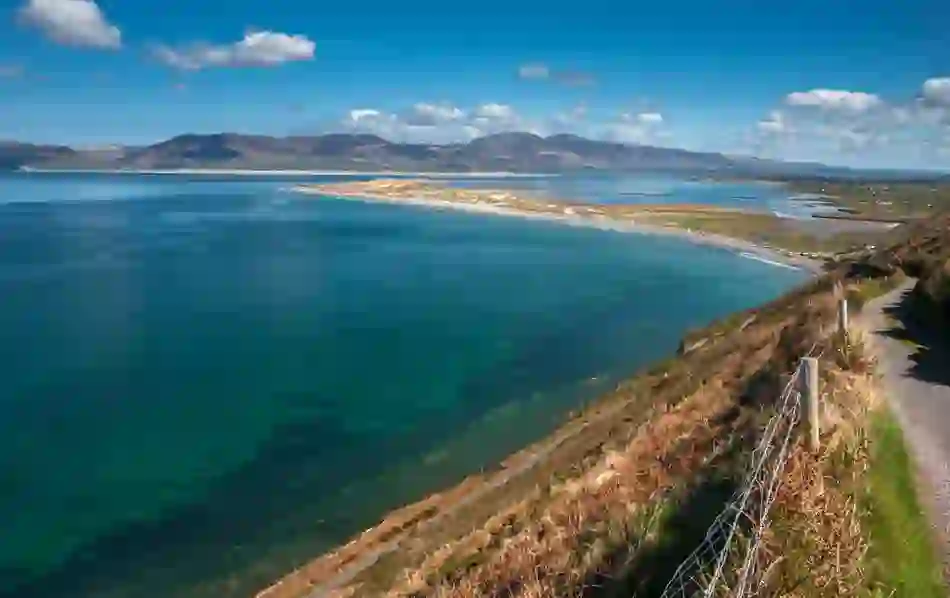 Leaving Killorglin, the scenery ramps up as you head towards Glenbeigh, a peaceful village that basks in beauty thanks to the vast sands of Rossbeigh Strand, as well as the surrounding hills and mountains. Walk, horse-ride, swim, surf and hike or simply sit and watch the light play over the landscapes – it's really something special.
If you have more time, take a short detour from the N72 to the Gap of Dunloe, which slices narrowly through the MacGillycuddy's Reeks mountains. Beginning at Kate Kearney's cottage, the route winds past lakes, over little bridges and through exceptionally beautiful mountainscapes. Be aware that it takes about five-to-six hours to complete on foot (there and back). Organised day trips from Killarney are also available.
A western town with plenty of intrigue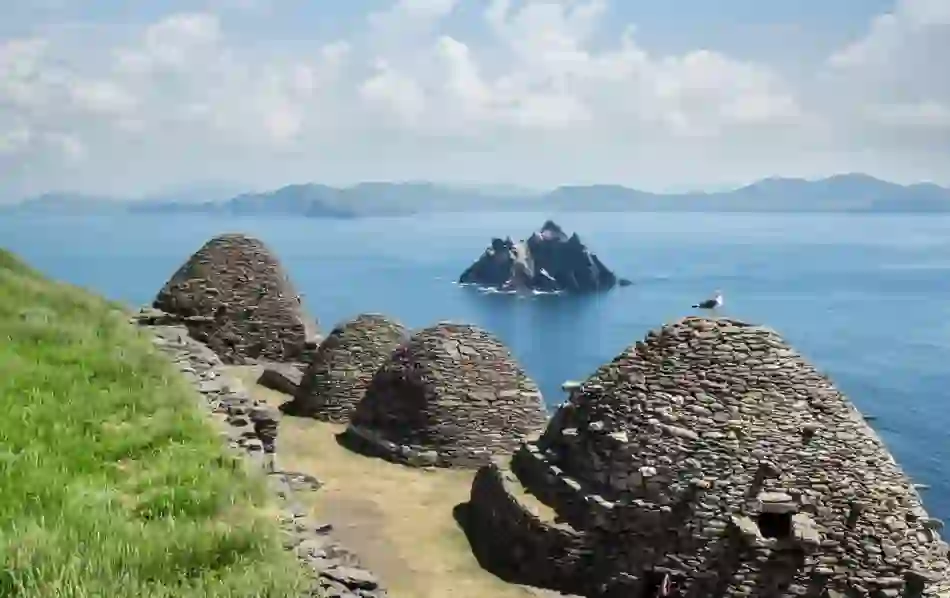 Known as the gateway to the Skellig Ring, Cahersiveen is one of the westernmost towns in Europe. Sitting at the foot of Bentee Mountain, the town has a fascinating history that can be traced through its 7th century stone fort and the beautiful 15th century Ballycarbery Castle. But it's the Old Stone Barracks that gives Cahersiveen an unusual edge.
This heritage centre was built as a police station for the Royal Irish Constabulary in the 1870s, but local rumour suggests that the turreted "scholss-style" pile was actually built in error. According to some accounts, the British authorities were in such a race to have the station built that they mixed things up resulting in the plans for a building in India being used. Fact or fiction? We couldn't say, but it's a great story either way.
Cahersiveen is a gateway to the 18km-long Skellig Ring, an extension of the Ring of Kerry. There are stunning beaches, exceptional Atlantic views, the island of Valentia, and trips out by boat to a Star Wars filming location, Skellig Michael. This UNESCO World Heritage Site is home to a 6th century island monastery, complete with beehive huts.
Where Charlie Chaplin came to relax...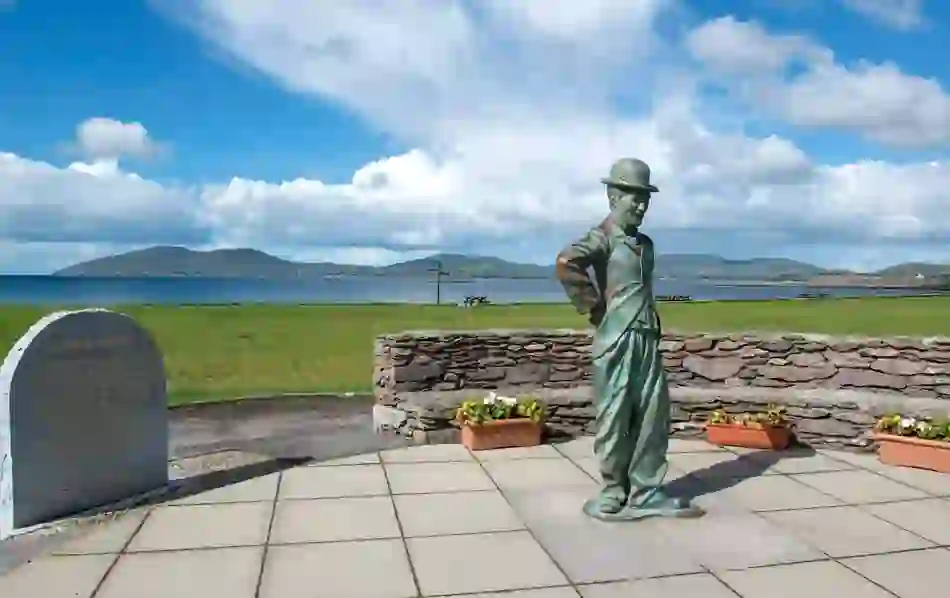 Heading towards Waterville, the roads twist and turns through craggy landscapes bounded on one side by the Skellig Peninsula, with glimpses of the ocean adding blue to the vast stretches of green. This is pure escape in a part of Ireland that is legendary for its wild beauty. Heading into the village, it's easy to see the appeal of this pleasant seaside spot, which was a favourite holiday destination of Charlie Chaplin.
Backed by deep green mountains and facing the Atlantic Ocean, Waterville is a top destination for hill walking, golfing and angling. At night, make sure you look up – this part of the island is an International Dark Sky Reserve. Stunning landscapes by day; majestic skies by night – welcome to Waterville!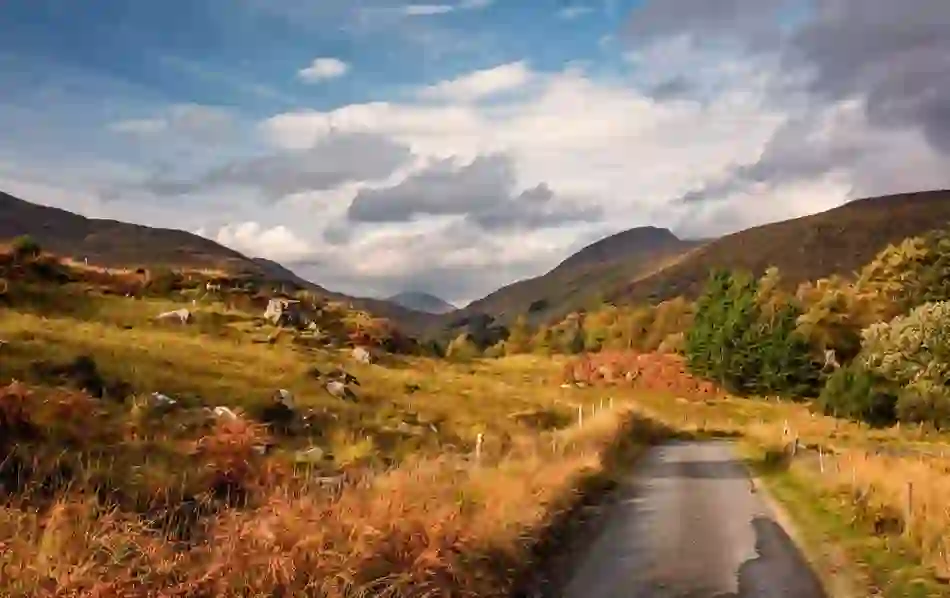 Day 2
Derrynane to Killarney National Park
Day 2
On your second day, head to the beach before heading through glorious scenery back to Killarney.
Explore Day 2