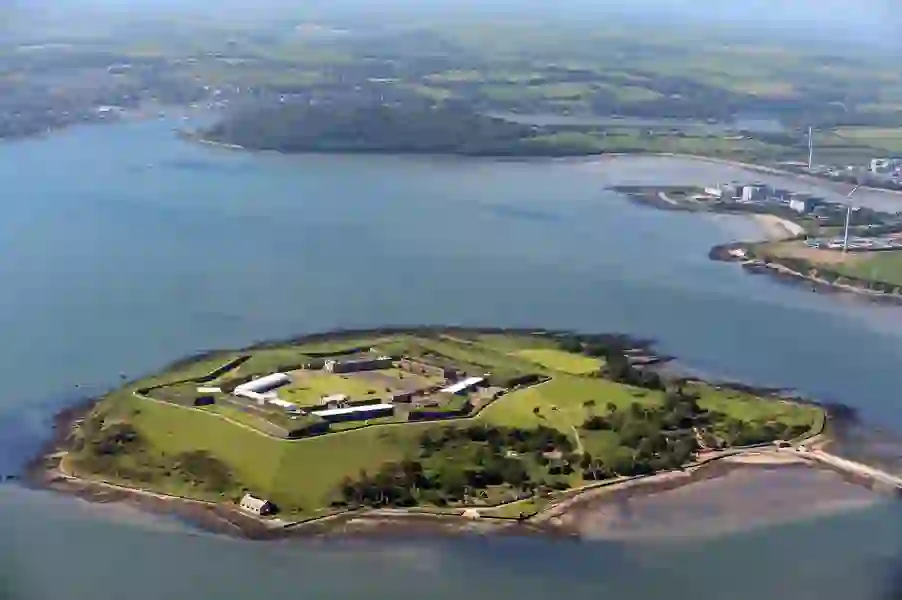 Discover the historic Spike Island
40 mins from Cork Airport
The wind is in your hair, the sea breeze is on your face, and you're gliding from pretty Cobh across the glistening waters of Cork harbour to your destination: the legendary Spike Island!
Today, it may be a top attraction to visit in County Cork, but this one-off island has taken on many roles over the years. Its past is often dark but always intriguing. History buffs, nature lovers, and anyone who loves a good yarn, well told, are in for a treat.
So let's set sail, there are over 1,000 years of Irish history to explore...
An island steeped in history
The history of Spike Island began over 1,300 years ago, when St Mochuda founded an early Christian monastery at the site. Despite the island being ravaged by Vikings in the 9th century, there are reports of a monastic settlement lasting here until the 16th century. Today, visitors can follow in the footsteps of the monks by embarking on their daily pilgrimage on the outer island walking trail.
Spike Island first became an island prison during the mid 1600s, when thousands of prisoners were kept here during the Cromwellian conquest of Ireland. This identity stuck, and the island would again become a prison during the Great Famine in 1847. In fact, at this time it was the largest known prison in the world! One can explore the chilling Punishment Block and "dark cells" from this troubled time.
Even in modern times, Spike Island remained a prison, only closing its prison gates for the last time in 2004. Tours take you around modern prison cells, as well as the dubiously named "Shivs and Shanks" exhibition!
The iconic star-shaped Fort Mitchel that still stands strong to this day was built by the British army in the early 1800s. It's so big, you could fit the whole of Alcatraz Island inside it! Visitors can get up close and personal with the towering entrance walls, huge parade ground, as well as many buildings and tunnels. There's even a military Gun Park featuring tanks, cannons and artillery guns. A must for any military enthusiasts.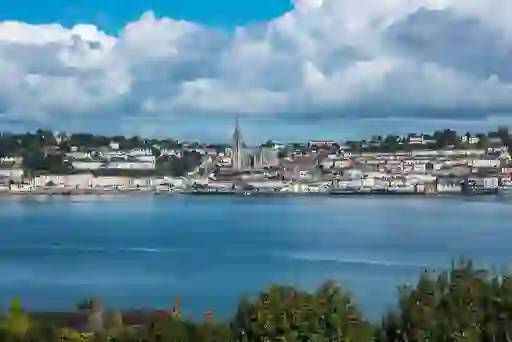 Beyond the island
As you can see, Spike Island makes for a great day trip in County Cork. But what else can you enjoy in the area?
In colourful Cobh, don't miss the Titanic Experience Cobh, which tells the story of the Titanic's last port of call before its ill-fated voyage across the Atlantic Ocean.
St Colman's Cathedral dominates the skyline of this harbour town, and it's well worth a visit. It's the tallest church in Ireland with a grand interior that will take your breath away.
Further afield in County Cork, the world-famous Blarney Castle (home to the Blarney Stone) is an unmissable highlight. As is the 18th century English Market in Cork city, a cornucopia of Irish culinary delights. Or you could venture into the natural beauty and wild charms of West Cork.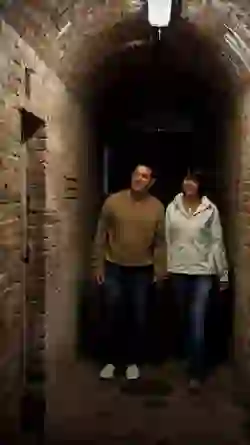 Need to know: Spike Island
Spike Island is reached by ferry from Kennedy pier in Cobh. The scenic journey across Cork harbour only takes 10-15 minutes.
Spike Island is open year round to visitors but the exact schedule varies by season. Typically, it's open daily during the summer and the rest of the year it's open weekends and school holidays.
Ticket prices vary but there are options available for adults, children, families, senior citizens, teenagers, babies and groups.
There are numerous tours you can choose from, including regular, after dark, behind the scenes, and eco-friendly options! You can also opt for a guided or a self-guided experience.
There are two gift shops on site, both selling unique Spike Island souvenirs. And there's also a cosy café that dishes out hot food and tasty treats!