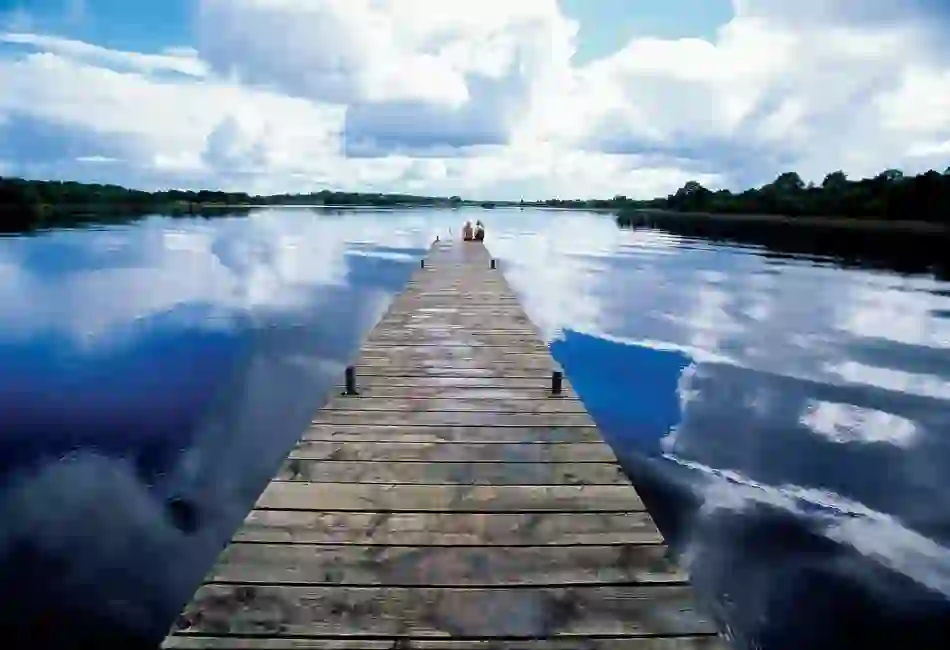 Sustainable slow travel in Ireland
There are ways to not only have an amazing time while travelling around the island of Ireland, whilst also making eco-friendly, responsible travel choices that reduce your carbon footprint and gets you in touch with local communities.
Slow travel is all about ditching the checklist, sinking into your destination, soaking up the local culture, and really making a meaningful connection with the people and the place you visit.
Here are seven ways to have a slow travel adventure in Ireland and enjoy the journey and the people you meet along the way, as well as the destination…
Boating around the Fermanagh Lakelands
Glassy waters, mysterious islands with ancient statues, and a pace of life that forces you to go slow all combine to make the Fermanagh Lakelands in Northern Ireland irresistible for a sustainable travel experience. The best way to explore? Make some waves and take a barge, canoe or cruiser. It's a whole way of life when you go by water, complete with lazy lunches at waterfront cafés and pauses to cycle the countryside.
Making strides in the Mournes
The Mourne Mountains are an Area of Outstanding Natural Beauty in County Down, and these mist-shrouded peaks will simply make you slow down. Base yourself in a hideaway like Birch Cottage, and you can spend days picnicking beside lakes and ambling up heather-covered slopes. Or you can join local adventurer Peter with Walk The Mournes and hike along the Mourne Wall, which runs for 19.5 miles over 15 mountains.
Retreat to the serenity of Delphi Resort, Connemara
Escape: that's what Delphi Resort is all about. Nestled in the foothills of the Mweelrea Mountains, amidst the dry stone walls and wild orchids that dot the Connemara landscape, this resort is all about going slow and taking things at a gentler pace. Take your time on bike rides along country roads or go kayaking in the tranquil waters of Killary Fjord. Pure bliss.
Escape to Mulranny, County Mayo
Mulranny, a hidden treasure on the Wild Atlantic Way, has been voted as Ireland's Best Destination for Responsible Tourism at the Irish Responsible Tourism Awards – and for good reason. Here, you can go horse riding along pristine beaches, wander through the wild, mountainous scenery of west Mayo, or try your hand at seaweed harvesting and tasting. Why not pop into a pub or restaurant and find out where the local community love to explore around the area?
Stretch your legs on Sheep's Head
The southwest coast of Ireland is home to County Cork and the Sheep's Head peninsula, one of the wildest and most beautiful stretches of land on the entire island. Less than 1,000 people are lucky enough to live here – but anyone can visit. Make your base in the charming village of Durrus and walk the Sheep's Head Way along gorse-covered trails, where an utmost feeling of peace prevails. Keep watch for whales or dolphins, and stop off for lunch and a chat at The Tin Pub in Ahakista.
Marvel at Mother Nature in the Burren
There's no denying it: the layered limestone landscape of the Burren National Park in County Clare is like simply nowhere else on this earth. Even driving through it is an experience – but you should definitely stop and smell the roses! This EU-dedicated Special Area of Conservation is a cornucopia of wild delights, with 70% of Ireland's native plant species flourishing here. Make sure to take time to peruse The Burren Perfumery, where the Chowen family has been busy bottling Ireland's scents and sharing its horticultural secrets since 1972.
Breathe deep in the Boyne Valley
Newgrange, the Hill of Tara, Trim Castle: the Boyne Valley is at the heart of so much of Ireland's history, myth and legend that rushing through it all would be a waste. Get your pulse racing at Boyne Valley Activities, or settle in for a stay at Decoy Country Cottages and take your time getting lost in 5,000 years of history, one tale at a time. Between the stories about St Patrick and heroes, and the sights outside your window, you might never want to leave.