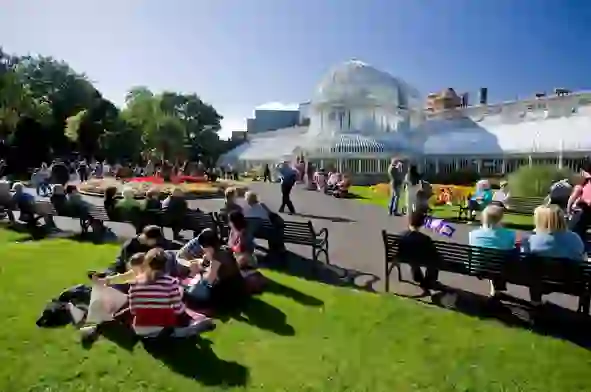 Belfast: top 9 attractions County Antrim
1. Titanic Belfast
Built on the slipways where the ship itself was constructed over 100 years ago, Titanic Belfast isn't just a museum – it's an experience. Named the World's Leading Tourist Attraction at the World Travel Awards, its shimmering exterior contains nine galleries spread across six floors mirroring the height of Titanic, as well as interactive exhibitions, an underwater cinema and gantry rides. This is the whole story, from dream to tragedy. Allow at least three hours to take in a mix of moving images, special effects and reconstructions – and do book tickets in advance.
Simply awe-inspiring at each step. It's not a museum; it's an experience.

The Huffington Post
Later, give a nod to Samson & Goliath (Harland and Wolff's yellow cranes) and Head to Hamilton Dock to see Titanic's little sister, the SS Nomadic, now fully restored and offering a unique onboard time-travel experience.
2. St George's Market
For an authentic taste of Belfast life, make your way to the renovated St George's Market. It's in full flow on Friday, Saturday and Sunday mornings (with free jazz on the weekends). More than 150 traders set up stalls laden with everything from antiques to metalwork – but what people really visit this market for is the food.
Incredible seafood, fresh crusty bread, Broughgammon Farm's goat meat: whatever your tastes, St George's Market will provide. Tuck into some Belfast belly-buster soda bread or an Ulster fry, which will fill you for the day, or head over to Aunt Sandra's Candy Factory stall, with its delicious fudge and colourful sweets. We guarantee you won't leave empty-handed!

3. Black Taxi Tour
One of the best ways to see Belfast's famous wall art is to sign up for a Black Taxi Tour Knowledgeable drivers supply an informative history lesson peppered with local tidbits, which reflects on both the city's intrinsic traditions and tells the story of the Troubles.
Political turmoil and past conflicts are explored by the guides, with commemoration of much older historic and religious events also recorded across the city's walls. Travelling by taxi is also a great way to see the more recent murals livening up Belfast, which celebrate its modern sporting and cultural icons. Bring a camera: this is unmissable.

4. Ulster Museum
Gleaming from a multi-million pound redevelopment, there are marvels wherever you turn in the Ulster Museum, so give yourself the time to enjoy it all. Alongside exhibitions that track the rise and fall of Belfast's craft trades are tens of thousands of fossils, as well as the only dinosaur bones ever found on the island of Ireland.
Works of Asian, African, European and Pacific art adorn the museum, along with the famed Egyptian mummy, Takabuti. Meanwhile, the archaeological displays capture Ireland's evolution from the Stone Age right through to Late Medieval times. The excellent fine art exhibitions offer a glimpse into international and local history and culture through costume and fashion, pottery, furniture and even jewellery.

5. Botanic Gardens
A short stroll away from the Ulster Museum are the Botanic Gardens. Designed in the 19th century by Sir Charles Lanyon – who also designed parts of Queen's University – and built in part by Dublin's Richard Turner, the Gardens and their ornate cast-iron Palm House are a tribute to Victorian Belfast.
A relaxing stroll, a peaceful haven.

Tripadvisor
Home to an assortment of plants and trees, including geranium, fuchsia, begonia and a hornbeam-leafed oak planted in the 1880s, the gardens are an exotic bubble in the city. The Tropical Ravine even houses banana, cinnamon and orchid plants. For those with more of an interest in relaxation than horticulture, a playground and bowling green are tucked away among the 150-year-old ferns...

6. Belfast City Hall
Belfast's civic building, the City Hall first opened its doors in 1906 and today runs regular free public tours. The classical Renaissance style of the building is a source of pride for the people of Belfast – and it's not hard to see why. Beautiful stained glass windows adorn the Hall, depicting Celtic myths and legends, such as the Cattle Raid of Cooley, as well as commemorating victims of the Great Famine and those who fought in the First and Second World Wars.
The grounds feature a number of memorials including the Titanic Memorial Garden to the east, where bronze plaques are inscribed with the names of the 1,512 people who perished onboard the ship of dreams.

7. Crumlin Road Gaol
Voted one of Belfast's top attractions by TripAdvisor, Crumlin Road Gaol is a sight to behold. Closed for business in 1996 after 150 years, today it is host to everything from educational tours to weddings and concerts – not to mention claiming to be one of the most haunted sites in Belfast.
Visitors can opt to take part in the Paranormal tour, visiting the hotspots of spooky activity, as well as the gaol's execution chamber and flogging room. While it might not sound the best option for the faint of heart, children and families are catered to as well, with some great kid-friendly tours.

8. The MAC
Trust us: the Metropolitan Arts Centre Belfast (MAC) is where you want to be for music, theatre, art, dance and everything in between. Opened in 2012, a typical year's events can range from roller disco to mind-reading shows and experimental documentaries – and that's just the theatre.
Super place for art displays, performances... Acoustics great and amazing architecture inside and out.

TRIPADVISOR
Located in Belfast's Cathedral Quarter, the self-proclaimed proprietor of all things "weird and wonderful" showcases local and international art exhibitions across three separate galleries, as well as The Permanent Present installation in the main foyer. An added bonus is the Native by Yellow Door restaurant, a favourite among visitors.

9. Cave Hill Country Park
Named for the five caves along the main Belfast cliffs, Cave Hill Country Park is a hive of outdoor activity: a sprawling expanse of walking trails and orienteering routes, it is home to its own playground and is a mere five minutes from Belfast Zoo.
The park is also the site of some of the city's most ancient history: along with the 19th century Belfast Castle are a stone cairn and crannóg. Perhaps the most impressive sight sits atop the basaltic outcrop of Napoleon's Nose: McArt's Fort, an old stone fort sitting 1,200 feet (368 metres) above sea level! The silhouette of Cave Hill itself is said to resemble a sleeping giant protecting Belfast and even inspired Jonathan Swift to create the character of Gulliver in Gulliver's Travels.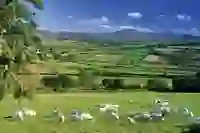 Northern Ireland
Northern Ireland is destination delicious
Beyond Belfast
Get ready for the road trip of a lifetime
Derry~Londonderry
Don't just visit Derry~Londonderry. Live it.