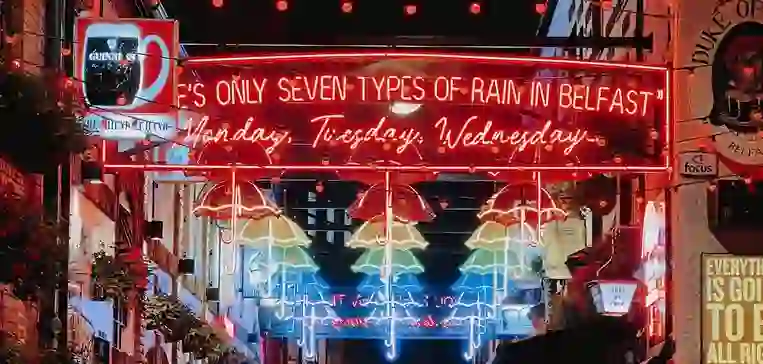 Travel Experts' Top 5 Experiences in Dublin & Belfast
We sent 5 lucky Nordic travel writers to the island of Ireland and asked them to give us their top 5 recommendations for what to experience when visiting Dublin and Belfast.
DublinThe first stop on any visit to the island of Ireland has to be Dublin. You can fly directly here from all the Nordic capitals.
Dublin was the city that took me by storm. The atmosphere is very special, the architecture is beautiful, and the locals are incredibly nice. Not to mention the many wonderful pubs, the food scene, and the shopping opportunities. Dublin has it all and more. – Danica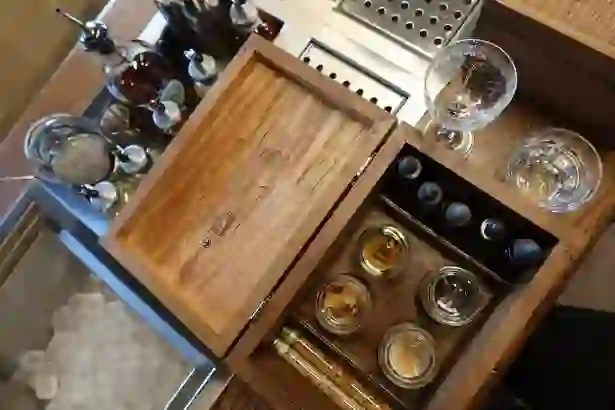 Take a Distillery Tour!
Once the largest whiskey producer in the world, the island of Ireland is still famous for its whiskey (Spelt 'ey' to differentiate from Scottish whisky). Dublin boasts several distilleries, but both Veera and Victoria were lucky enough to visit Roe & Co.
A visit to a whiskey distillery is highly recommended, and there are quite a few to choose from. We took a walk in the lovely Autumn weather to Roe & Co. This might be the prettiest distillery I've ever seen! An interesting and in-depth guided tour with our professional and funny guide was rounded off with a masterclass where we got to shake our own drinks and try both whiskey and different flavourings. After that, you can't miss all the nice merch in the store. We bought everything from sweaters to shakers and accessories. And whiskey of course. – Victoria
I am a whiskey lover and on my previous trip to Ireland I was able to visit Bushmills Distillery. However, Roe & Co is significantly trendier and more modern than a traditional whiskey distillery.

We booked a tasting tour that lasted 40 minutes. Our funny guide told us more about Irish whiskey, Roe & Co, and finally we got to make our own cocktails according to our taste preferences. This was a fun experience, especially if you like whiskey! By the way, Roe & Co's whiskey is my new favourite. It's wonderfully soft and with a slight caramel taste.

Roe & Co has a bar downstairs, where you can stop by just for drinks. The bar and drinks are heavenly, so I couldn't recommend it more! – Veera
The Guinness Storehouse
Often when you think of Ireland you think of pubs and Guinness – the black stuff. A dry stout known for its amber colour and frothy head. It isn't for everyone – but even so, the Guinness Storehouse is always worth a visit!
I'm not a fan of beer myself, so on the first trip I skipped the visit to the Guinness Storehouse. Fortunately, this time I believed the wiser and we went straight to the Guinness Storehouse from the airport after arriving in Dublin.
The Guinness Storehouse is a couple of kilometres from the city centre, and since we landed at 10AM, this was a convenient way to start the trip after leaving our suitcases at the hotel.

The Guinness Storehouse is the Guinness beer brewery and a kind of interactive museum and experience destination. You can join a pre-booked guided tour, but we went on our own and I thought it was fun because you had time to walk around at your own pace and still learn a fair amount about this local dark king of beers.

You should allow several hours, because there are several floors to marvel at here - from the history of beer all the way up to the present, as well as tasting and learning how to pour a pint of Guinness. The Guinness Storehouse also has a few restaurants, and we enjoyed a delicious and quite traditional Irish lunch at Bar & Brasserie 1837. I didn't want to order beer myself, because I don't like the taste, but on the other hand, you should try something with Guinness when you are at Guinness. There was a special Black Velvet drink on the menu, which was half Guinness and half sparkling wine - maybe it doesn't sound good, but I liked it!

At the end of the tour, you should stop by the Gravity Bar upstairs and enjoy a pint of Guinness. I think you can also get cider, soft dinks, etc. there, but I felt that here, if anywhere, I have to have a beer too! – Veera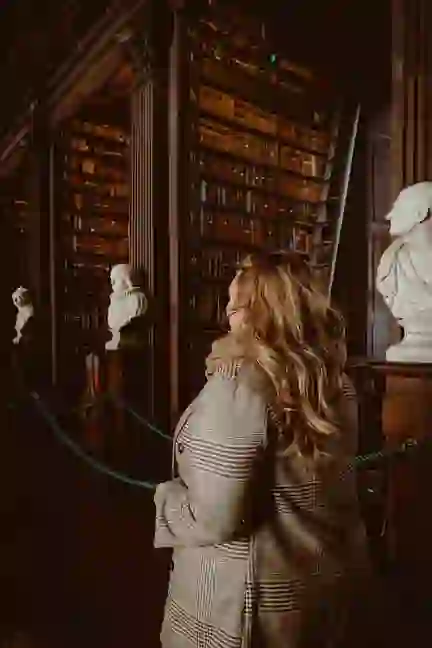 The Book of Kells and Trinity College
You have to experience a bit of Irish cultural heritage when visiting Dublin – and one of the best places to start is at the iconic Trinity College.

For history and literature lovers, Trinity College and The Book of Kells is a must, but it's interesting for the rest of us too and it is such an essential part of Dublin that I must recommend a visit.
We started the morning with a guided tour of Trinity College, which took less than an hour. At the end of the tour, we were able to independently visit The Book of Kells library.
Trinity College is still active and a very historically important university located right in the centre. The Book of Kells is an important part of Irish history and hundreds of thousands of old stories are hidden within the library walls. – Veera

An absolute must see for anyone visiting Dublin. The buildings are historic and date back to 1592. In fact, it is Ireland's oldest university. There is a very special atmosphere on campus with students running back and forth between classes. Also treat yourself to a visit to the library, which is in a league of its own and the oldest of its kind in Ireland. It was almost a completely fairy-tale experience. – Danica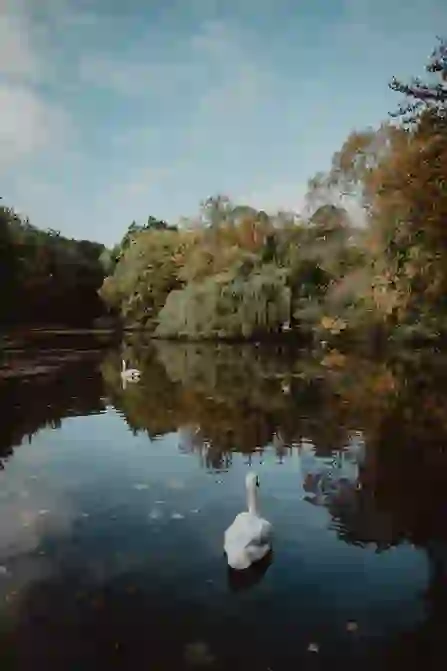 St. Stephen's Green
Sometimes you just have to take a deep breath, slow down and relax.

In the middle of Dublin lies the most beautiful gem in the form of St Stephen's Green Park. Here, you can experience a priceless autumnal, tranquil atmosphere. Buy a coffee to-go and enjoy the beautiful park while the leaves slowly fall from the trees. – Danica

St. Stephen's Green is in the middle of Dublin, where it is wonderful to walk in the morning with a cup of coffee and feel the city's peace. There are many benches in the park, a pond in the middle of everything. The park is full of birds and locals on their morning walk or lunch break. The park is a bit like New York's Central Park, but on a much smaller scale!

Dublin is not a hectic city anyway, but the peace of the park still does good for the soul! – Veera
Fabulous food
You cannot come to Ireland and not be in awe of the fantastic food on offer – and this was definitely the case for our experts who have a few suggestions for you:
Perhaps the biggest highlight is the rich selection of restaurants and good food. We ate everything from charming pub food, modern brunch, homemade ice cream, long lunches, good drinks, delicious cheeses, and 3-course dinners. And the occasional pint of beer in the countless cosy pubs accompanied with live music. You can find everything and more here! – Victoria
But if you want to delve more into Dublin's food scene both Victoria and Veera suggest going on a guided tour:
Fab Food Trails is a small local company that organizes really fun walking tours around Dublin's food scene. On a previous trip to Dublin, I did a food tour in a small group and this time my friend and I had a private tour with the theme of 'Food & Fashion'.

Our guide was the wonderful Eveleen, who in addition to our guided tour, gave us good restaurant tips for Dublin.

The Food & Fashion walking tour visited a few restaurants and a few local fashion and vintage stores. First, we stopped at my favourite shop from my last visit, Sheridan's cheese shop. I also bought cheese here last time to take home! Sheridan's sells locally produced cheese from carefully selected family farms. My second favourite was the Seafood Café, where we stopped to taste oysters, which are a great delicacy in Ireland. There is also a lot of delicious ice cream in Dublin, and at the end of the tour we enjoyed Three Twenty's ice cream made fresh the same day from local cream. – Veera
Victoria also Tried the Food & Fashion tour:
We sampled everything from cheeses to ice cream and felt everything from hand-woven shawls, bath towels and luxurious gloves (which take 3 months to make – and are worn by, among others, Madonna!). – Victoria
If walking tours aren't for you then Victoria suggests you try a bus tour!
If you want to see more of the city, and perhaps don't have the energy to walk everywhere, then the tourist buses are an excellent alternative. And if you want to make it a little more fun, you can combine it with an afternoon tea on board Vintage Tea Trips! – Victoria
BelfastThe island's other capital. Fly to Dublin and jump on a bus, train or car and you will be in Belfast in 2 hours. This option is often faster and easier than taking a connecting flight as there is no chance of missing a connection. And, best of all, you get dropped off in the middle of the city!
And then there's Belfast... I'm so glad we got to experience Belfast city. Here you can feel the history up close in the streets and alleys. We waded through the city with each of our umbrellas, drank good coffee along the way, ate our fill of delicious Irish food, got guided tours by the locals, and shopped along the way. – Danica
Game of Throne's Studio Tour
Welcome to Westeros. Northern Ireland is Game of Thrones® territory as much of the famous series was filmed here.
Hooked on the famous TV series GoT? Then Northern Ireland is for you! With miles of green nature, spectacular buildings, and mysterious surroundings, you can dream yourself away to a world of fantasy.

Here you can follow in the actors' footsteps and see where most of the scenes were recorded. Dream yourself away by visiting the Game of Thrones® unique and only museum; the Game of Throne's Studio Tour. Learn about how the scenes were filmed, how the great costumes were made and hear behind the scenes facts from the various guides.

Game of Thrones® has made Northern Ireland's beautiful scenery known to the world. In one day, you can visit several of the famous places from the popular TV series.
You will not be disappointed here! – Anne
Titanic Belfast
At its time of construction, the RMS Titanic was the biggest ship in the world and the pride and joy of Belfast, where it was built. Today the experience centre, Titanic Belfast, stands in the Harland & Wolff shipyard where RMS Titanic was once built, and you can learn all about the ship's history - from the drawing table to its resting place in the deep dark depths of the Atlantic Ocean. Here, you journey through the unforgettable experience of the Titanic, Belfast and their history.
It is not just a museum about the Titanic itself, but an experience centre that takes you through Belfast's industrial history in the 19th century. You get to know the story by watching exciting animated films, soundtracks and pictures.

Fun fact: At the time, the Titanic was the world's largest ship, and it had a great, well-thought-out and luxurious design. – Anne
Next to Titanic Belfast you will find Harland & Wolff's old drawing offices, which have now been transformed into the Titanic Hotel Belfast.
This is possibly one of the nicest hotels I've ever set foot in. As soon as you step through the door, you feel like you've jumped 100 years back in time. We had the pleasure of a short tour and a drink in the bar, and in no time, we were completely in love with the place. The hotel is located next to Titanic Belfast, which also receives my highest recommendations, if you are interested in learning more about the history behind the Titanic, this is a must. – Danica
The Queen's Quarter
This area is full of wonderful architecture and things to do.
It must be the cosiest neighbourhood in Belfast. It is full of unique coffee bars, eateries, small, charming bookshops and, not least, hotels. You can spend hours strolling up and down the streets just soaking it all in. – Danica
Highlights in the neighbourhood include the Botanic Gardens and Queen's University:
The Botanic Gardens
With its Victorian style, it has to take first place as one of the most beautiful places you will find in Belfast. I understand why it is a favourite for tourists, students, and locals. And yet we had it all to ourselves. When it's raining outside, stepping through the door to the Botanic Garden feels like a warm hug. It is both warm and unimaginably beautiful. Remember to also go for a walk in the park afterwards. - Danica
Queen's University
Imagine going to university here - It looks like a place straight out of Harry Potter. We spent a lot of time walking around and taking in the atmosphere, it almost felt like walking in a fairy-tale. Belfast is full of places like these. - Danica
Black Taxi Tour
Belfast is famed for its black taxi tours, where a driver, among other tours, can take you through the city's different neighbourhoods, stopping at the many peace walls, and teaching you all about the turbulent political history.
Not fond of walking around in the rain, or do you have sore legs? Book a taxi tour and experience most of the city by car! Let charming guides show you what Belfast has to offer and experience more in a short time. Here you can sit back in comfortable seats and hear about Belfast's history and see its hidden treasures. – Anne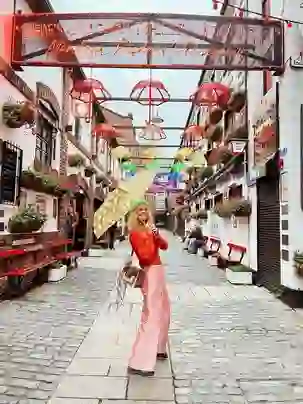 Commercial Court
This narrow street is one of the more 'Instagrammable' places in Belfast where your eyes will undoubtedly be drawn to the colourful umbrellas above you.
The street with the coloured umbrellas is in downtown Belfast among some of the city's best bars and restaurants. And you simply have to visit here! Even on the rainiest days, the neon signs illuminate the street, and it is extraordinarily beautiful. Especially when darkness falls. Sit down on the beautiful red benches with a cup of coffee to-go or a pint from the Duke of York Pub, located in the same street. – Danica
Or explore more with one of our reccommended podcasts!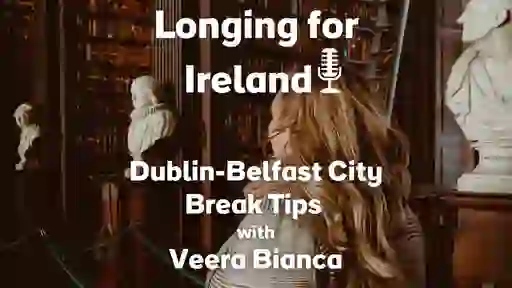 Dublin-Belfast City Break Tips with Veera Bianca
Veera Bianca, a travel writer and travel photographer talks about Dublin and Belfast as weekend getaways and what to do in each city.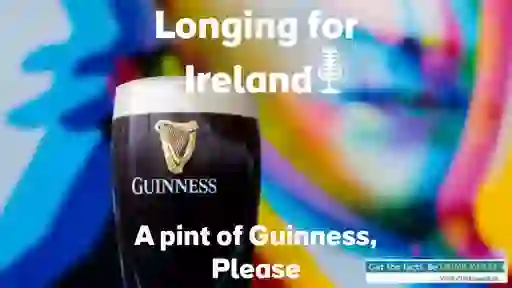 Guinness Storehouse
Colm O'Connor, Beer Specialist at the Guinness Storehouse talks about what makes Guinness so special as well as what you can expect when visiting the Home of Guinness in the heart of Dublin.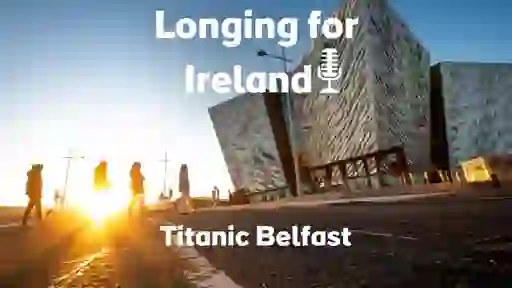 Titanic Belfast
Scott Shaw, from the Visitor Experience Crew at Titanic Belfast talks about the Titanic Experience, Harland and Wolff, Titanic Hotel Belfast, SS Nomadic and the impact it made on the city of Belfast.