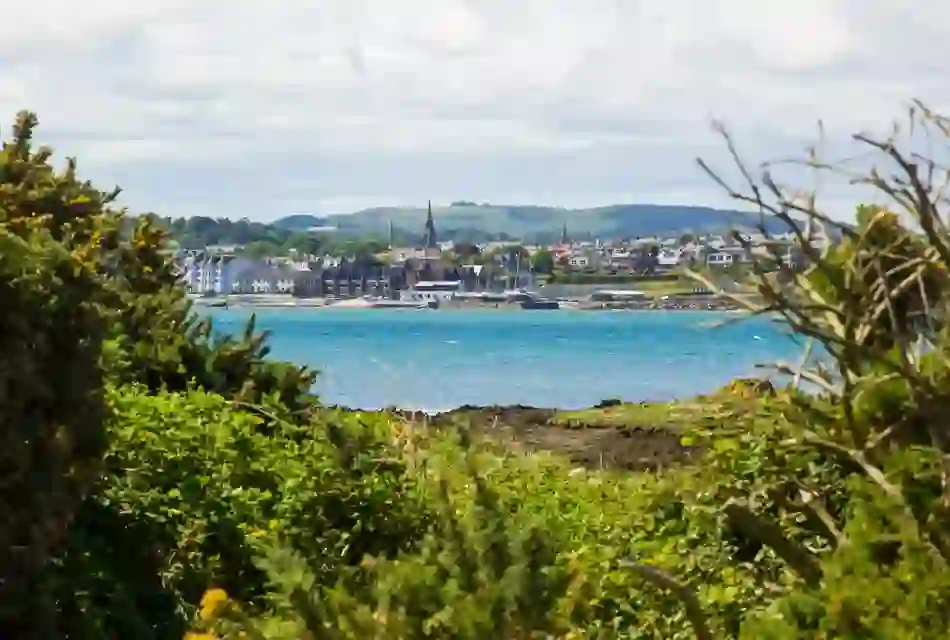 Bangor
50 mins from Belfast International Airport
Situated just 12 miles from the heart of Belfast and half an hour by train, the city of Bangor is a popular seaside resort at the tip of the Ards Peninsula. With a story that begins in the Bronze Age and includes the introduction of Christianity to Ireland, Viking raids and Northern Ireland's textile industry, Bangor has a long and varied history. But it's as a seaside resort that it found its fame.
Thanks to the growth of the railways during the 19th century, the area became a popular seaside escape and remains so to this day. During its time, it has welcomed many visitors – even the great English author Charles Dickens took time out from his lecture tour of Ireland to swim in Bangor's Ballyholme Beach.
In 2022, a new chapter of the Bangor story began when it was awarded city status, making it one of six cities in Northern Ireland. And its renown doesn't stop there – musician Gary Lightbody from Snow Patrol, actor Eddie Izzard and author Colin Bateman all hail from this newly minted city.
Today, Bangor is notable for Bangor Marina, the biggest marina in Northern Ireland, with over 1,500 boats visiting each year. And while watersports and sailing are the first port of call here, there's plenty more to enjoy on your visit.
Things to see and do
Those with green fingers will enjoy Bangor Castle Walled Garden. Designed in the 1840s by the Ward family who lived there, this beautifully restored Victorian garden is divided into four sections: a flower garden, herbs and topiary, a kitchen garden and a swamp garden.
Bangor Castle is not open to the public but the grounds of Castle Park are free to explore and feature lovely views over Belfast Lough. Look out for the bench dedicated to Belfast-born author CS Lewis who visited the gardens often.
Within Castle Park, you'll also find the North Down Museum. This fascinating free-entry space displays artefacts from the region's history, including the Bronze-Age Ballycroghan swords and a replica Viking longhouse – the Norsemen established a base at nearby Strangford Lough (Strang Fjord) from which they carried out raids along Ireland's east coast.
Other gems include the Jordan collection, celebrating Bangor native Sir John Newell Jordan's travels in the Far East, along with a host of contemporary exhibitions on music, photography, and handmade craft.
Another Bangor highlight is Bangor Abbey, just beside Castle Park. Established by Saint Comgall in 558AD, it was a great centre of learning and was regarded as one of Ireland's most important monastic sites. Repeatedly raided by Vikings, the abbey nevertheless survived and still stands tall to this day. Interesting features include a memorial to Titanic's assistant surgeon, local man John Edward Simpson, stunning stained-glass windows and a beautiful mural behind the alter.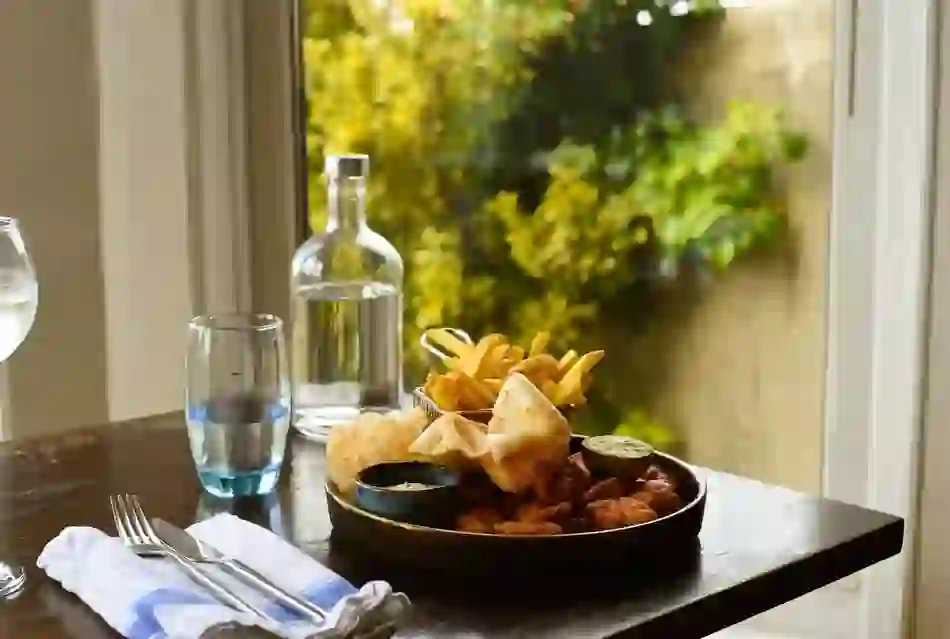 Local flavours
As you'd expect from a coastal destination, Bangor has a strong seafood scene. Experience a six-course tasting menu at the Boat House where delicious dishes such as Bangor Bay crab and fresh sesame crumbed monkfish are on the menu.
The Salty Dog Hotel & Bistro serves vegan and veggie-friendly food, pasta, pub grub and Asian dishes to suit any taste.
For a delicious lunch, head to The Guillemot Kitchen Café for favourites such as blueberry waffles, the Reuben sandwich and the seafood sharing platter.
Pub-wise, don't miss Donegan's for hearty portions of fish and chips, flavoursome burgers and steak dinners. For a quirky pub experience, stop by The Rabbit Rooms and tuck into hickory-smoked ribs, Strangford Lough mussels and seafood pie.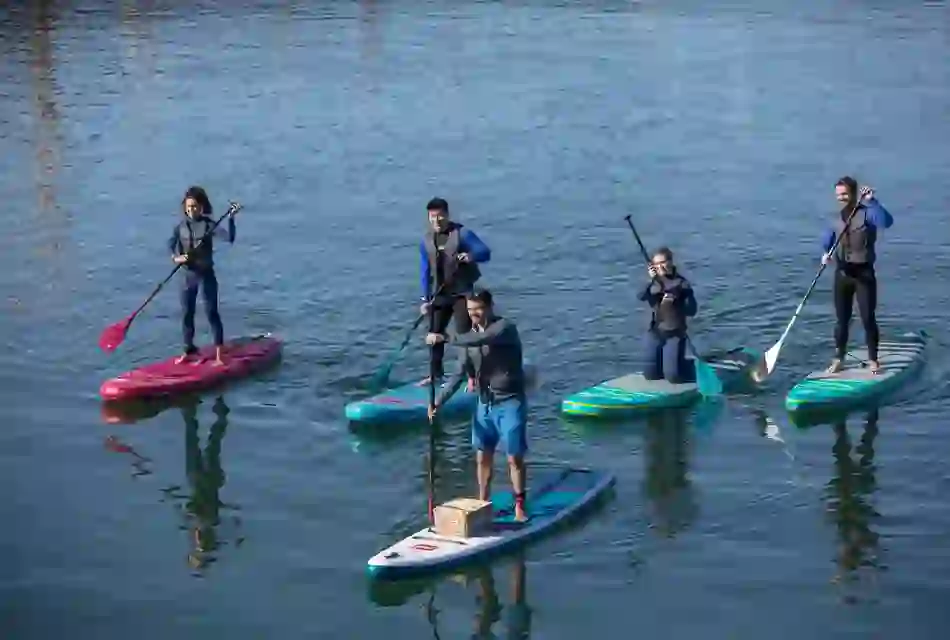 The better-known Antrim coast regularly attracts tourists, but less-visited north Down has a craggy green shoreline, sandy coves, lovely towns and frequent trains.

Phoebe Taplin, The Guardian
Fun for all the family
If you want to get out on the water and take in the scenery, set out with SUP Hub NI and test your balance with a 2-hour stand-up paddle boarding lesson.
Want to keep the little ones occupied? Pickie Fun Park is one of Northern Ireland's top attractions with the likes of mini golf, steam train rides, a splash pad and peddle swans rides all in store. If you fancy something more laidback, set off from Bangor marina on a pleasure cruise, taking in Bangor Bay and Belfast Lough.
Walkers will love a ramble (long or short) along the North Down Coastal Path, which spans from Holywood town through coastal habitats and country parks to the rocky outcrop of Orlock Point.
Beyond the city
Bangor is a great base to explore the Ards Peninsula, home to many picturesque towns and villages, as well as Strangford Lough – an Area of Outstanding Natural Beauty.
On 900 acres of the lough's eastern shore sits the glorious 18th century Mount Stewart House and Gardens. Bedecked in plush fabrics and sporting a 15,000-strong collection of paintings, the mansion is a treat to explore. Those with a love for horticulture will adore the lush gardens, carefully planned and planted by Lady Londonderry over 100 years ago.
Home to almost the entire world's population of Brent geese in the winter months, Castle Espie Wetland Centre is a treat for nature lovers and is full of wild trails. Fancy some island exploration? Head to Strangford Lough's Mahee Island and discover the 5th century ruins of Nendrum monastic site. Or travel back in time at the Ulster Folk Museum where you can experience real thatched cottages, traditional crafts and costumed characters that tell of bygone times.
Want to see more?
Here are some great reads to get you started
Bangor highlights
Don't miss these things to see and do
Getting to Bangor
Fly to Belfast International Airport or Belfast City Airport and you're almost there. Or head to Dublin or Shannon and take the scenic cross-country route. Coming by ferry? Belfast is your closest port.
Start your journey