Travelling the world photographing the world's biggest golf tournaments might sound like a dream job for a golf nut, but it can be a pressurised environment, as UK photographer David Cannon knows all too well.
It's little wonder then that David and his German short-haired pointer Mashie had the time of their lives when they spent four weeks visiting Ireland's iconic courses in a camper van for a special photographic project.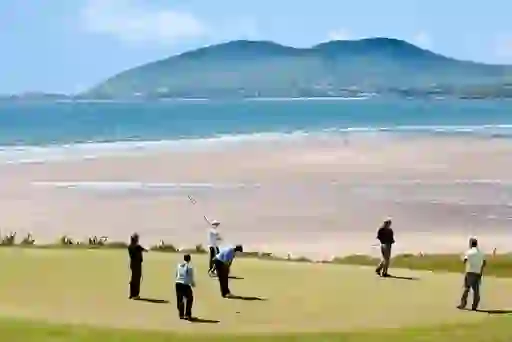 A warm welcome
"The thing about Ireland is that people are so lovely," says David, who featured some of our most spectacular courses in his book Golf Courses: Great Britain and Ireland.
"It's just so relaxed. You walk off a plane or get off a boat in Ireland and the pressure valve starts releasing straight away."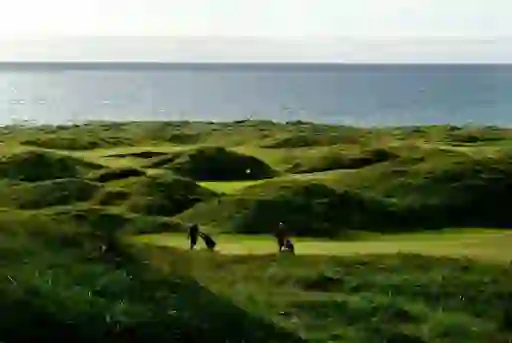 A legendary golf photographer
David and his Getty Images photography team work directly with the world's major golf tours and his pictures regularly appear in Sports Illustrated, Golf Digest, Time and Newsweek.
He's photographed legendary golfers, including Tiger Woods, Padraig Harrington, Phil Mickelson, Rory McIlroy, Nick Faldo, Jack Nicklaus and Arnold Palmer.
But nothing excites him like a trip to Ireland and the chance to photograph an Irish sky.
"There is something about the skies. They are as much part of the pictures as the landscapes," says David, who travelled the length and breadth of the island from Waterville, County Kerry and Sligo to Portrush, County Antrim and Rosapenna, County Donegal to capture the stunning beauty of Ireland's golf courses.
"I had driven overnight to get to Rosapenna, right up on the north west tip of Donegal. I knew the weather was changing but there was just the chance that I might still catch some nice weather. And I literally had two bursts of sunshine for, like a minute, and got two angles on the 17th green as the sun was rising.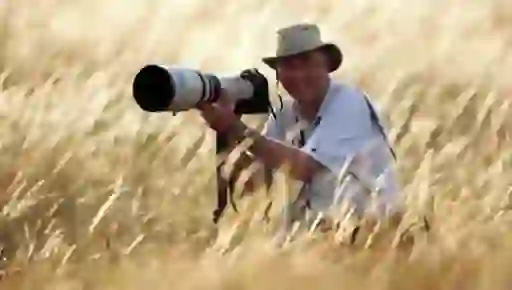 Inspiring images
"I am trying all the time to get the image that makes people want to go and play those golf courses."
With no hotel check in times to worry about, David and Mashie came and went as they pleased.
"It was utterly brilliant," David recalls. "I have never seen better beaches in my life. That west coast is just astonishing.
"I split my visits into a couple of two-week trips. The first one was in August and I started at the Old Head of Kinsale, then went on to Waterville, Tralee and Ballybunion and then up to Clare to Lahinch and Trump International (Doonbeg).
"For the second one, I started at Portmarnock and County Louth, nipped over to Lough Erne, and from there on to the west to Enniscrone, County Sligo and Carne. Then it was up to the north coast to Rosapenna and Ballyliffin in Donegal and over to Portstewart and Portrush.
"Waterville was absolutely amazing but Tralee is totally underrated. And Rosapenna! How wild is that up there? Trump International (Doonbeg) is just an oasis. It hasn't got the mountain views of some of the others, but Doughmore Bay is just amazing.
"I got soaked three times in three hours at Trump International (Doonbeg), and it was the same for Lahinch. The two of those were really wild. But that's the beauty of Ireland. You can be thinking it's going to rain all day and bingo, you get a little bit of gold. You've got to expect the unexpected and just let Ireland take you along for the ride.
"County Louth was like that. It was raining all day and I was about to turn back and move on and then suddenly the sun came out for 20 minutes and it was beautiful. People don't realise that the skies in Ireland are the best skies anywhere in the world. It doesn't have to be all blue to be beautiful."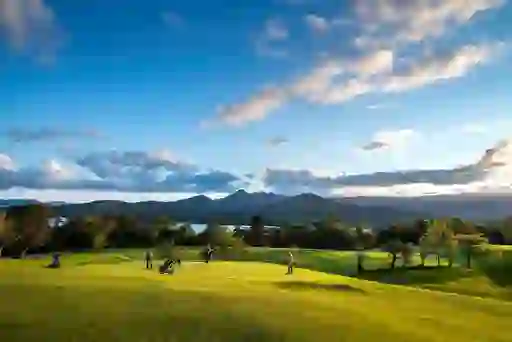 Something special about Ireland
They used to say that Ireland is a small island until you try to drive around it, but that's no longer the case.
"The roads are so good now," Dave says. "There are so many remote spots but it is so much easier to get around than it used to be. I've played over 700 courses around the world and covered more than a thousand tournaments, but there's something special about Ireland. I can't wait to come back."