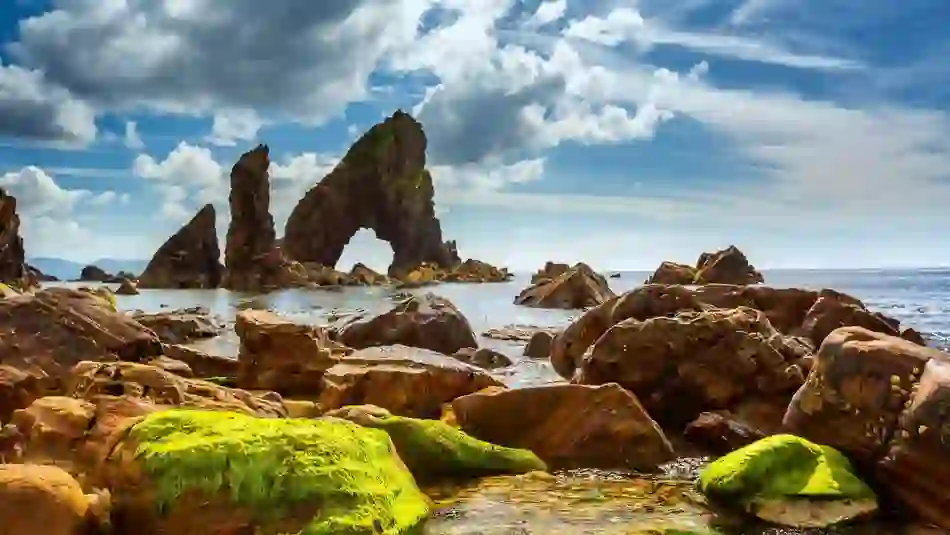 Explore the undiscovered north-west of Ireland with a car
From Derry~Londonderry to County Donegal
Nearest Airport
Derry~Londonderry Airport, Belfast Airport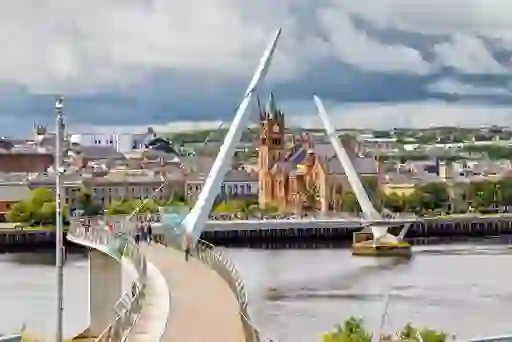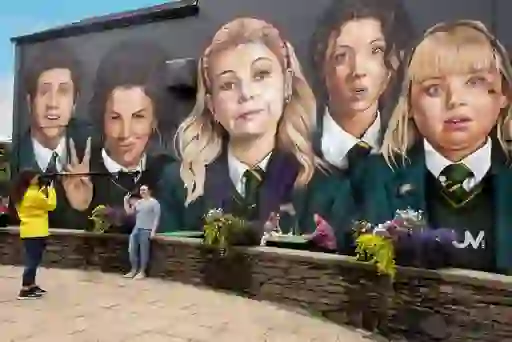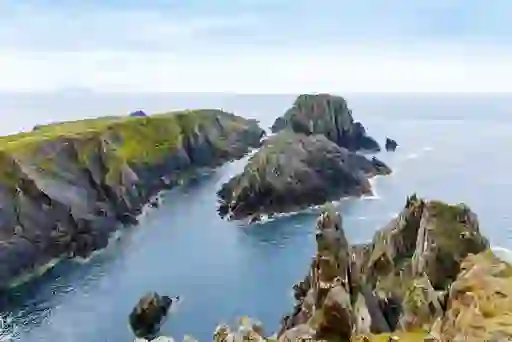 Less than three days is all it takes to discover the beautiful north-west of the island of Ireland
City to sea, civilisation to unspoiled nature – this corner of the island is a beautiful blend of man-made delights and Mother Nature in all her glory, and it's never been easier to visit. Just hop on a flight to Belfast, Derry~Londonderry, or a ferry to Belfast or Larne, hire a car and start your adventure. With everything within a two-hour drive, you can make the most of your short break!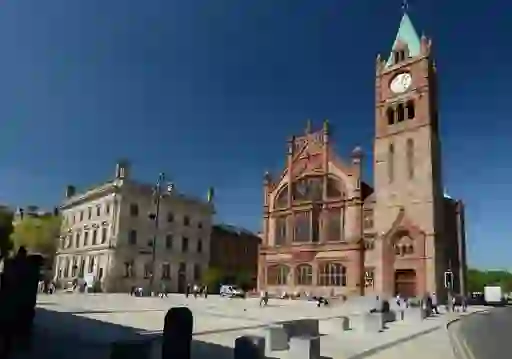 Day 1
If walls could talk, Derry~Londonderry would have a lot to say, with a history that stretches back over four centuries
Explore Day 1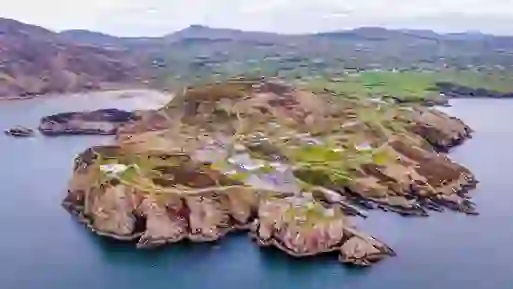 Day 2
Derry~Londonderry to County Donegal
Day 2
See the city in a whole new way, then head west from Derry~Londonderry to County Donegal, nature's masterpiece
Explore Day 2
Walking on water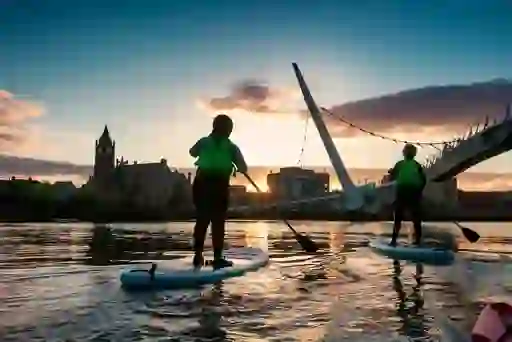 Wake up and welcome the morning by taking to the water and paddling into a new day. The first (and only) historic tour via stand-up paddle boards on the island, the Far & Wild tour is a truly different way to see the city. Bobbing gently as you follow the tide along the River Foyle, the peace and quiet here will grant you a completely different perspective on Derry~Londonderry.
If you're more comfortable on dry land, the Foodie City Cycle allows you to eat your way around some of the tastiest haunts. Over two hours, you'll bike around the city and stop off for some high-quality, locally sourced dishes – just what you need before hopping in the car and heading north.
Nothing like the Northern Headlands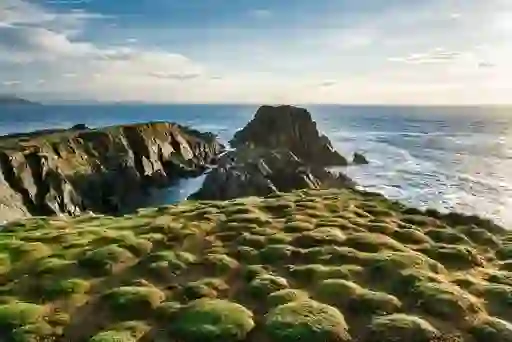 Less than three quarters of an hour away, Kinnagoe Bay sits in silence, a pocket of serenity that belies its rocky past. This blissful inlet is where the Spanish ship, La Trinidad Valencera, was wrecked in 1588 – and today, keen fishermen come to catch the bass, flounder, wrasse and other fish that call the ghostly wreck home.
Back in the car, it's another 40 minutes until you simply can't drive any more. This is Malin Head: the northernmost point of the mainland, and one of the most beautiful places in the world. If you make your way to Hell's Hole, you'll hear the ocean rush in with such force, it sounds like a demon roaring. Thankfully, this didn't scare off the cast of Star Wars when they filmed The Last Jedi here in 2016. You can take a tour of the area with the very same company that kept Mark Hamill and Daisy Ridley safe while on location. Fancy going behind the scenes?
Fearsome Fort Dunree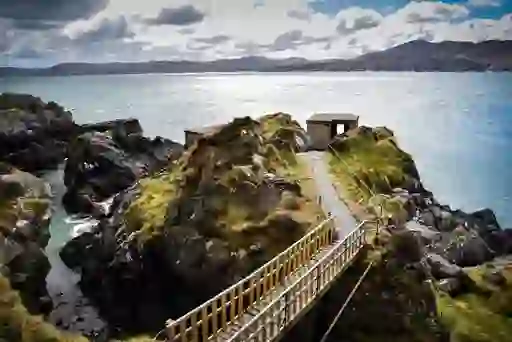 A little further south, at the tip of Dunree Head, you'll find Fort Dunree. A defensive settlement was first built here to defend Lough Swilly during the Napoleonic Wars, and the building currently acts as a museum, offering a fascinating look at the role of coastal defence in Ireland's neutrality.
For those seeking a bit more action before heading back to their accommodation, Inish Adventures offers kayaking, snorkelling and coasteering at the fort – provided you're tough enough to brave the bracing waters. Stop off at Grianán of Aileach – an ancient ring fort that offers views of the six surrounding counties on a clear day – before heading back to Derry~Londonderry for dinner. A firm favourite with local foodies, Browns in Town offers great food, original cocktails and tasty craft beers – a perfect place for dinner.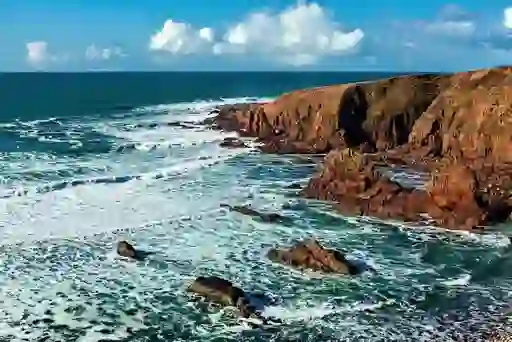 Day 3
Ever wonder what Ireland was like before humans took over? See for yourself on your last day in the north-west
Explore Day 3
Wild Ireland awakens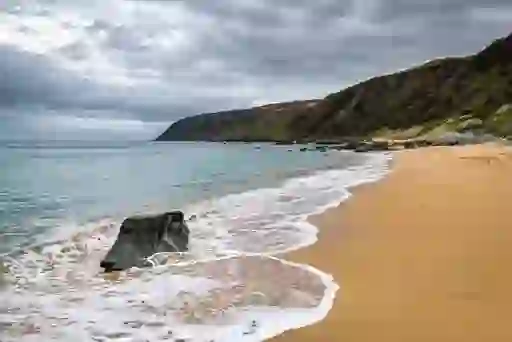 Though County Donegal is loved for its rugged beauty and unspoilt vistas and apparent wilderness, it has undergone immense changes since its first human settlement many centuries ago. In a land known for sheep-strewn hills and headlands dotted with cows, it's hard to believe that, once upon a time, brown bears, wolves, lynx and wild boars roamed the woodlands.
Today, those species (plus a few cheeky monkeys) have been reintroduced here by Wild Ireland. A day spent here is like no other: this isn't a zoo, and the animals aren't trained. Rather, they are allowed to live in their natural habitat, observed—but undisturbed—by people. Will you take a look?
A fairytale sight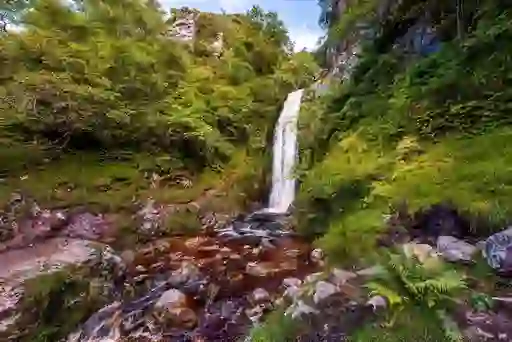 Shimmering 40 feet down through verdant greenery to a crystal-clear rock pool below, Glenevin Waterfall is simply enchanting. Reached via a simple walk through a wooded valley, the stream into which the waterfall pours is criss-crossed by foot bridges and bordered by picnic tables.
Rated one of TripAdvisor's top attractions in the area, the waterfall is especially worth a visit after a good rain shower, when the stream is rushing merrily and the valley smells fresh and new. Blissful! Pick up some personalised, handcrafted art and souvenirs at Moville Pottery, which has produced ceramics locally for over 40 years.
The Wild Alpaca Way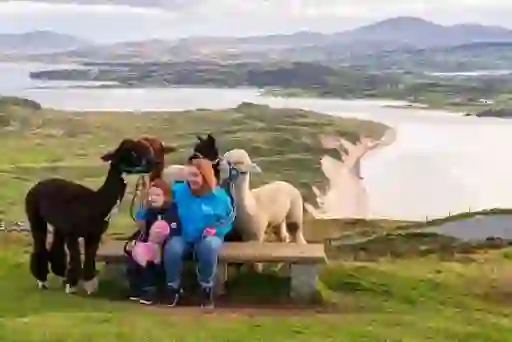 You might not expect to spy an alpaca roaming around Ireland's countryside, but in County Donegal, they're quite at home. Fluffy and friendly, they make the perfect guides for unique tours around Knockamany Bens, high above the Inishowen Peninsula. Each of the four alpacas are owned by this family-run business and have different personalities.
If there's anything that could round off your trip to the north-west memorably, it's bound to be a trek above the Atlantic Ocean with your very own four-legged tour guide! End the trip with a toast to your adventure at Farren's Bar. Set on the road to Malin Head, it's Ireland's most northerly bar and has been running since 1825! Make the last stop of your trip at Nancy's Barn, a 19th century converted barn in Ballyliffin which boasts a famous seafood chowder that's bound to hit the spot!