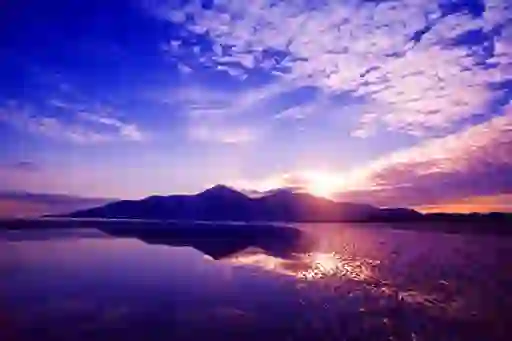 Murlough Beach, County Down
Familiar to some as the setting for Theon Greyjoy's horse ride with his sister Yara in HBO's Game of Thrones®, Murlough Beach is 8km of glorious golden sands and is backed by the Mourne Mountains. It's also surrounded by the Murlough National Nature Reserve, which protects a fragile 6,000-year-old sand dune system.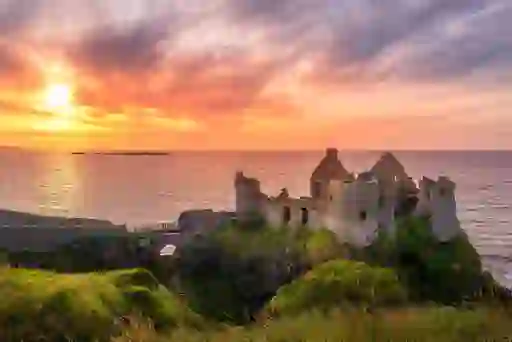 Dunluce Castle, County Antrim
When it comes to show-stopping sunsets, Dunluce Castle is in a league of its own. Perched precariously on a craggy headland, this medieval castle is pure fantasy. It looks precarious, and it is: parts of the kitchen actually plunged into the sea in 1639, as the cliff edge gave way. These days, it makes a picture-perfect place to watch a sunset – crumbling ruins, rocky outcrops and light bouncing off the ocean... it doesn't get better than that.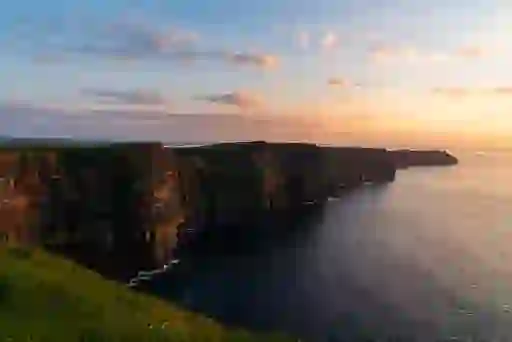 Cliffs of Moher, County Clare
Few views can beat a sunset over the Cliffs of Moher for drama. It looks so peaceful, yet in person, the whip of the Atlantic air will take your breath away. With eight dramatic headlands rolling into the distance, it's a cinematic sight. Both Harry Potter and The Princess Bride brought these cliffs to the big screen.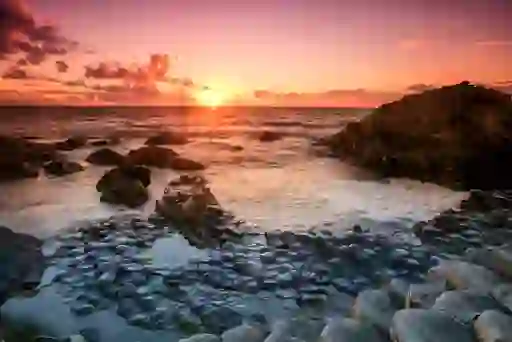 Giant's Causeway, County Antrim
Do we have mythical hero Fionn MacCumhaill's duel with a Scots giant, or a volcanic explosion to thank for the Giant's Causeway? It's all academic. The sight of these 40,000 basalt columns edging their way out into the sea is, regardless of their origins, astounding.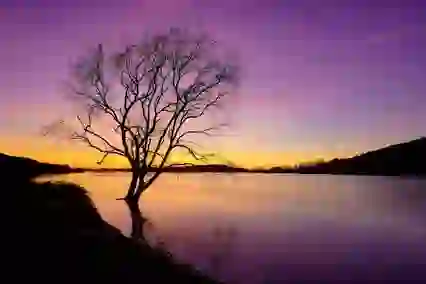 Lough Gur, County Limerick
Did you know that the sun setting over Lough Gur has been appreciated by people who roamed these lands as far back as Neolithic times. Keep your eye out for The Giant's Grave, a wedge-shaped gallery grave dating back to 2,500BC.
Howth, Dublin
Are you looking for the best sunset in Dublin? Then look no further than the small fishing village Howth, on the northside of the city. For the ultimate panoramic views, make your way up the Howth Cliff Loop Walk.

Starting at the DART train station, it follows the coastline all the way to the clifftops. Once you've reached the peak, pick your spot, relax, and be mesmerised as the sun sets behind the Baily Lighthouse. Before the sun fully disappears, make sure you head back to the town and reward yourself with some fresh fish and chips in one of the village's many top chip shops.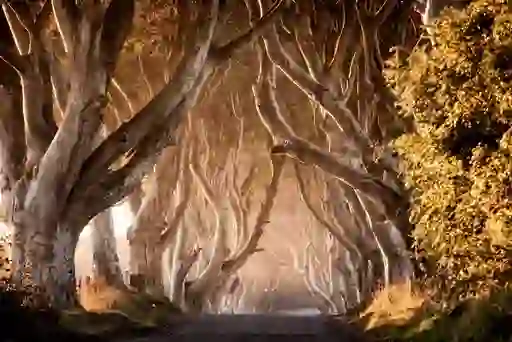 Dark Hedges, County Antrim
Although more globally renowned as a film location in HBO's Game of Thrones®, at dusk, this avenue of beech trees called The Dark Hedges is reputedly haunted by a spectral Grey Lady, who appears, then disappears into the night. The sun's evening glow flickers beautifully amidst the warped branches, as it gradually transforms into the familiar darkened sight of Game of Thrones® The Kingsroad.