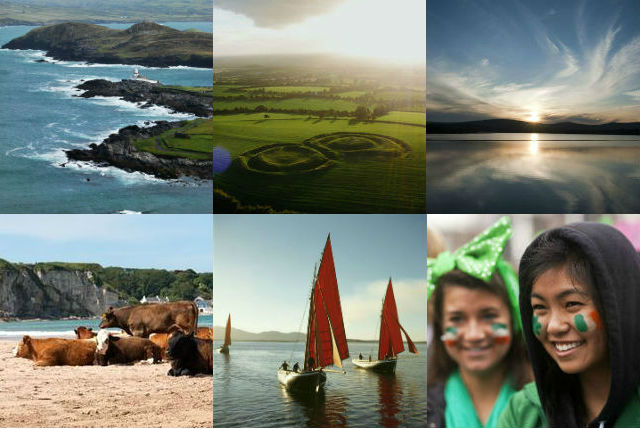 Fact 1. St Patrick's second home
Where in the world is most associated with St Patrick? Most people would say the island of Ireland, but did you know that the snake-banishing shepherd-turned-saint is also Nigeria's patron saint? It happened when missionaries from Ireland brought Catholicism to West Africa in the 1920s. Now, every year on March 17, along with the Irish, Nigerians wear their brightest greens to celebrate St Patrick with the rest of the world!
Fact 2. Walk in the footsteps of an ancient beast
About 350 million years ago, the earth was empty and all life was bound to the ocean. But all that changed in Ireland with the tetrapods, the first creatures to crawl on land. The proof? Down at Valentia Island off the County Kerry coast are the tiny preserved footprints where the tetrapods squirmed ashore, frozen in time and captured in stone. Watch your step, now!
Fact 3. Ireland's Olympics
Long before the Olympics came into being in Ancient Greece, Ireland hosted its own version – the Tailteann Games. What bizarrely started as a funeral contest at the Hill of Tara evolved into an athletic competition that lasted millennia. Archery, horse-racing and hurling (the still-popular Irish sport) were all categories, and the games saw a brief revival in the 1920s when they were held at Dublin's Croke Park Stadium.
Fact 4. The Emerald Isle of the Caribbean
The Irish have travelled the world to settle down for centuries. But did you know that we also have strong Irish roots in the Caribbean? On the tiny island of Montserrat, some citizens can trace their ancestry back to 17th century Ireland, with many still having Irish surnames. You'll even find towns named Cork and Kinsale, and it's not unusual to hear traditional Irish melodies sung on Montserrat's paradisiacal beaches. Bliss.