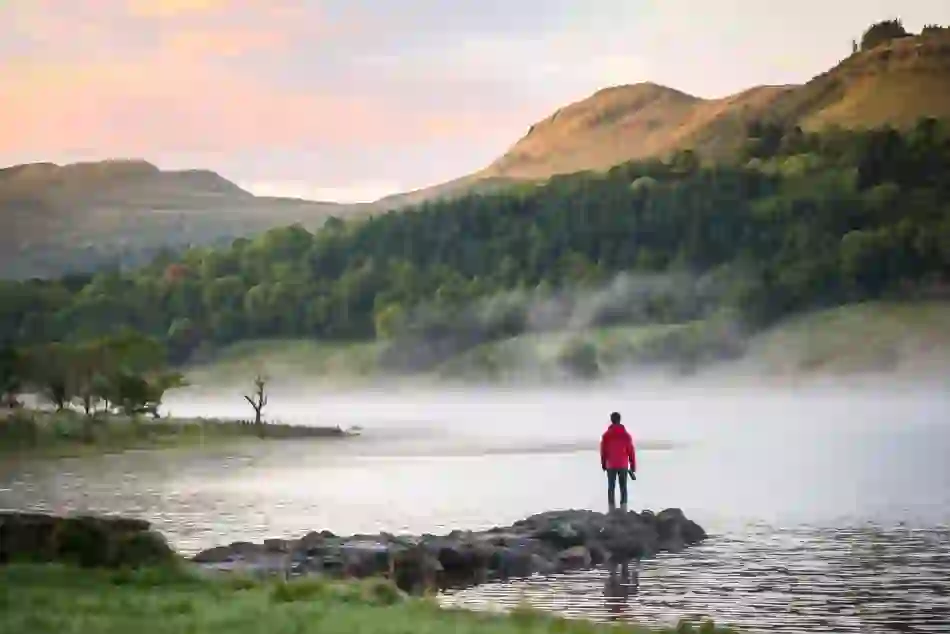 9 great walks around Ireland's Hidden Heartlands
With woods, water, wildlife and walking trails that weave through some of Ireland's most idyllic scenery, the Hidden Heartlands are the ultimate escape from busy life. And since there's no better way to get in step with what the locals love than to walk a mile in their shoes, we've rounded up our favourite routes for you to enjoy!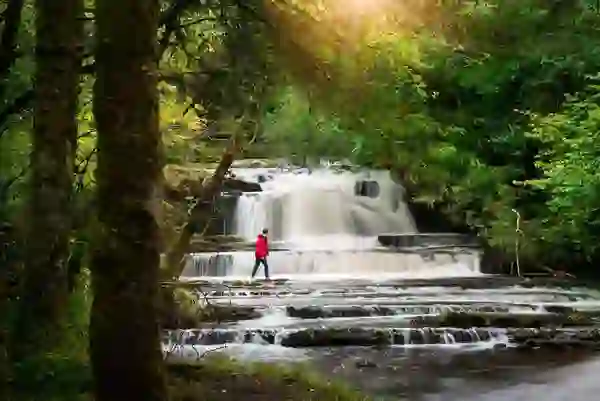 Fowley's Falls, County Leitrim | Length: 3km
Around these parts, the names are tied to the land and its people. Take the flowing Fowley's Falls, named after a local County Leitrim landowner. And what a namesake! As the glittering Glenariff River cascades down a run of drops towards Lough Melvin, you can pause to listen to the natural music of the water.
This is a gentle walk, with blooming native hedgerows, a historic Mass Rock and even a direct route to the delicacies of the Organic Centre in Rossinver. A microcosm of lovely Leitrim!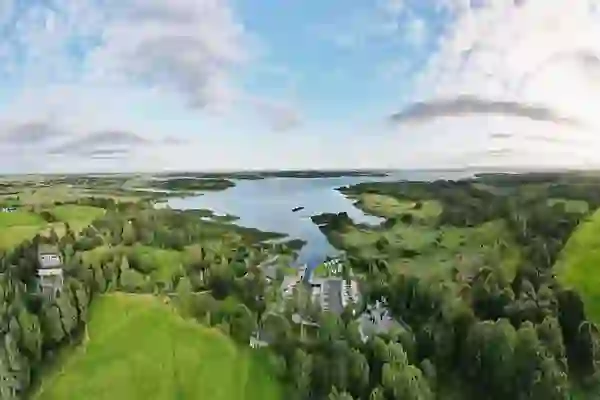 If you love the soft scent of trees and greenery clinging to clean country air, Portumna Forest Park is the place for you. There are some great longer walks to choose from here, but if you're short on time opt for one of the two easier routes.
First up is the Forest Friendly Walking Trail, at just under 1.5km in length. Running across wide, smooth forest floor and timber boardwalks leading to a happy little duck pond, it should suit visitors of most abilities.
The Woodland Walking Trail is slightly longer at 2km, with just a 10m ascent overall. A mostly gravel surface, with some trail, tar and boardwalk, this is also suited to cycling groups.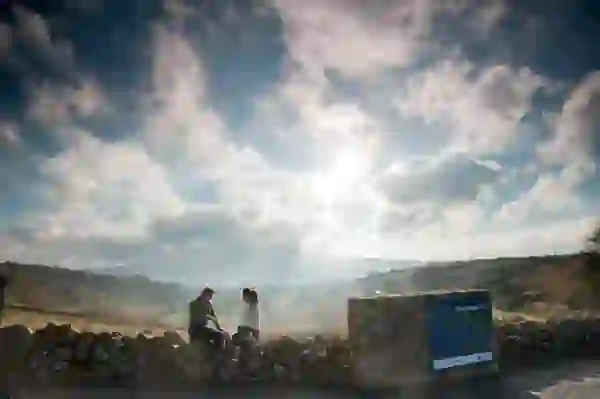 Cavan Burren Park is the spot to hit if you like to mix exercise with education. Here, you can acquaint yourself with 5,000 years of history while ambling along the Promontory Fort Trail, through the Silent Valley to the ancient hill fort after which the walk is named. With a total climb of 65m, along paths of bog bridge and gravel throughout, this is an easy and enjoyable way to pass an hour.
The park also has three other trails, all shorter and with climbs even less than that of the Promontory Fort—so there's bound to be one to suit you and your crew. The views are worth the walk!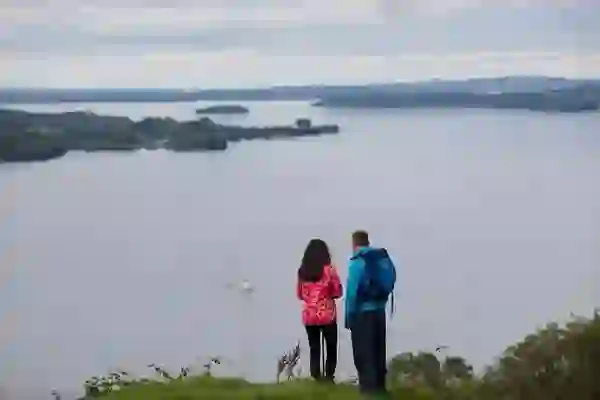 Another area with a name that's bound to its people, Ballycuggaran comes from the Irish for Home of the Cuggarans: an important dynasty dating back to the time of Brian Boru, High King of Ireland. The trails here take you along the foothills of the Slieve Bernagh Mountains, overlooking Lough Derg, to a fort dating back to the early Christian period. But where you really want to aim for is the highest point, Aoibheal's Rock, where fairy queen Aoibheal was said to reside.
Of the three marked trails here, we recommend the Crag Wood Walk. Top tip: take it anti-clockwise for the best views of the lake.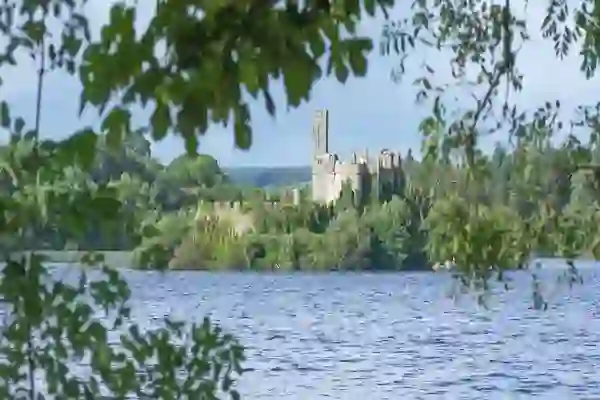 Lough Key Forest Park is, quite simply, a fairytale. Don't believe us? One glimpse of Castle Island seeming to float above the water on a misty morning will convince you. Add to this the bountiful wildlife, from deer, rabbits and squirrels to otters and kingfishers, and you'll happily while away the day letting your inner Snow White come out to play!
The park has four clearly marked trails, including wheelchair- and elderly-accessible routes. But if strolling around this enchanting forest isn't enough for you, orienteering, a tree canopy walk, electric bike trails and a woodland Segway tour are all on hand to spice up your day.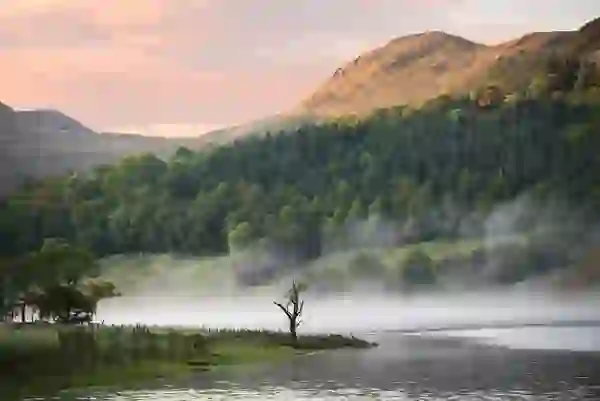 The Glencar Hill Walk leads you on a beautiful trail from the shores of Glencar Lake, past Glencar Waterfall, to the start of the Dooneens Bog Road Walk. Immortalised in the poetry of WB Yeats, the "wandering water" of this waterfall has attracted romantics for generations, eager to catch a glimpse of the beauty that bewitched one of the world's most beloved writers.
Although there is somewhat of a climb early on in this linear trail, it is an overwhelmingly peaceful route. And the rewarding views across Sligo Bay, Knocknarea and beyond make it more than worth the walk.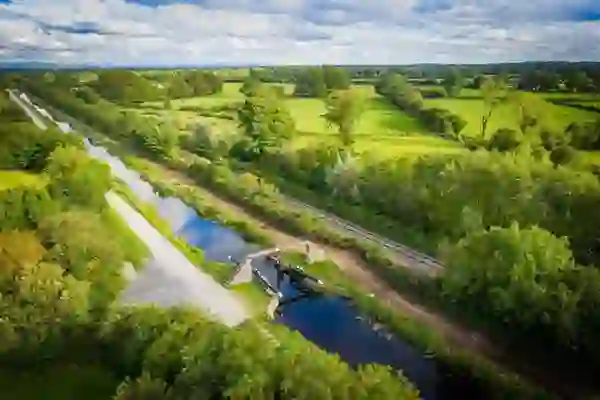 Though Westmeath is known as "The Lake County", the Royal Canal certainly takes pride of place as one of its most popular attractions.
Starting in Maynooth, County Kildare, the Greenway that runs parallel to the water is an exceptional amenity: 130km of level towpath, stretching all the way through counties Meath and Westmeath to County Longford. It's dotted with perfect picnic spots and countless architectural attractions, from aqueducts to picturesque inland harbours. Uniquely charming are the barges that lumber sleepily along the narrow waterway; pause a while to watch their slow, quaint passage through one of 33 manual locks. You'll never complain about traffic lights again!
One of the best parts? If you get tired, you can always hop on the train at one of the main towns and head on to your next location.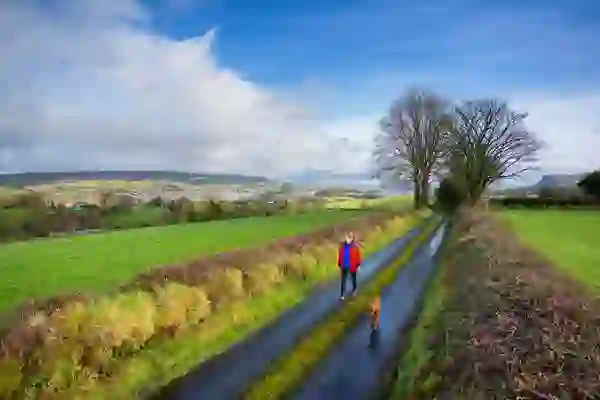 Leitrim Way and Cavan Way (part of the Beara-Breifne Way), Counties Leitrim and Cavan | Full length: 700km
At 700km, the Beara-Breifne Way is one of this island's longest hiking trails. Its third section cuts like a bolt of lightning through Ireland's Hidden Heartlands, connecting at County Cavan's northern tip to the even longer 1,000km Ulster Way.
Starting way down in West Cork, the Beara-Breifne Way follows the route of the historic march of the O'Sullivan Beara clan in 1603. Back then, the Chieftain led his followers on the entire 700-km journey, by foot, in just 14 days—of course, we wouldn't recommend trying to do the same!
As you traverse some of Ireland's most breathtaking scenery, make sure to tick off the many archaeological sites you'll see along the way by downloading your unique walking passport.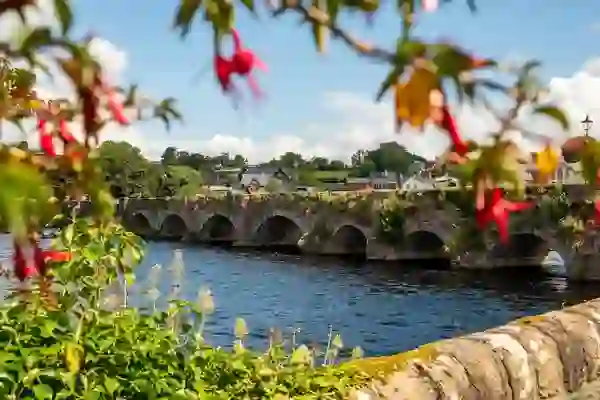 Lough Derg Way, Counties Limerick, Clare and Tipperary | Length: 64km
Somewhat more manageable in length, the Lough Derg Way is no less alluring a trail to trek. Starting at Limerick city, this route hugs the banks of Ireland's longest river, the Shannon, and its canals, heading northwest to the majestic expanse of Lough Derg. Along the way, you'll pass through Killaloe – 11th century home of High King Brian Boru – and spy St Flannan's Cathedral, complete with early Christian oratory.
Handily divided at five key trailheads, each complete with parking and informative signage, the Lough Derg Way follows a mix of towpath, forest track, road and even old railway line.