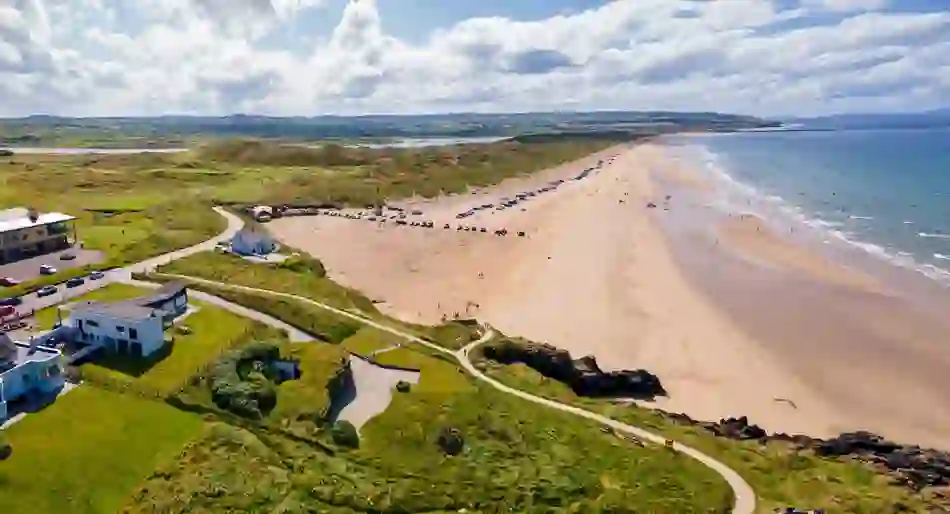 Great self-catering spots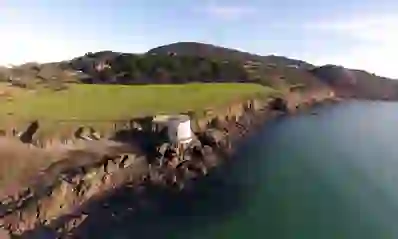 Martello Tower Sutton, County Dublin
Like staying somewhere different? Well, how does a coastal tower that was built to protect against a Napoleonic invasion of Ireland sound? Around 45 of these Martello towers were constructed in the early 19th century along the coastline of Ireland, and in the residential suburb of Sutton, you can stay in one. Boasting breathtaking views of Dublin Bay and a gorgeous stone interior, it's a perfect mix of history, beauty and luxury.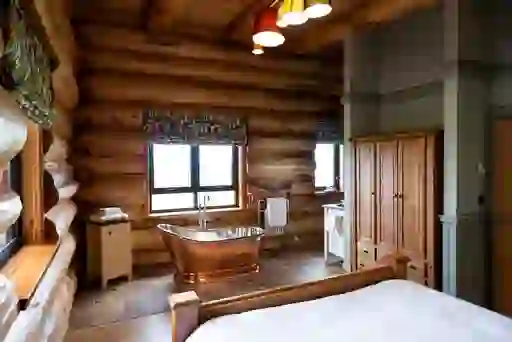 Aurora North Coast, County Antrim
Situated within a short drive of the Giant's Causeway, in an area of gorgeous natural and geological heritage, Aurora North Coast offers a luxurious take on an old-school rustic log cabin.
Don't think for a second you're going to be roughing it in the woods, Bear Grylls-style here… these two exclusive retreats boast freestanding copper baths, furnished verandas and private outdoor hot tubs… And with Bushmills village close by, you've got a choice of great pubs and restaurants from the atmospheric, fire-warmed Gas Bar at the Bushmills Inn to fine-dining at Tartine.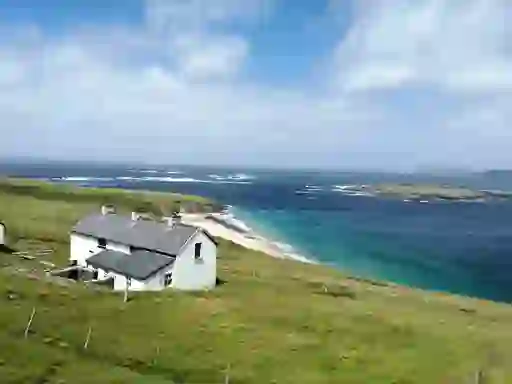 Great Blasket Island Accommodation, County Kerry
The Blasket Islands are one of Ireland's most fascinating heritage sites set in an area of spectacular beauty. Abandoned in the 1950s when the islanders were resettled on the mainland, the island feels stopped in time with a raw, edge-of-the-world feel.
You can visit for the day, but nothing beats staying the night and waking up to the incredible Atlantic views in the morning. The cottages here are simple and don't have any electricity, but if candlelight, stoves, camp fires and no Wi-Fi sound like your kind of heaven, then it doesn't get better than this.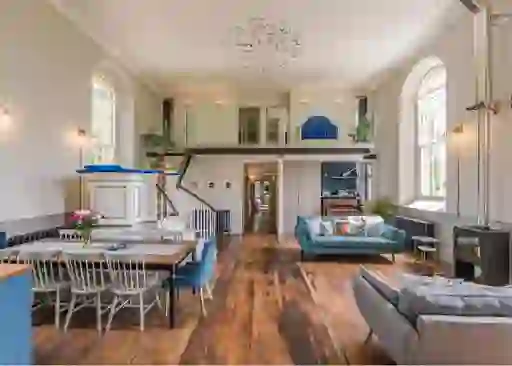 Quarry Hill Church, County Down
The quiet conservation village of Strangford in County Down is the perfect location for an under-the-radar break, with the beauty of Strangford Lough right on your doorstep. What's more, it boasts a properly "wow" place to stay in Quarry Hill Church, an old Presbyterian church that's been remodelled as luxury accommodation.
Everything is high spec here, and the sense of space in the main sanctuary is impressive with double-height ceilings complemented by ornate cornicing and plasterwork, wooden panelling and full-height Georgian windows.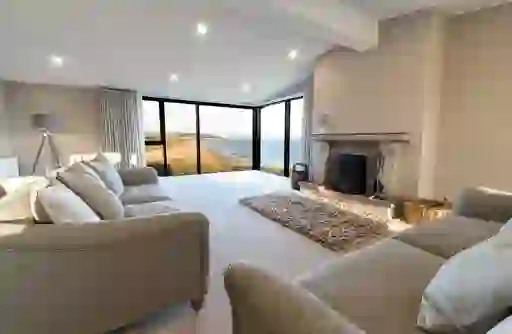 Strand Head, County Londonderry
If there's a better view of a beach from a sitting room window then we are yet to see it. This fantastic beach house sits on a stunning elevated position above the butter-coloured sands of Portstewart, and was designed by Coleraine architect Noel Campbell in the late 1950s.
Everything here is cool, calm and chic thanks to soothing tones and modern furnishings, while outside you can enjoy a great dining space and Giant's Causeway-influenced garden. With views of the ocean from floor-to-ceiling windows, you'll be loathe to leave home, but if you do you've got the very best of the Causeway Coast close by.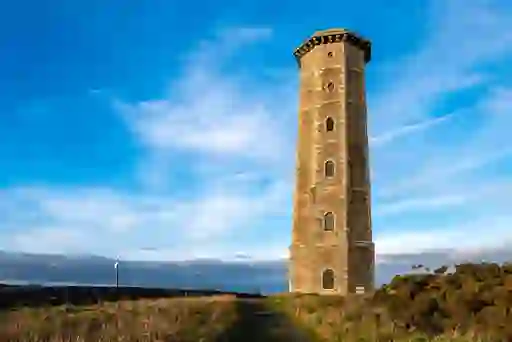 Wicklow Head Lighthouse, County Wicklow
County Wicklow has a reputation as being the "Garden of Ireland" thanks to its lush landscapes, but it's a county that's also graced with a stunningly beautiful coastline. Standing watch over the Irish Sea, surrounded by green fields and vivid yellow gorse bushes, the striking octagon-shaped Wicklow Lighthouse has safeguarded this slice of coast since 1781. The metre-thick walls will protect you from all the coastal weather has to throw at you, while inside you can keep cosy and enjoy the views of the Irish Sea outside.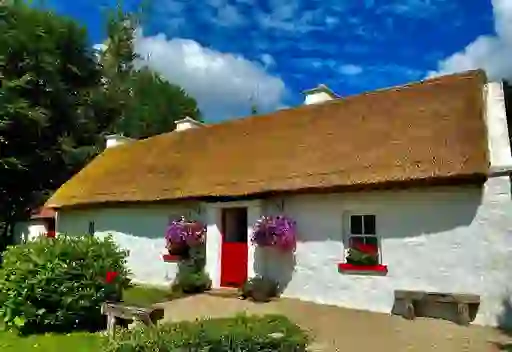 Keenaghan Cottage, County Fermanagh
If you're looking for quintessential Irish charm, then Keenaghan Cottage has it in spades. Dating from the 1800s and set on the shores of Keenaghan Lough in County Fermanagh, this idyllic 5-star spot piles on the style, with thoughtful interior decoration that brings its rustic setting right up to date. Nearby, you'll find the scenic village of Belleek and the tranquil waters of Lough Erne, with great opportunities for walking, watersports, distillery tours and island-exploring.
The Cottages, County Meath
A 300-year-old thatched cottage by the sea? Sign us up… These award-winning picture-perfect thatched beauties are just the ticket for a relaxing holiday. Set within pretty flower gardens that tumble down to the sea, these six cottages are set within a coastal corner of County Meath, which is perfectly placed for accessing the ancient treasures of the Boyne Valley. And best of all, you've got traditional pubs, restaurants, shops and supermarkets all within walking distance of your doorstep.
Anne's Grove Miniature Castle, County Cork
Imagine an impressive medieval castle but in miniature and you've got Anne's Grove Gatelodge. Designed in 1853, the lodge was intended to impress visitors who were coming to the main house of Annesgrove and to this day, that's exactly what it still does.
This is a place of peace, relaxation and tranquillity, with mature beech trees outside and timber ceilings, wood floors and stone arches inside, so stock up the pantry, bring some books and prepare to bliss out for a few days in County Cork.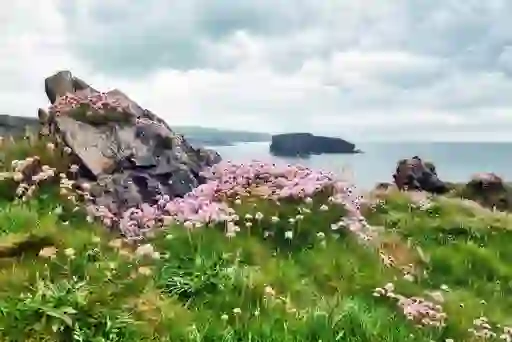 Inchiquin House, County Clare
A candlelit dinner in an elegant drawing room, a cosy couch by a roaring fire, and beautiful rural surrounds… This is Inchiquin House, a delightful County Clare period property that dates back to the 1800s.
The location is perfect for accessing the very best the county has to offer, from the lunar-like landscape of the Burren (a short drive away) to the awe-inspiring Cliffs of Moher (about a 40 min drive). And with five bedrooms in the property, it's an ideal spot for a relaxed holiday with family and friends.