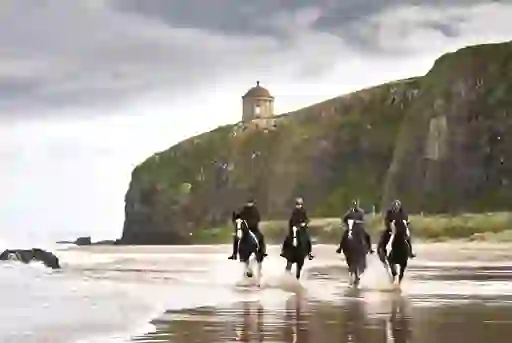 1. Downhill Beach, County Londonderry
Situated along the glorious Causeway Coast, Downhill Beach is an Area of Special Scientific Interest and a Special Area of Conservation. You may even recognise it as the backdrop to Dragonstone from the hit TV series Game of Thrones®. Perched on the cliff above the beach, you'll find Mussenden Temple, an 18th-century library inspired by the Temple of Vesta in Tivoli, Italy. It's a wonderfully dramatic spot, and has even been used as a wedding venue in the past – for those of you who may be feeling romantic...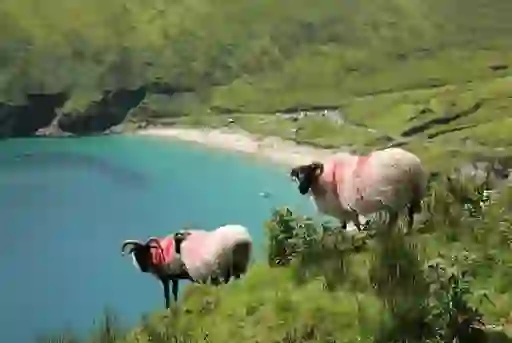 2. Keem Strand, County Mayo
Achill Island is home to five of Ireland's Blue Flag beaches! Keem Strand is perhaps the finest: a sweep of soft sand within a heavenly, secluded bay at the island's western tip. A stunning cliff-top road offers fabulous views of the strand below, and sheep are often found grazing on the grassy verges. During the summer months, set off on a guided sea kayaking tour from Keem Strand with Achill Surf Education & Adventure Centre and explore the island's vibrant blue waters and soaring cliffs.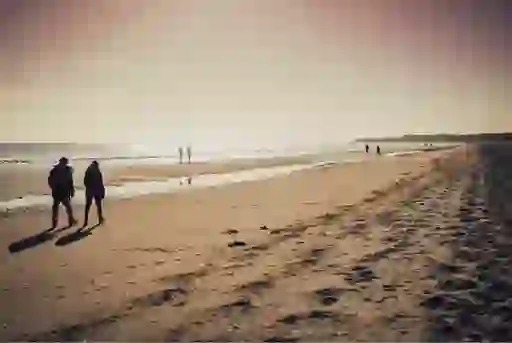 3. Curracloe Beach, County Wexford
Impressive sand dunes, gentle lapping waves and soft golden sand that stretches farther than the eye can see are just some of the reasons why Curracloe Beach is a hit with the locals and on the big screen. This picturesque strand has starred in award-winning films Saving Private Ryan and Brooklyn. It's a great spot to catch a wave or two – head over to the Surf Shack for rentals, surfing lessons and stand-up paddleboarding.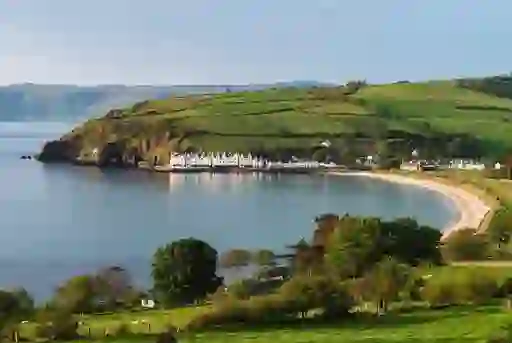 4. Cushendun Beach, County Antrim
Set on a gently curving bay and framed by a row of distinctive, Cornish-style cottages, Cushendun Beach is an idyllic seaside haven. Nearby, you'll find the 400-million-year-old Cushendun Caves. These marvels of nature were home to a famous Game of Thrones® scene, when Melisandre birthed the terrifying shadow assassin. After a walk on the strand, stop by one of Ireland's smallest pubs, Mary McBride's, home to over 50 individual Irish whiskeys.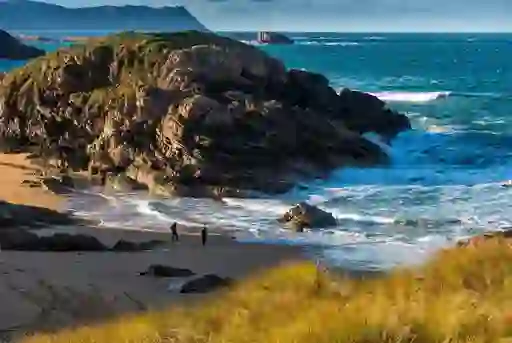 5. Murder Hole Beach, County Donegal
Don't let the name scare you off – this secluded spot is well worth a visit! Located on the Rosguill Peninsula, Murder Hole Beach is truly one of Ireland's best kept secrets that can only be accessed at low tide and by foot. This golden shore is separated in two by a craggy outcrop and offers stunning views of the rocky headlands. While swimming isn't allowed due to strong riptides, it's the perfect spot to relax and refresh the mind, body and soul.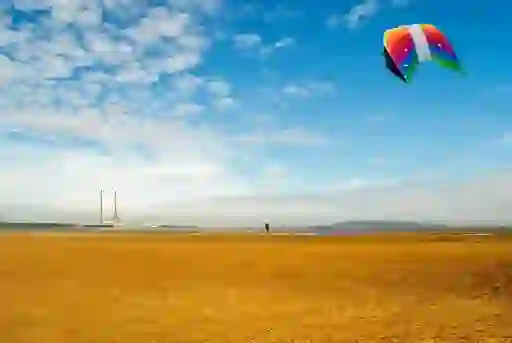 6. Sandymount Strand, Dublin
The beauty of a visit to Dublin is having nature right on your doorstep. Sandymount Strand is just a short DART trip away from the city centre, offering gorgeous views of Dublin Bay. To the north of the beach you'll find the striking Poolbeg Lighthouse and the iconic Poolbeg Chimneys. While the seaside towns of Blackrock and Dun Laoghaire lie to the south. If you're feeling peckish after all that fresh sea air, stop by BuJo restaurant and enjoy a delicious burger. At the weekends, discover trinkets and tasty treats at the Blackrock Market.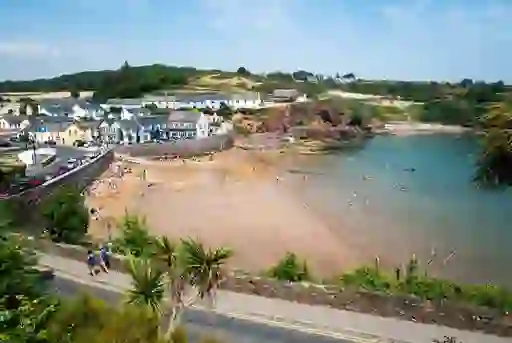 7. Dunmore East Beach, County Waterford
If you're looking for a charming location along Ireland's Ancient East that's perfect for sunbathing, Dunmore East Beach is for you. This little sandy sanctuary boasts crystal clear waters and the option of underwater adventures in the area, along with kayaking, sailing and more with Dunmore Adventure. And after a dip, take in the scenery on the Dunmore East Cliff Walk and explore the village's idyllic thatched houses, pubs and cafés.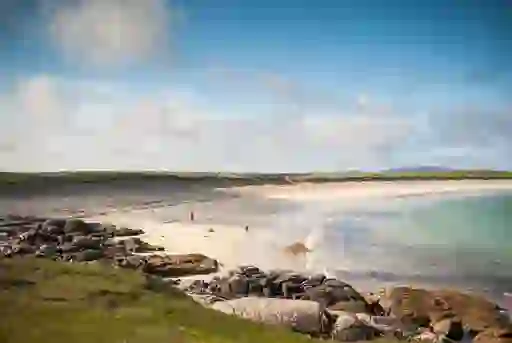 8. Dog's Bay, County Galway
The horseshoe-shaped haven of Dog's Bay is one of the finest and most unique beaches along Ireland's Wild Atlantic Way. While it may look like a regular sandy beach, the sand is actually made of tiny crushed up seashell particles, making for a super-soft and almost luminous landscape. Its sheltered location makes it ideal for swimming, surfing and kitesurfing. Visit nearby Roundstone and stop by the workshop of renowned bodhrán maker Malachy Kearns, who has been hand crafting these Irish drums in an old Franciscan monastery for over 40 years.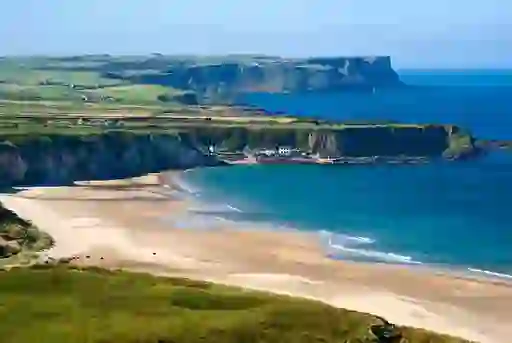 9. Whitepark Bay, County Antrim
The golden beach of Whitepark Bay sits between two beautiful headlands along the epic Causeway Coastal Route. It's been designated as an Area of Scientific Interest, thanks to the unique flora and fauna that flourish alongside ancient sand dunes, and traces of Neolithic history that continue to be unearthed to this day. While swimming isn't advised, Whitepark is the perfect spot to enjoy a spectacular sunset followed by a wander around the nearby village of Ballintoy. Bird watchers can embark on a boat trip to Sheep Island, while thrill seekers will love the chance to cross the famous Carrick-a-Rede rope bridge nearby.