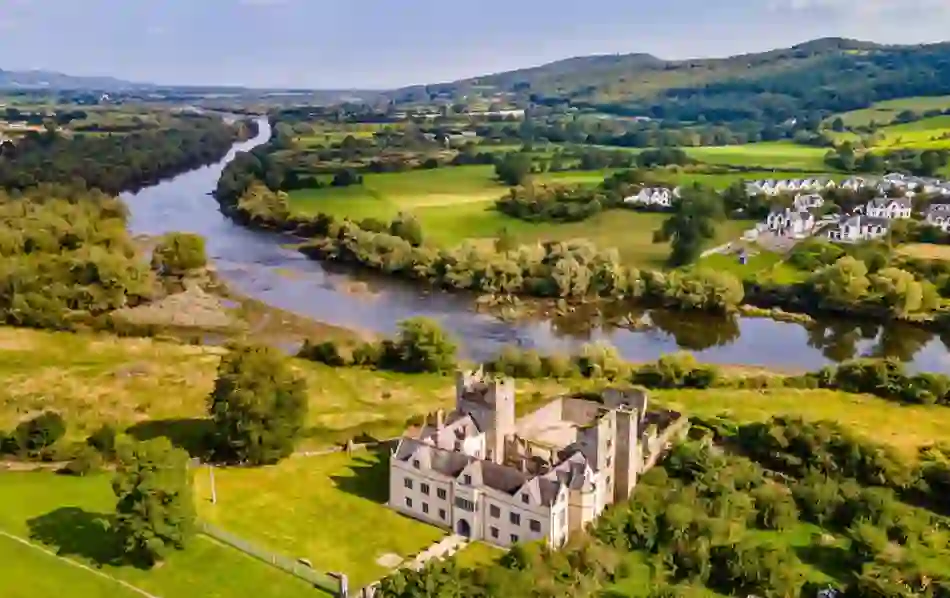 True blues: explore Ireland's Blueways
Ireland's Blueways are the travel equivalent of zen meditation. Here, immersed in nature, the frenetic pace of daily life is subsumed in a landscape of polished waters, swaying reeds and velvety green pastureland.
Getting away from it all takes on a new meaning here, as you head off on gorgeous trails and try outdoor activities both on and alongside some of Ireland's most idyllic lakes, canals and rivers. And whether you want to explore on foot, by bike or on the water, you'll find the Blueways cast an alluring spell that lingers long after you leave.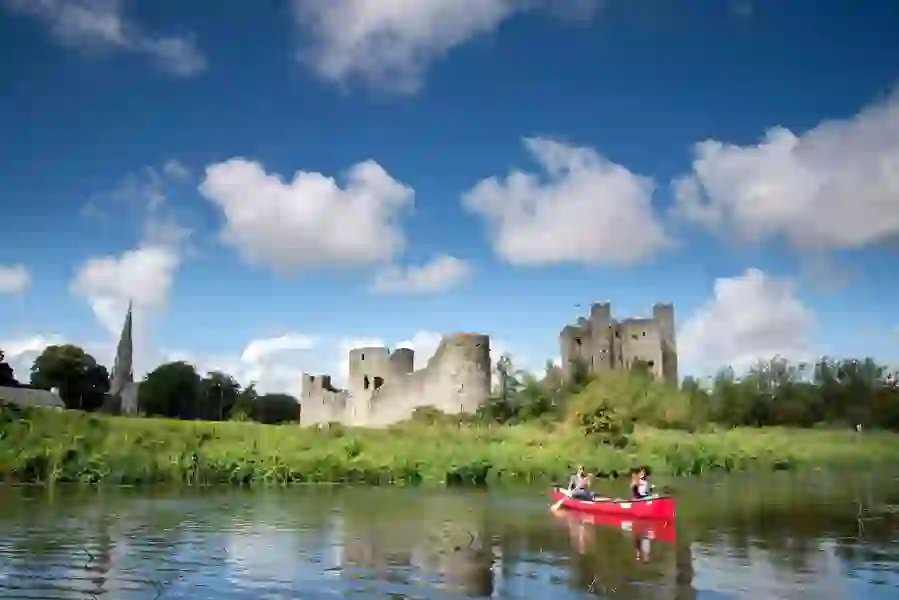 Boyne Blueway Trim
Made famous by the 12th century castle that stands at its heart, Trim is a delightful heritage town that is now home to one of the world's first accredited Blueways (along with the Suir). Stretching for about 8km, this section of the River Boyne is the perfect place for beginning and intermediate paddlers.
The route is spectacular, from underneath the dramatic hulk of Trim Castle, past the 18th century Rathnally Mill and House and onto Bective Mill. Venture a little further afield and you can enjoy the incredible megalithic sights of the Boyne Valley, including Knowth, Dowth and Newgrange passage tombs.
What to do: As well as the Blueway stretch which can be enjoyed in a canoe, kayak or paddleboard, Trim is also home to a wonderful array of walking trails including the Trim Porchfields and River Walk.
Where to eat: Franzini's is a popular choice beside Trim Castle and has been a staple of the local food scene for nearly 20 years. Portions are hearty with everything from chicken curries to cod and chips, so it's a good standby after a day on the water.
What to visit: The big draw here is, of course, Trim Castle. It took 30 years to build what is the largest Anglo-Norman structure on the island of Ireland, with its huge 20-sided tower.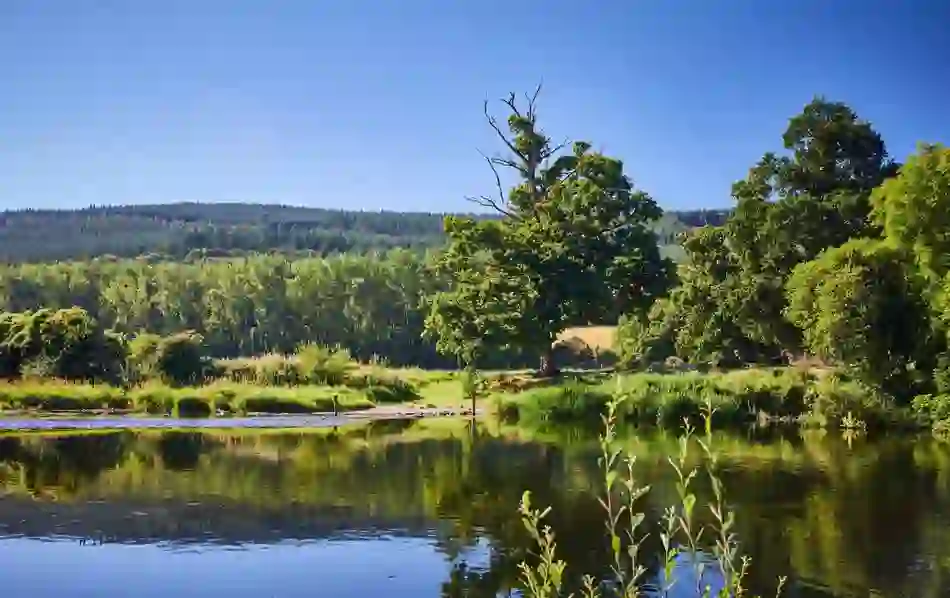 Suir Blueway Tipperary
The River Shannon may get all the attention, but the River Suir in County Tipperary is the very definition of a hidden gem. Flowing from the Borrisnoe Mountain right through Tipperary, it's Ireland's third longest river and is lined with crumbling castles, churches and medieval towns and villages. Also world-accredited, this Blueway will most definitely keep you busy with its 53km of paddling trails and a 21km cycle route.
What to do: Rent a bike from Treacy's Blueway Bike Hire and cycle the towpath from Carrick-on Suir to Clonmel – or walk a section of it if biking isn't for you. Along the way, you'll be able to visit Ormonde Castle, St Molleran's Church and a 14th century bridge called "Old Bridge". Go Paddle is great for guided tours down the Suir Blueway, paddling past Cahir Castle, the Swiss Cottage and onto Ardfinnan.
Where to eat: It's got such a lovely location, it'd be worth visiting Kilkieran Cottage Restaurant for the setting alone. Thankfully, the food is an even bigger draw with dishes such as fresh rainbow trout, roast ribeye of beef, and tofu and tempeh bacem.
What to visit: There are so many great sights in this area that it's really worth taking some time to get around them all. The Butler Trail is a great way to travel through time and experience the Butler dynasty, the area's most powerful family, through castles, medieval walled towns and Clonmel's Main Guard building.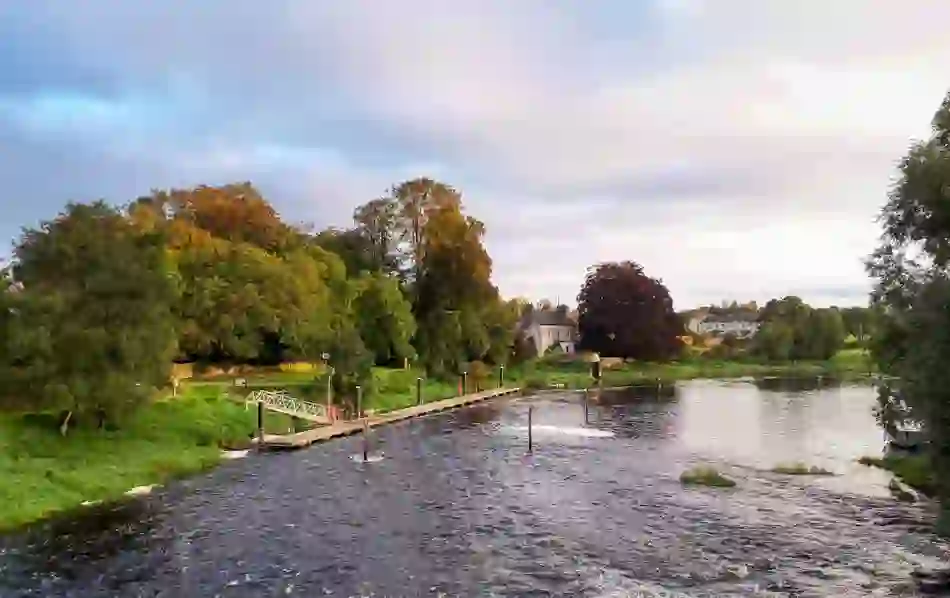 The Shannon-Erne Blueway
The Shannon-Erne Blueway is the very essence of tranquillity. Originally built as a working waterway in the 19th century, it's now an off-the-beaten-track destination where you can walk alongside glossy canals fringed with greenery. Gentle trails, easy cycling and reflective waters define the 70km of river, lakes and canals from pretty little Leitrim village to Belturbet in County Cavan.
The surrounding area here is also super-rewarding. Kayak out to the majestic 13th century Clough Oughter Castle set in the glassy surrounds of Lough Oughter, explore nearby Crom Castle with a wealth of walking trails, or visit the nearby town of Enniskillen in County Fermanagh, with its dramatic castle and great food scene set beside Lough Erne.
Activity highlights: Opt for a quiet stroll on the Ballinamore Looped Walking trail along towpaths and quiet country roads. The route is roughly 4.5km and takes about 90 minutes to complete. Bike-wise, a good option is the 10km self-guided cycle tour along the Shannon-Erne Blueway, from Leitrim Village to Kilclare.
Bikes can be hired from Electric Bike Trails, and you can stop off for a drink and a bite at the Sheemore Inn in Kilclare. And if you're interested in taking to the water, jump into a Canadian canoe and island-hop the length of Lough Gill with Adventure Gently.
Where to eat: Grab a spot beside the fire in the wonderful traditional-style grocery pub of Smyths Siopa Ol in Ballinamore for a drink or some hearty comfort food. For something a little fancier, make a date with the Olde Post Inn in the quiet hamlet of Cloverhill.
Sightseeing tip: A short drive from the Shannon-Erne Blueway, you'll find the incredible Marble Arch Caves, which are among the best show caves in Europe.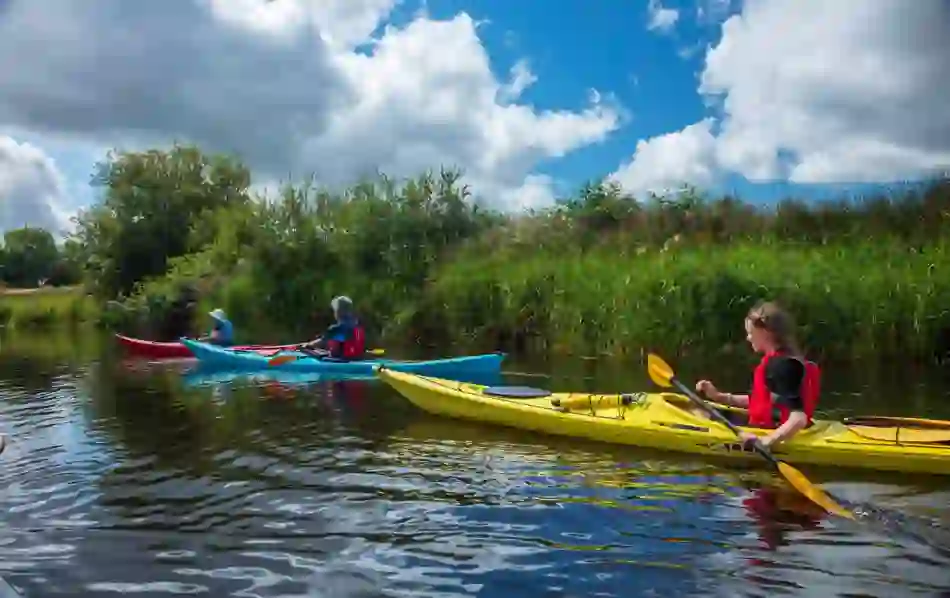 Shannon Blueway
Weaving its way through the idyllic, emerald-toned county of Leitrim and into counties Longford and Roscommon, the Shannon Blueway follows the River Shannon (the longest river in Ireland) through charming towns and villages, past crumbling castles and along riverbanks flush with wildlife.
The lively town of Carrick-on-Shannon is a great place to base yourself to enjoy the best of this Blueway with its great pubs and restaurants and buzzing boating holiday scene. Don't miss the great local attractions, too, from the wild and wonderful Lough Key Forest Park to the 12th century Boyle Abbey, both about a 30-minute drive from Carrick.
Activity highlights: There are great walk alongside the water all along the route and a good one for a decent hike is from Battlebridge to Drumleague, a length of about 10km. For a short, super-scenic foray into nature, try the Acres Lake Boardwalk, a beautiful floating boardwalk that runs for 600m across Acres Lake. Water-wise, the Drumshamazon experience with Leitrim Surf Company is a brilliant way to experience the lush beauty of this part of the island on a two-hour paddleboarding excursion through Amazonian-type scenery.
Where to eat: Carrick-on-Shannon is awash with excellent places to eat, but a firm favourite in town is The Oarsman, an award-winning bar and restaurant dating back to 1782.
Sightseeing tip: Head into the heart of darkness at the Arigna Mining Experience. The guided tour is led by ex-miners and is a wonderful insight into the working conditions of a mine.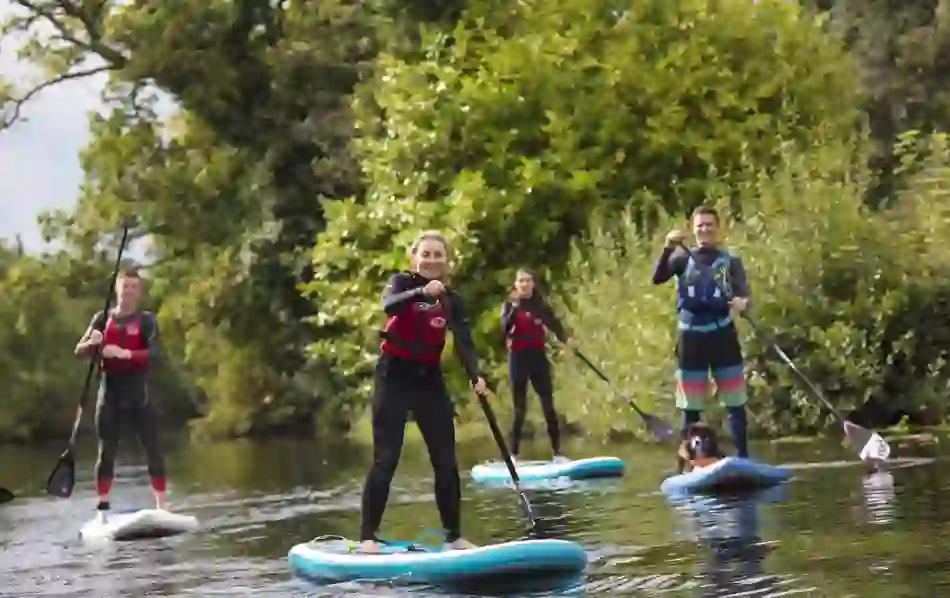 Lough Derg Blueway
Anchored by the charming towns of Killaloe and Ballina in County Clare, which are linked by a bridge over the River Shannon, Lough Derg is a pleasure-ground for nature enthusiasts. It's the mix of mountain hikes, hill walks, lakeside trails and on-the-water experiences here that makes Lough Derg such a rewarding place to visit. And after a day exploring the scenery, you can return to Killaloe or Ballina and enjoy great food, trad music sessions and chilled-out café culture.
What to do: Whether you choose to rent bikes locally and explore on two wheels or you prefer to walk, Portumna Forest Park is a must-visit when in the Lough Derg area. This natural wonderland mixes forest with lovely lakeside trails that include the lengthy routes of Rinmaher (10km) and Bonaveen (10.5km).
Make sure to keep some time to explore 17th century Portumna Castle on the edge of the forest – it's a beauty. The Killaloe River Cruise is the perfect way to get an insight into the area's fascinating history. Board at Killaloe and you'll be treated to a relaxing, one-hour trip along the Shannon and Lough Derg.
Where to eat: Set a short distance from the water's edge in the tiny hamlet of Garrykennedy, Larkin's is a lovely little pub that is picture-perfect with its red trim, thatched roof and blooming flowers. If you're in Killaloe, pop into Ponte Vecchio for the best coffee in town.
What to visit: Inis Cealtra, located in the lough close to the village of Mountshannon, is one of the most famous monastic sites in Ireland and boasts a round tower, a holy well, a graveyard and six church ruins.