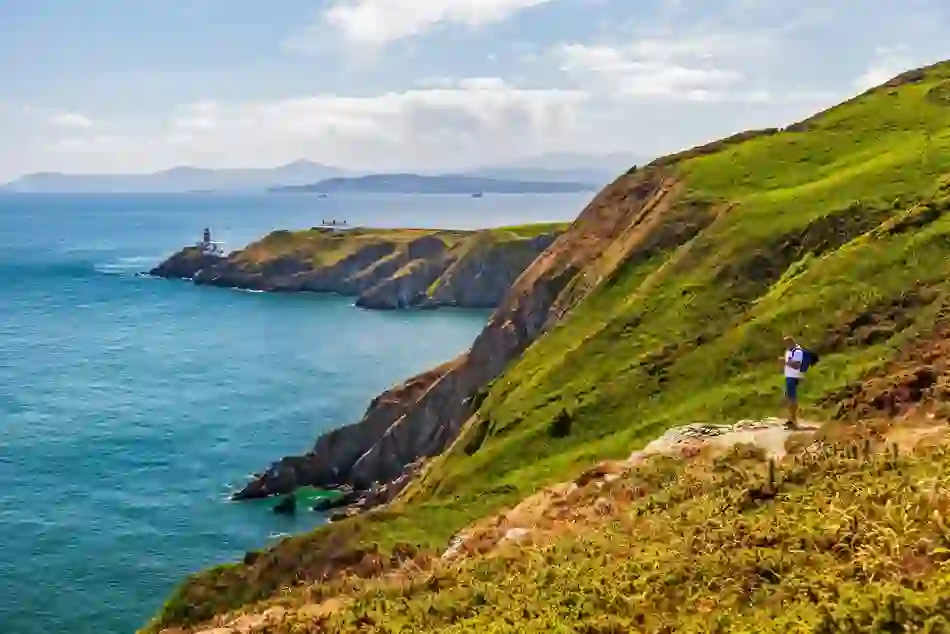 Dublin: 5 walks outside the city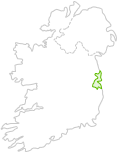 Dublin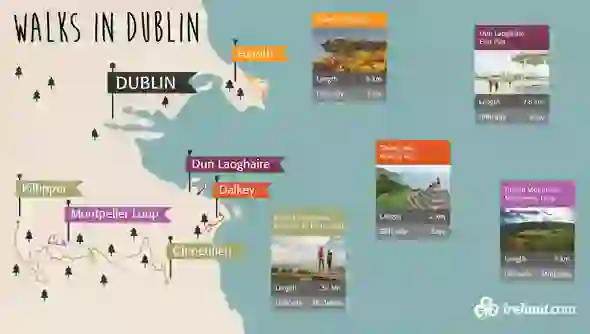 Like our infographic? Download it here.
County Dublin has got the lot for a walker, whether you're super-fit or a casual stroller. What do you fancy? A gentle coastal walk, some pretty woodlands or a full-on mountain hike? They're all just a short ride from Dublin city centre.
And don't worry about maps and compasses, because most of the trails are waymarked. All you need are comfortable walking shoes, some snacks and a jacket. Many of the walks are also located close to villages or great pubs, giving you the perfect excuse for a post-walk stop-off.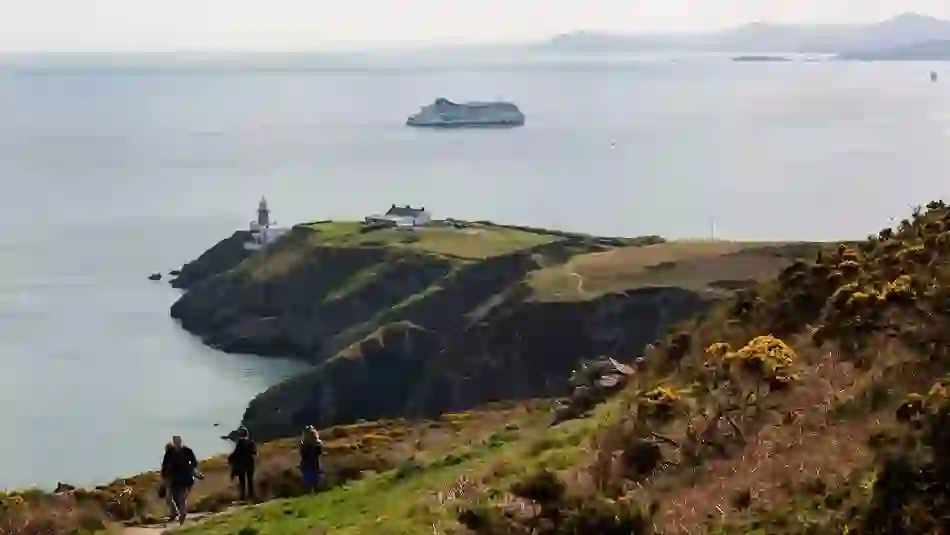 Howth Cliff Walk
Length: 6km
Difficulty: easy
Get ready for some major contrasts on this looped walk, which takes in blustery sea coast and tranquil inland meadows. This route has got everything, but the path is rugged in parts so better lace on your boots. Also, be careful in windy weather – the cliffs are pretty exposed!
From the city centre, take the Dart (train) to Howth and start off from the east pier following the cliff path along the east side of Howth head. Skirting the town, you'll catch glimpses of the ruins of 15th century St Mary's Abbey, and as you head uphill the fantastic view is an excellent excuse to stop and rest the legs: look south over Dublin Bay and north (if you're lucky and it's a clear day) right up to the distant Mourne Mountains in County Down.
Once you've made it to the cliffs, the path turns inland – get ready for a total contrast. The first half of your walk was through gorse, heather and bracken, as seabirds wheeled below; once you've made the turn, the path is lined with wild buddleia and fuchsia, full of butterflies and birdsong.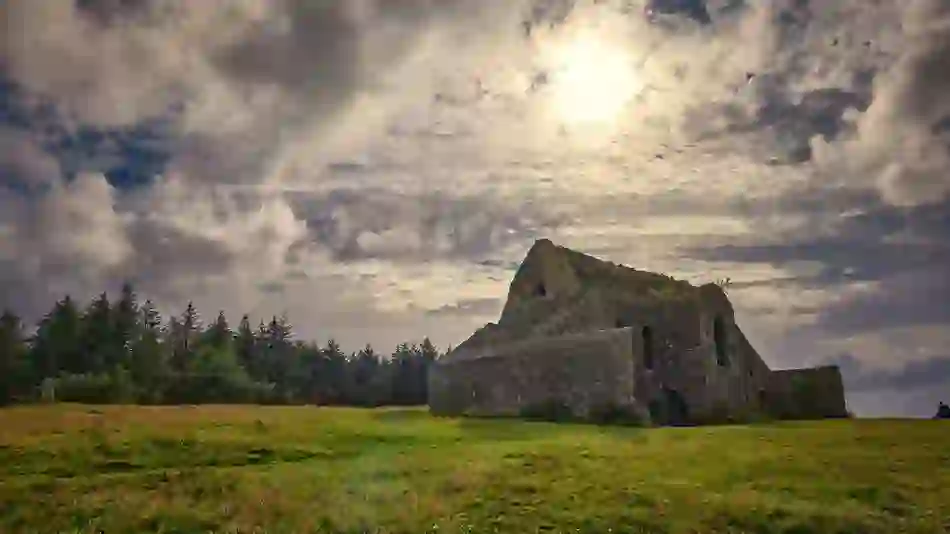 Montpelier Loop Trail/Hellfire Club
Length: 4km
Difficulty: moderate
Are you in the mood for scandal, tales of debauched aristocrats – even murder? This looped walk will take you to the very spot where the worst of the 18th century's young and idle rich were said to party hard – and even play cards with the devil. The route is mostly easy, but there is a climb up to the house. It won't take long, but if you add the Massey Woods Nature Walk into your day– it's a 9.2km, moderate half-day bonus.
The walk itself starts near Montpelier Hill, north of Dublin's Marlay Park and Edmonston. At the top are the ruins of 'Mount Pelier' – what became known as the Hellfire Club. It was built in around 1725 and its remoteness made it perfect for bad-boy excesses.
Follow the trail in a loop back down to your starting point and for the longer walk, continue north to the entrance to Massey Woods. Here you'll find the Steward's House, site of more of the Club's scandalous parties, which is said to be haunted to this day.
If you can hold your nerve through these eerie woods, the waymarked path passes all sorts of curiosities, including a Bronze Age wedge tomb, an icehouse and the remnants of the fine gardens that were once laid out here.
But on a winter's afternoon as evening draws in, you'll be happy to hurry back to the city centre's warmth, light and cheery company.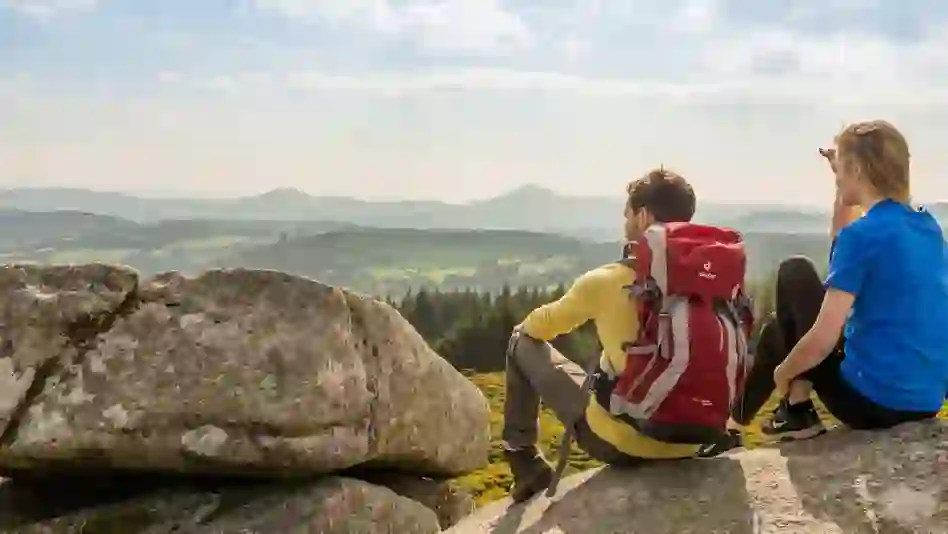 Kiltipper to Glencullen/Dublin Mountains Way
Length: 32km
Difficulty: moderate
Delving deeper into the Dublin Mountains, serious walkers will love this full-day's outing. Take the Luas (tram) from the city centre to Tallaght and head for Kiltipper as your starting point. Kit yourself out with boots and waterproofs for a big hike through the mountains – this route has an ascent of 400 metres overall. Pack the snacks and an extra layer, and tuck into a hearty breakfast – you'll need it!
The Dublin Mountains Way is divided into sections and this walk starts at Kiltipper, but you could easily chop off a bit and start further on. The route goes through bog, forest and woodland, along rivers and up mountains.
Glencullen is your final destination, and Johnnie Fox's pub is where you should head. Famous for its seafood and traditional music sessions, you can sit back and relax to the sounds of traditional Irish music, before heading back to Dublin. Johnnie Fox's sometimes puts on a minibus back to town, though you'll need to check in advance, and book seats. However, once you're settled in with a pint, your pack propped up in the corner, boots steaming and muscles aching, you might not ever want to leave…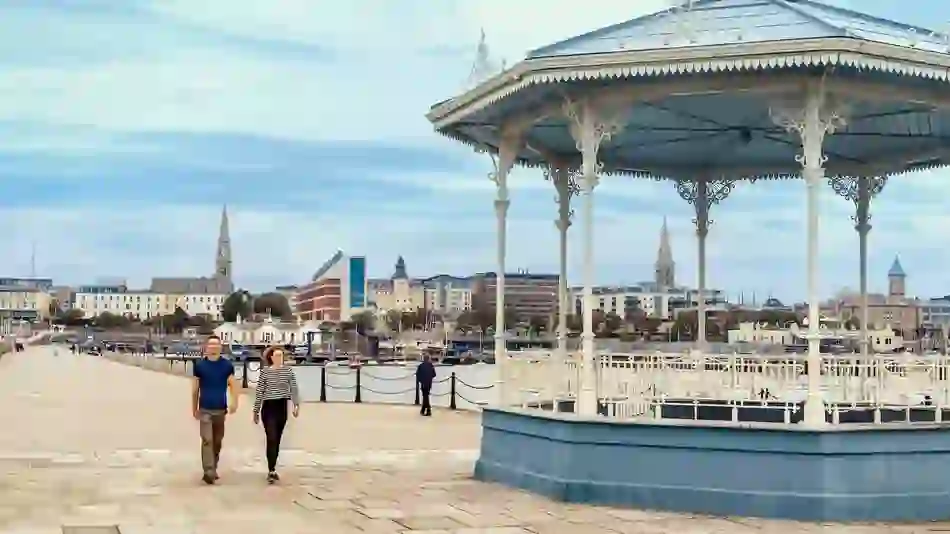 Dun Laoghaire East Pier
Length: 2.6km
Difficulty: easy
Sometimes a short, bracing walk is just the ticket. Perhaps you want to work up an appetite – or even walk off a good lunch at any of the cafés along the Pavilion promenade? Dun Laoghaire pier is the answer – and it's only about 15 minutes southbound on the Dart (train) from the city centre. It's a relatively short out-and-back, looking out to sea and over the marina.
There are two piers to choose from, both of which curve around like pincers to create the harbour. The East Pier is the most popular for walking – at 1.3km it's just a shade shorter than the West Pier and it is nearer the Dart station.
Dating from Victorian times, the piers are made of enormous slabs of granite that were quarried locally – look south to Dalkey and you can see the source. On a summer evening they seem to glow, but although this harbour was built to shelter ships from storms, you can still feel the water spray as the waves crash against the walls on blustery days! If the weather is a bit quieter, all you'll need is an extra layer, and then come back for coffee and cake along the Pavilion promenade.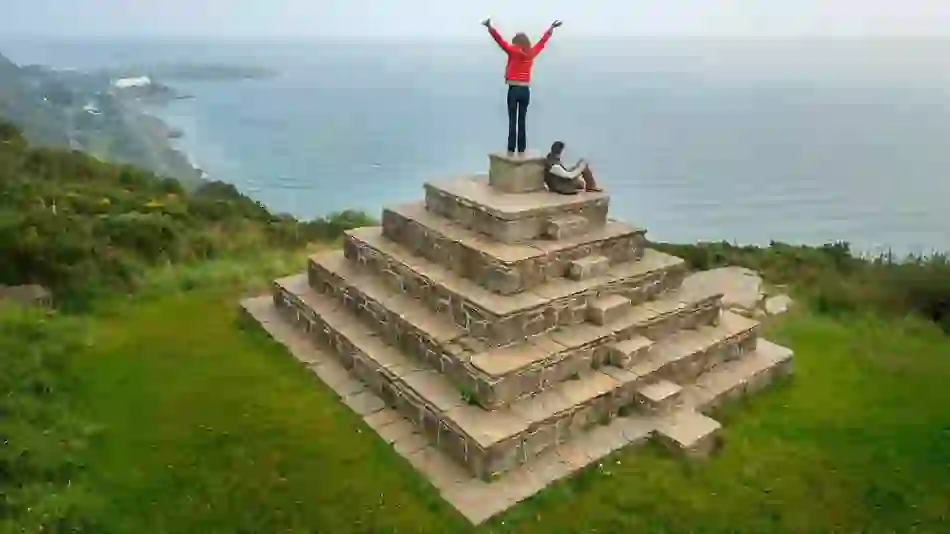 Dalkey and Killiney Hill
Length: 2km
Difficulty: easy
If you've been wondering why Killiney and Dalkey have some distinctly Mediterranean-sounding street names, this is the walk for you. It's not too long, although it takes in a couple of climbs, and it handily starts at one Dart (train) station and ends at another, making it a great half-day outing from Dublin city centre.
Jump off the Dart at Dalkey and follow Sorrento Road southeast towards Sorrento Terrace. Track the edge of the sea along the Vico Road and then go steeply uphill to Dalkey Hill, via a small gate at the bottom of some very steep stone steps, locally known as the Cat's Ladder.
From the summit, if you're lucky enough to have decent weather, you'll see the reason for all those grand Italianate names – you're looking out over Dublin's answer to the Bay of Naples – as well as the Sugar Loaf Mountain, the Wicklow Mountains and Dalkey Island, with its stony Martello Tower.
Head downwards over the hill, and you'll pass the quarry from where the granite was extracted to build Dun Laoghaire's mighty piers. Nowadays, its sheer sides make it the abseiling and rock-climbing hotspot for adventure-sports lovers. Through the car park, you'll spot a number of pathways, veer left towards the sea again, with the next climb up easy steps bringing you to the top of Killiney Hill – and often, to the sight of paragliders setting off into the blue skies, when the wind and weather is just right.
At the top is an obelisk – built to provide work during the terrible winter of 1741 – and from there the trail goes down to Victoria Park's gates, where you can stop for refreshment at the Tower Tea Rooms at the entrance, or across the road at the Druid's Chair pub, noted by 10Best.com as a "great stop off point on a hike."
Refuelled, turn left and it's downhill to the Vico Road again, this time taking a right to bring you on a view-laden stroll right back to sea level and Killiney Dart Station – the immaculate gardens along the way only serve to enhance this picturesque ending to your walk.