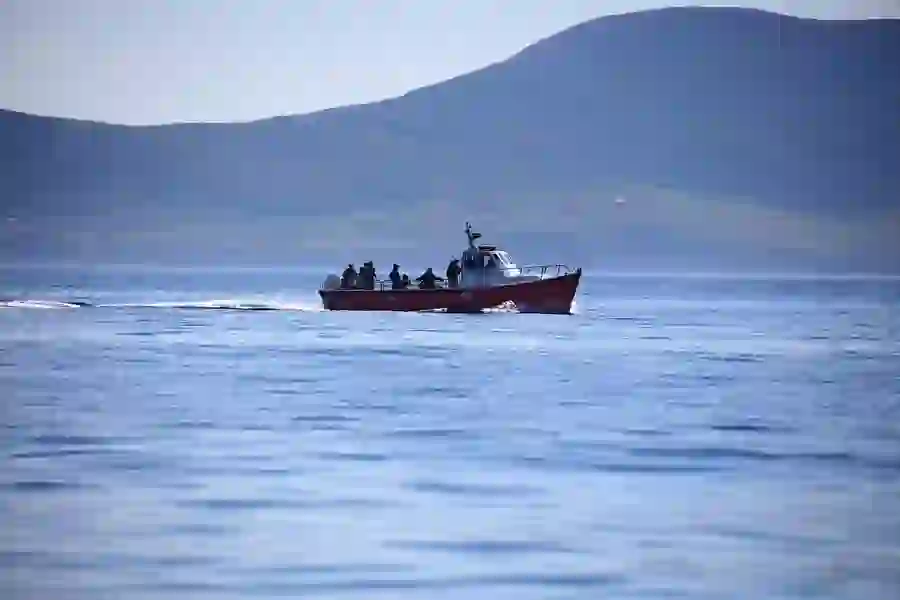 7 fantastic ferry trips in Ireland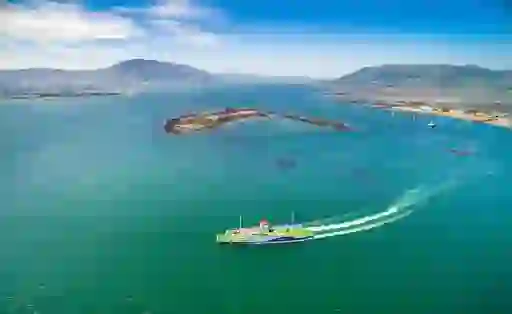 Greenore-Greencastle
Route: Dublin to Belfast
Detour off the motorway between two cities for breathtaking scenery around Carlingford Lough. The ferry trip is essentially a bridge between Greenore on the Cooley Peninsula, and Greencastle in County Down, a gateway to the Mourne Mountains. Both areas offer an abundance of walking trails and outdoor activities to try, not to mention sites of mythological and historical significance to explore. Depending on the tide, you may see oyster and mussel farms along the shores, and you can sample these tasty morsels in Carlingford's restaurants.
Practical information: Sailing year round, from 7am-9.30pm in peak season. Journey takes 15 minutes.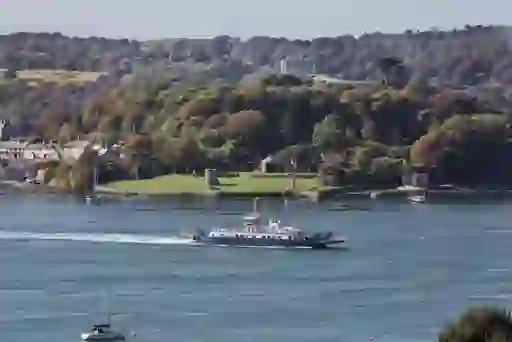 Portaferry-Strangford
Route: Dublin to Belfast
Keep your wheels spinning towards the Mourne Coastal Route as you head for Strangford Lough and this 400-year-old ferry route, which crosses the inlet at its narrowest point. The lough is an Area of Outstanding Natural Beauty, with over 2,000 marine species, and it buzzes with all kinds of activities before you hop on board the ferry. Try a canoe trail, sailing, kayaking, bird-watching, or head indoors to learn about the wildlife at Exploris Aquarium.
Practical information: Sailing from 7.30am-10.45pm in peak season. Card payments only accepted in the terminal. Journey takes eight minutes.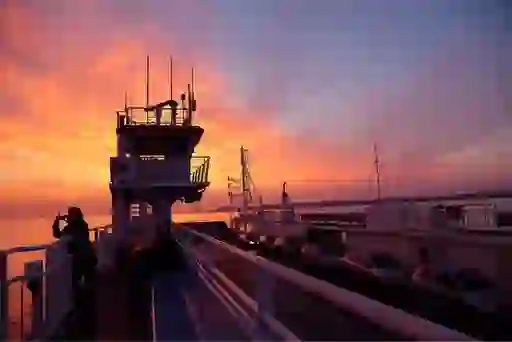 Tarbert-Killimer
Route: Galway to Tralee
Take advantage of this shortcut from Clare to Kerry if you're following the Wild Atlantic Way. The ferry route crosses the Shannon Estuary, taking you from Clare with its lunar-like landscape at the Burren and hair-raising views at the Kilkee cliffs, over to the cosy pubs of quaint Kerry towns, such as Listowel, Ballybunion and Tralee, or to the lovely surrounds of County Limerick, with its foodie heritage, and the original source of the Irish coffee at Foynes. Look out for the bottlenose dolphins that regularly join the crossing.
Practical information: Sailing from 7am-9.30pm in peak season. Journey takes 20 minutes.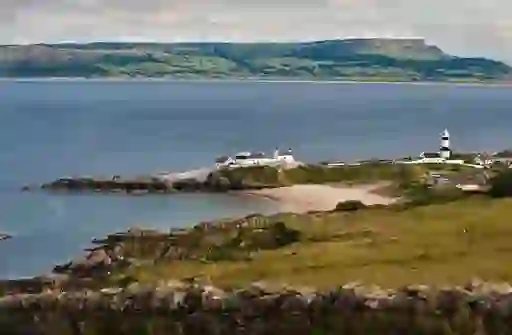 Greencastle-Magilligan Point
Route: Belfast to Donegal
Travel from the shadows of Binevenagh mountain in Northern Ireland to Greencastle in County Donegal on the Wild Atlantic Way. This wildly scenic ferry trip marries two dramatic journeys (the Causeway Coastal Route and the Wild Atlantic Way) in one 15-minute crossing. Once in Greencastle, film and TV buffs can head for Ireland's most northerly point, Malin Head, a Star Wars filming location. On Magilligan side, you're just an hour's drive from the walled city of Derry~Londonderry, with its lively pubs, tasty food scene and collection of fascinating museums.
Practical information: Sailing April to September between 9am-8.15pm. Payment is by cash only (euro or sterling). Journey takes 15 minutes.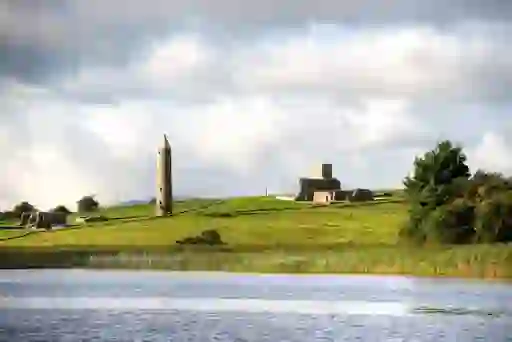 Trory Jetty to Devenish Island
Route: Enniskillen to Derry~Londonderry
One of no fewer than 154 islands on the River Erne, Devenish Island's monastic site was established by St Molaise back in the 6th century. The island is only accessible by boat but you almost feel you can reach out and touch it from tiny Trory Jetty, it's so close. Raided by Vikings, the monastery burned and flourished over time and what remains is well worth a visit – the old monastery, two churches, an oratory, and the iconic round tower. Marvel at untouched landscapes, beautiful wildlife and learn the island's rich folklore, with an amazing view wherever you sit.
Practical information: Sailing June to November. Journey takes two minutes.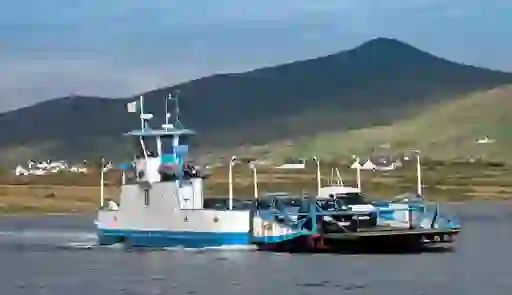 Reenard Point to Knightstown
Route: Ring of Kerry to Valentia Island
Delivering spectacular views from Bray Head to the Skellig Islands – a key filming location for Star Wars – this short little trip takes you from the mainland to Valentia Island. Here, you can follow the incredible fossilised amphibian footprints along the 350-million-year-old Tetrapod Trackway – one of only four in the world; stop off at the lighthouse at Cromwell Fort; or if you're feeling adventurous, take a guided hike up the stunning Geokaun Mountain. On the island, you can try out a range of watersports, including diving and kayaking or just indulge in some Valentia Island Farmhouse ice cream and local seafood. Well worth the short ferry journey, even though there is an alternative landbridge, too!
Practical information: Sailing April to October, the ferry runs from 7.45am-10pm in peak season. Journey takes 10 minutes.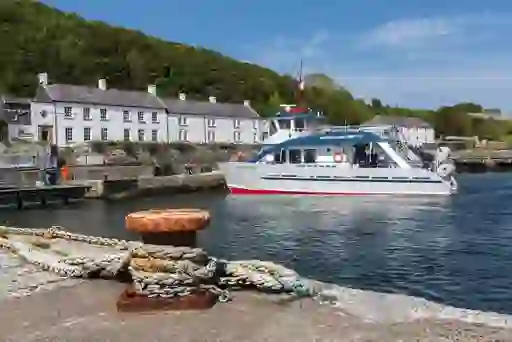 Ballycastle to Rathlin island
Route: Belfast to Derry~Londonderry
A great way to extend your Causeway Coastal Route experience is to take the ferry from the pretty harbour town of Ballycastle and head over to Rathlin Island for the day or even overnight. The island is a delight. Take a guided walking tour, then head to the Seabird Centre where Northern Ireland's largest colony of seabirds, including puffins, gather in their thousands. Explore Rathlin's unique "upside down" lighthouse and learn about the island's history, people and mythology at the Boathouse Visitor Centre at the harbour, where you can examine artifacts and photographs from Rathlin's past.
Practical information: Sailing from 8am-6.30pm in peak season. Book at least one week in advance. Journey takes 25 minutes via the Rathlin Express fast ferry and 40 minutes via the Spirit of Rathlin vehicle ferry.