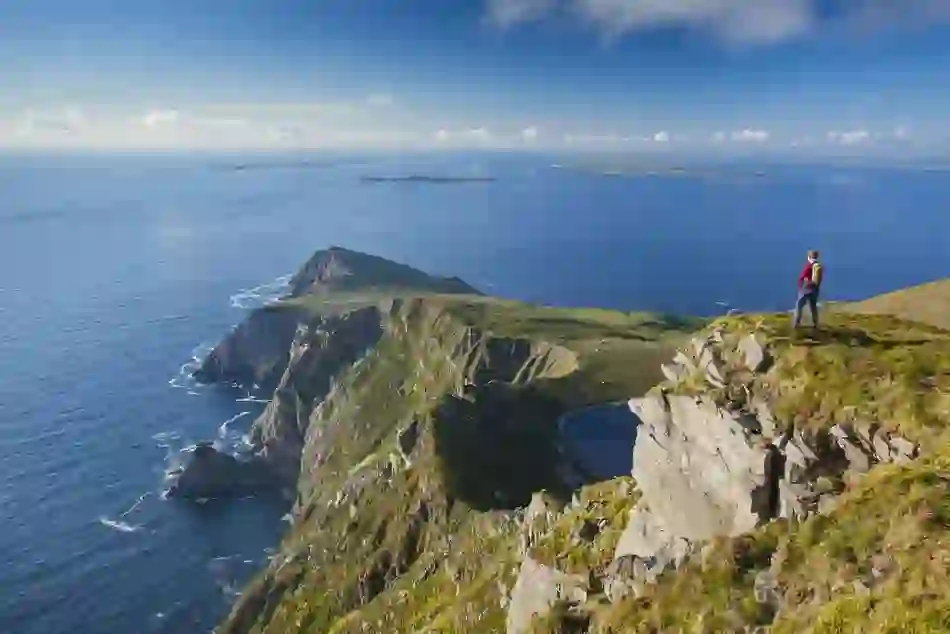 Island hopping in Ireland
If you want to discover a more sustainable Ireland, exploring some of our lesser known islands is the way to go. Not only will you enjoy the trip of a lifetime, but you'll also be supporting the communities who live and work in these beautiful spots – the same people who protect these paradises all year round. All of the mainland harbours mentioned here are accessible by bus, so leave the car behind and hop on a ferry to discover the joys of island hopping – Ireland style!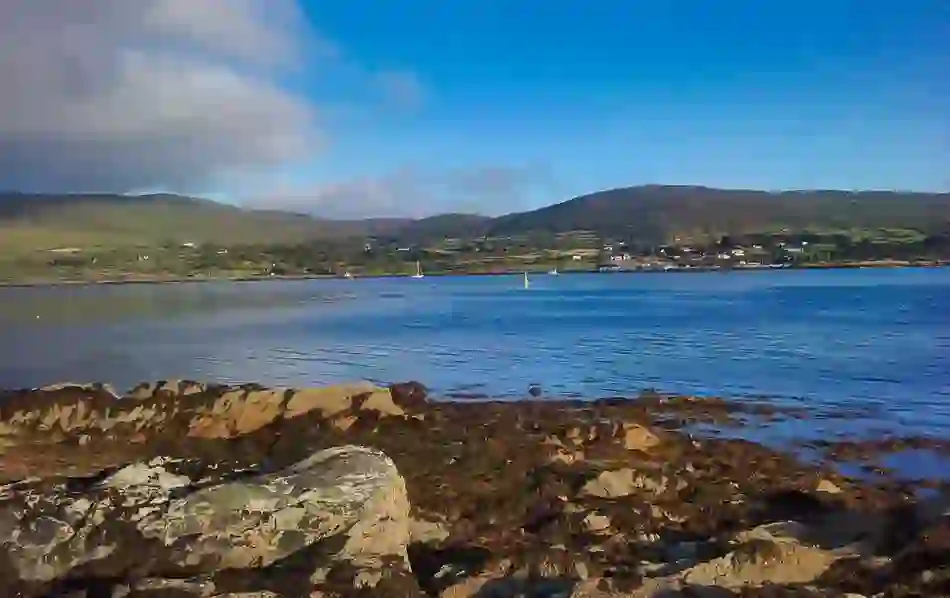 Bere Island and Dursey Island, County Cork
Bere Island is located just 1.5km off the Beara Peninsula in Bantry Bay, boasting 10km by 3km worth of fine natural heritage. It also has bucketloads of community spirit, most recently highlighted by the fact that it won the "World Cup of Parkrun Beauty 2021". It should also win praise as one of the best island cycle trails, given that it is part of the Beara Way Cycling Route. You can put your bike on the island ferry at Castletown-Bearhaven, or at Pontoon, just 5km east of there, then jump in the saddle and head off on your adventure. If you are on foot, you can travel to Castletown-Bearhaven by bus from Cork city.
Another section of the Beara Way Cycling Route takes you from Castletown-Bearhaven to the uninhabited Dursey Sound, where you can pick up a cable car out to Dursey Island. You can take your bike on the cable car, but only outside tourist season, otherwise hike along part of the Beara Way on Dursey Island for views out to the Atlantic, with possible sightings of whales and dolphins, and superb bird watching too.
You can stay on both Bere and Dursey, with a handful of self-catering accommodation at on the latter, but there are no shops, so bring all your supplies with you. Taste in Castletown-Bearhaven has plenty of deli deliciousness going on and, if you time your cable car well, the Dursey Deli is a top fresh fish and chips food cart on the island. To gain an even prettier perspective of the island, take the Dursey Island boat trip and marine safari with expert local guides, to fill you in on all the natural and cultural highlights.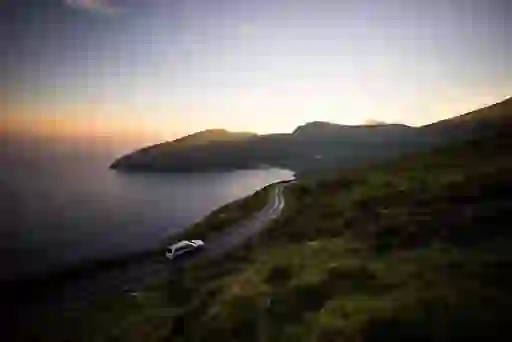 Achill Island, County Mayo
Connected to the mainland by a bridge, Achill, the largest Irish isle, is accessible by bus from Westport. Or you can try hiring a bike in Westport and cycling along the Great Western Greenway as far as Achill Sound (42km), and then over to the island itself. You can also hire bikes at Achill Bikes on the island and take on one of three remote and rousing cycle loops. Although a firm favourite of Irish holidaymakers, Achill is less well known internationally, but it is really worth navigating your way to the north-west for this nirvana.
One of the most striking things about Achill for nature lovers is the amount of biodiverse beauty packed into 145km2. Summit seekers head for Slievemore (671 metres) and Croaghaun (668 metres), the latter boasting particularly memorable sea views. It is also home to the highest corrie lake in Ireland, Bunnafreva Lough West. However, every walk brings natural wonders on Achill and, if you stay at Achill Isle House, they offer a series of guided walks by local expert, Gerard Mangan.
Horseriding on Achill's exquisite Keel Strand and Trawmore Strand is a firm favourite with families. These are just two of the island's five Blue Flag beaches, the others being Keem, Dooega and Golden Strand (also known as Dugort). Between them all, there is a plethora of sustainable seascape activities, including coasteering, paddle boarding, surfing and sea kayaking along the Achill Island Blueway.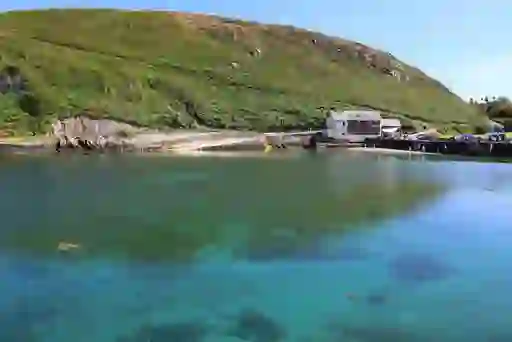 Cape Clear Island, County Cork
Take a 45-minute ferry journey from Baltimore to Cape Clear Island, where yurts and bell tents await at Chléire Haven, overlooking the water's edge. You can walk there, or take the island's two electric buses to this perfect eco hideaway. One of the best food spots on the island is at the local shop-cum-café, An Siopa Beag overlooking Roaring Water Bay, where you can get daily supplies to cook at the campsite, or enjoy dinner and a picnic lunch. Explore the island's walking trails, its patchwork of drystone walls, with flora and fauna including the prolific birdlife documented at Cape Clear Bird Observatory (Tigh na nÉan).
Top and tail your trip to Cape Clear Island with a whale and dolphin watching trip run by Whale Watch West Cork out of Baltimore. The skipper Nic Slocum is legendary in this part of the world for his knowledge of and commitment to marine wildlife conservation. You can access Baltimore easily by bus from Cork city.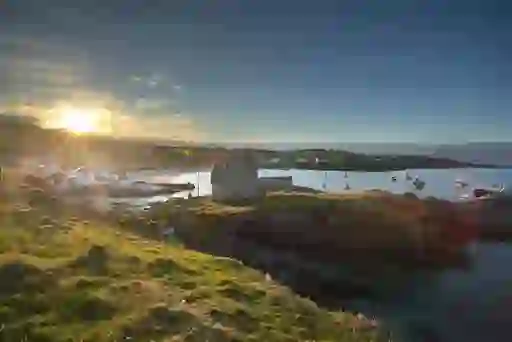 Clare Island, County Mayo
Although ferries run to Clare Island all year round, getting to Roonagh Pier can be tricky without a car. Except during July and August, when a shuttle service, operated by Clare Island Ferry Company, runs five days a week between Westport and Roonagh Pier – but only for groups of ten people. However, one of the best ways to explore is by renting a bike in Westport and taking the coast road out to the pier, and then bringing your bike with you to the island, of course.
This is an island of adventures where you can stay at the likes of family-run Go Explore hostel and Sailor's Bar and go climbing, abseiling, coasteering or just simply hiking to deep dive into the island's colossal seascapes. You can also explore Clare Island on an electric bike, organised by leading ecotourism provider Electric Escapes.
A very different way to enjoy Clare's natural beauty is by staying at the island's stunningly restored lighthouse which has, for over two centuries, been a nautical landmark perched high on craggy cliffs. Although you will be met by your host, if the weather is good we recommend sending your bags ahead, and walking the long, straight road out to the lighthouse.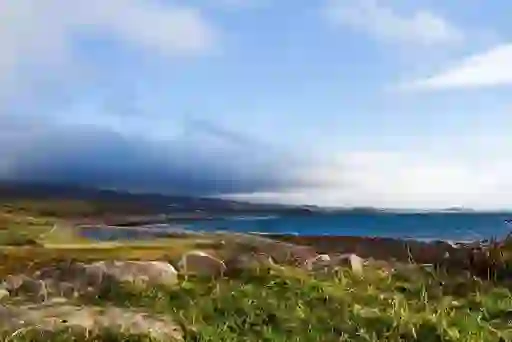 Inishbofin, County Galway
Inishbofin, just 8km off the Connemara coast, is one of the pioneers of island ecotourism in Ireland. A tight-knit community of 180 inhabitants, they have worked together to create a cohesive sustainable tourism package, from birdwatching for its resident corncrakes to seeking out the seal colony at Stags Rock.
One of the best ways to explore is on the Cultúr na nOileáin's walking tour, run by Tommy Burke, a native island historian and archaeologist. The owners of the Dolphin Hotel have also played a central role in the island's ecotourism movement. Their birdwatching breaks are becoming world renowned, guided by Irish birding expert Anthony McGeehan.
Of course, you can just come to Inishbofin to cycle, hike or go horseriding over the hills in blissful peace, and then swim in equally blissful blue waters. It's not uncommon to have a feeling that you have left something behind when you get on the Inishbofin ferry at Cleggan Pier, accessible by bus from Galway city. Don't worry, it will just be your stress. The calm of Inishbofin is immediately infectious.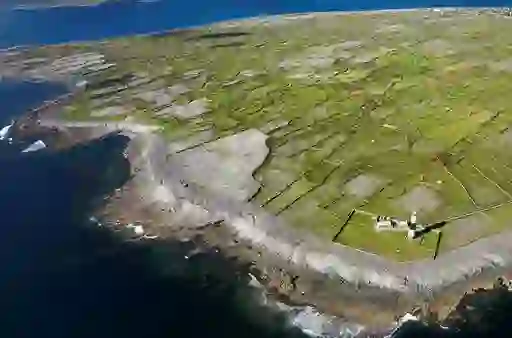 Inis Oírr, County Galway
The smallest and easternmost of the three Aran Islands, Inis Mór and Inis Meáin, are more well known by international visitors, but Inis Oírr is a particularly special spot. It's a place to just be, absorb the power of the Atlantic, and be inspired by light and space. Walk the drystone wall-lined lanes on the island's two looped 8km and 13km walks or seek out local traditional crafts at Cleas Crafts, where you can take part in basketmaking workshops and buy the perfect souvenir of multi-coloured criosanna – wristbands woven on a traditional loom. The folks at Cleas also lead guided walks of the island. Swimmers and snorkelers can immerse themselves in some of the island's maritime magic at An Trá and Trá Poll na gCaorach beaches.
To get to Inis Oírr, take a ferry from Rossaveal, just an hour from Galway city by bus and don't think that because it's small, you only need to take a day trip. Your visit will be much more sustainable, and also soulful, by staying at least one night here, and there is no shortage of locally owned accommodation, cafés and pubs to make you feel welcome.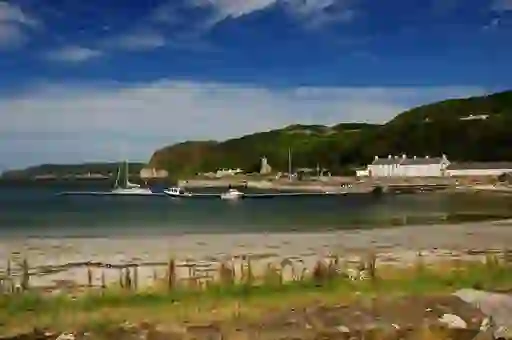 Rathlin Island, County Antrim
Just under 10km from Northern Ireland's harbour town of Ballycastle, across the Sea of Moyle, lies Rathlin Island, one of Northern Ireland's most celebrated birdwatching havens. Although it is very small, at just 10km long and 1.6km wide, it has a population of around 140 people, and an outnumbering bird population. Its rocky shores, reefs, grassy cliffs and sea caves have all contributed to it being designated as a Special Area of Conservation (SAC) and, in addition, its bevy of beautiful birdlife, puffins in particular, are protected by an RSPB Nature Reserve.
The Rathlin Trail is the most popular waymarked trail on the island, taking you from the harbour to the West Lighthouse, one of the Great Lighthouses of Ireland, as well as the RSPB Seabird Viewpoint. You will also pass through Kebble National Nature Reserve, where the cliffs and stacks are breeding central for seabirds between May and mid-July. In August, the island's heathlands are overtaken by purple orchids, peacock, green-veined white and the rare grayling butterflies.
You can also hire bikes at Soerneog View Hostel, one of two hostels on the island, where tourism is very much community led. One recent development on the island is glamping pods, on the coast just north of Soerneog View Hostel. To get to Rathlin Island without a car, take a bus from Belfast to Ballymena, and transfer to Ballycastle. Get off the bus at Marine Corner to catch the ferry to the island.