A pub lover's dream
Blackwell was a passionate music lover and he saturated De Barra's in Clonakilty, County Cork, with music in as many ways as possible. Folk music isn't only food for the ears here at this West Cork gem, it's a feast for the eyes, too, as the walls are covered with musical instruments, with a Picasso-like arrangement of guitars, banjos and fiddles over the fireplace.
Thankfully for all traditional pub lovers, much of De Barra's interior has been largely unchanged over the years. The bar, floor, and a small snug (a cosy corner) are all original features and the spot beside the fireplace is everyone's favourite.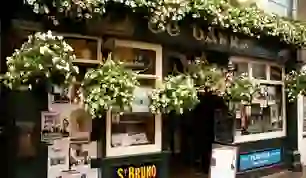 Meet the locals
On the snug's wall is a front-page of a newspaper displaying an account of the Lusitania's sinking in 1915. One or two of the more elderly regulars have been caught spinning survivors' tales to gullible audiences over afternoon pints.
Tall tales aside, the staff of De Barra's are all as musically inclined as Blackwell himself, and each staff member is a gifted musician.
Don't be surprised to see them pick up instruments and jump in with the band on stage.