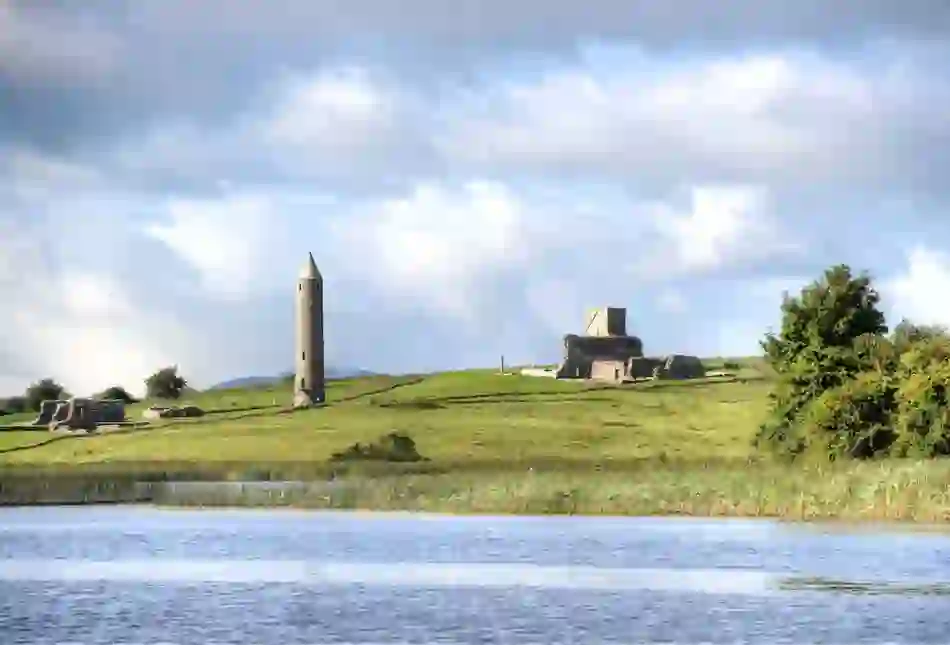 10 secret spots to discover in Ireland

10. The Coral Strand, County Galway
Near the sleepy town of Carraroe in Connemara, a curious beach lies along the shore. Named "Trá an Dóilín" or "The Coral Strand", the sand may at first feel a little odd. This is because it's made entirely of crushed coralline algae! Beaches like this are incredibly rare, but we have two very close to each other – there's another one near Ballyconneely too. They're sites of great importance to conservation efforts and, luckily for us, they also make great spots for just sitting back and watching the world go by.

9. Ireland's last Leprechaun Whisperer, County Louth
Kevin Woods has a very special skill. He has the ability to talk to leprechauns, and he's also affectionately known as Ireland's last Leprechaun Whisperer. Explore the vistas around Carlingford Lough in Ireland's Ancient East with Kevin, paying a visit to the Leprechaun Cavern, and see if you can spot some of Ireland's most famous residents for yourself...

8. Kerry International Dark-Sky Reserve, County Kerry
Look up! You'll see the sparkling expanse of the universe come to life before your eyes. This is the Kerry International Dark-Sky Reserve. The sky here is devoid of light pollution, letting you gaze at the Milky Way, imagining yourself in a galaxy far, far away. Indeed, Star Wars was filmed not so far away from here. Or bring out your creative side and apply to the Cill Rialaig Artists' Retreat, which offers artists, writers and other creatives an opportunity to get away from it all and focus purely on their art. Bliss under the stars.

7. The Guinness Lake, County Wicklow
A lake made out of Guinness? Only in Ireland! Drive yourself up into the Wicklow Mountains, and you'll find views over Lough Tay. The inky black waters are framed by golden sands, making this look like a lake poured directly out of the tap in your favourite Irish pub.

6. The Glens of Antrim, County Antrim
The Glens of Antrim are a natural playground – there are nine to explore, each with its own distinct personality and charms. Meet a ghost at Ballygally Castle, and solve the beach maze at Carnfunnock. Relax beside splashing waterfalls in Glenariff, before seeing if you can catch the vanishing lake at Loughareema – it's said that this is a watery grave for a coach and its horses! Each one of these glens has something worth exploring, so see them all and find your favourite.

5. Sail out over the Atlantic, County Cork
If the weather is fair you can take a boat, but wouldn't you rather catch a cable car? That how the locals do it on Dursey Island on the Wild Atlantic Way. Hop on to Ireland's only cable car, often in the company of sheep who graze on the island's lush pastures, and hang out over the Atlantic on your way to Dursey. Bring a picnic and enjoy unparalleled views over the ocean – next stop, America!

4. Fermanagh Lakelands, County Fermanagh
The Fermanagh Lakelands aren't really a secret, as this beautiful waterworld is a well-documented phenomenon! With 154 islands to explore, this is a natural adventure-land. Hop in a boat, a canoe or a kayak and see the curious stone figures on White Island, the two-faced Janus statue on Boa Island, the monastic settlement of Devenish, or the pampered pigs of Inishcorkish Island, who produce Fermanagh's famously delicious black bacon!

3. Dalkey Island, County Dublin
On Dalkey Island, the hustle and bustle of Dublin feels a million miles away. Pick up some supplies in the gorgeous town of Dalkey, before you take the boat from Coliemore Harbour to the island, in the capable hands of enigmatic ferryman, Ken. The island itself has a history that stretches back over 6,000 years – there's evidence of settlers here from 4,500 BC. It's served as a Viking slave camp, become a principal port for Dublin in medieval times, and has a Martello tower (one of many lining this shoreline). This tranquil island retreat is perfect for a little offshore exploration, with stunning views of the "mainland".

2. Cushendun Caves, County Antrim
The night is dark and full of terrors…. But the day is a time for exploring! Get yourself to the Cushendun Caves – HBO's Game of Thrones® fans will recognise this as the place Melisandre spawned a horrendous demon to kill Renly Baratheon. But whether you're a fan or not, the caves are fantastic to potter around. Formed over 400 million years, you can delve deep below the earth, explore the rockpools that cover the surrounding landscape or simply take in the breathtaking views of the sea.

1. Mourne Mountains, County Down
Seeking the ultimate secluded retreat? Then head towards the Mourne Mountains and spend a day wandering the landscape that inspired C.S Lewis' Narnia. Follow the 35km-long Mourne Wall, stroll past the 14th century ruins of Greencastle, or visit the Silent Valley, a massive reservoir famed for its total lack of noise. Can you imagine anything more serene?