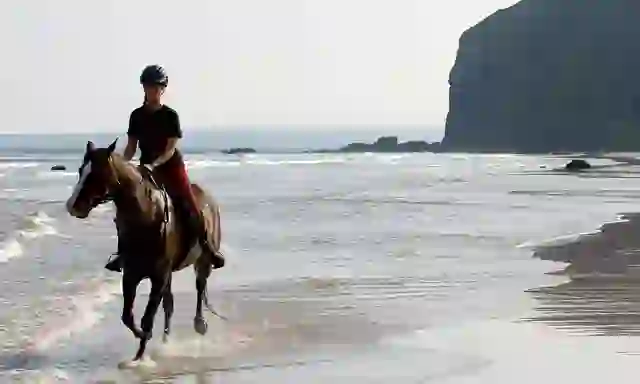 Horse riding holidays in Ireland
I'm a beginner; is Ireland a good place to start off?
No experience, no problem. Across the island you'll find almost all equestrian centres are happy to take on beginners. You can also rely on qualified instructors to help you quickly establish balance and confidence on a horse that has been specially selected for you. The instructor does this by taking into account the rider's weight, height, courage and fitness. Adult beginners need have no worries because the horses they ride are steady and sensible and will be doing their very best to please; while younger riders can be lead on trails. And if you've ridden a horse before, with the choice of expert tuition on offer, you can polish off your already existing skills, but this time surrounded by Ireland's countryside.
Equestrian centres in Ireland will with very few exceptions have all the tack and gear you'll need. Still, like any active plans you may have for your visit, it's always a good idea to bring comfortable tracksuit bottoms, rainproof clothing and a decent pair of walking shoes or sneakers.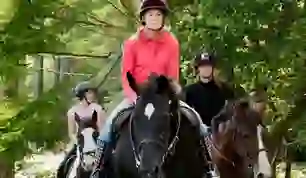 What about longer treks and cross-country?
One thing Ireland isn't short of is landscape, so yes – there are plenty of options for longer treks. Once you've got your bearings on the back of a horse, treks and trails bring you over peaceful and scenic landscapes at a leisurely pace.
Cross-country, meanwhile, combines speed, agility and precision as you tackle banks, water obstacles, drops and wooden logs around some of the island's excellent cross country courses. For more advanced riders, there is usually the option to bring your own horse. Or if you fancy improving your skills, you could treat yourself to a cross-country lesson. A qualified instructor will help you tackle the obstacles, building your confidence. Safety is always of paramount importance, so always listen to the instructions given.
What about horse riding holidays?
All approved horse riding establishments offer excellent equine facilities, however, some go that little bit further by providing accommodation, too. Staying on site presents the perfect opportunity to not only improve your riding skills but to really get to grips with the resident horses and learn about their daily routines. Accommodation ranges from basic to luxury, and several blend riding with other activities, such as golf, hiking, angling or cycling.
Another option is post to post. Post-to-post riding takes in stunning scenery and serious saddle time and usually involves progressing from one area to another by day, and sleeping in various stops along the way by night.
Are show jumping and dressage catered for in Ireland?
Absolutely. Both of these disciplines demonstrate the sheer talent and training of both horse and rider, however, unlike other riding experiences in Ireland, these take place in more controlled environments. Show jumping takes place in arenas, so it's probably a safer option if your experience is limited, while dressage riding takes place on the flat, as it's often been described as the equivalent of gymnastics for horses.
I assume beach riding is big in Ireland?
Hard packed sand and wonderfully flat surfaces, not to mention the variety of locations on offer from our island status, means that Ireland is probably the most ideal place in the world for beach riding. Depending on your level of experience, rides like this can vary from gentle walks to thundering gallops over the wet sands.
I've heard about the Connemara pony, is it possible to go riding on them?
There are three breeds of horse indigenous to the island of Ireland: The Irish draft, the Irish hunter and the Connemara Pony. People like local Connemara man, Willie Leahy and his family have trained and ridden Connemara ponies around the region for decades. He and others like him are happy to take you over mountains and along beaches on some of the finest Connemara Ponies on the island.
Are there any good racing festivals in Ireland?
Horse racing is in the blood in Ireland, so it would be more a case of where to go and when as the choice is so good. The lazy days that linger after the Christmas are perked up by meets at Leopardstown in Dublin and Royal Down Racecourse in Down. The Galway Races during the summer go on for an entire week; while Punchestown in Kildare is a right of passage for thousands of race-goers in the surrounding counties. Navan in Meath, the Curragh in Kildare and Downpatrick Racecourse are also justly famous for their feisty atmospheres.
What about horse shows?
The cream of Ireland's shows are the Dublin Horse Show and the Belfast International Horse Show – both bring equestrian fans and general audiences in their droves. There are Irish Horse Shows, though, that don't take such a huge international stage, but are well worth checking out.
If you want to see where it all begins on the thoroughbred stage, a trip to a horse sale will give you a glimpse into the lives of some of the top names in Irish racing: Goffs in County Kildare, Goresbridge in County Kilkenny, Tattersalls in County Meath, Sweet Wall and Laurel View in County Antrim, and Ballintaggart in County Armagh are names that are known worldwide in racing circles.
Official links
Equestrian Holidays in Ireland
Association of Irish Riding Establishments
British Horse Society Northern Ireland