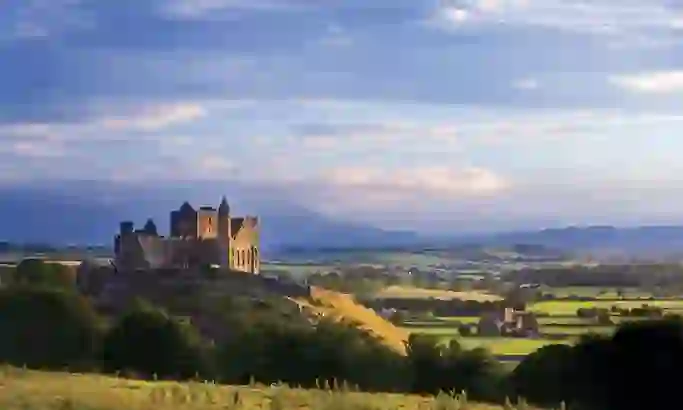 9 fun facts about St Patrick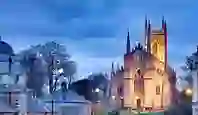 Why 17 March?
Simple – the date marks the saint's death. Patrick died in 461 in Saul, County Down. It was here that he had established his first church in a small and simple barn, after arriving nearby at the mouth of the Slaney River. He is buried in the grounds of Down Cathedral in Downpatrick and a memorial stone, made from local Mourne Mountain granite, marks his grave. For those who celebrate its intended meaning, St Patrick's Day is a traditional day for spiritual renewal.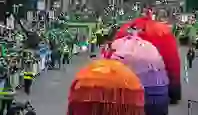 When was the first parade?
Interestingly, the first St Patrick's Day parade was not held in Ireland at all, but in Boston in the United States in 1737. This was followed by an "official" parade in New York in 1766. Ireland was a little further behind – our first parade was held in Waterford in 1903, while Dublin joined the club back in 1931. Today, the parade in Dublin is a huge, colourful, theatrical event that snakes through the historic city centre, with vivid displays and international bands.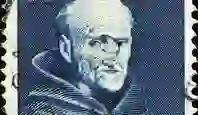 Who invented St Patrick's Day?
Raise your glasses to Luke Wadding, an Irish Franciscan friar from Waterford whose persistent efforts turned March 17 into a feast day. Born in 1588, Wadding died in Rome in the 17th century and his remains are interred there in the college of St Isidore's, which he founded. If you visit the National Gallery of Ireland, you can see a painting of the friar by Carlo Maratta, while in Waterford city he is commemorated with a statue outside the French Church (Greyfriars).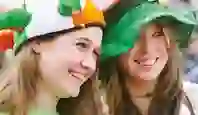 Are there any unusual parades?
Short, long, silly or serious, you'll find every manner of St Patrick's Day parade all over Ireland, from the biggest in Dublin to the earliest in Dingle, County Kerry, where it kicks off at 6am. There's a week-long festival in Armagh, and a carnival parade and concert in Belfast. The shortest parade in the world used to be in Dripsey, County Cork, from one pub to another. Sadly, the parade is no more but you can still celebrate in the town with the annual Dripsey Vintage Tractor and Car Run.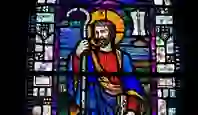 Was St Patrick really Irish?
No, he wasn't born here. St Patrick was named Maewyn Succat and was thought to have originally come from either Wales or Scotland, where he was abducted at the age of 16 by Irish pirates and brought to Northern Ireland as a slave. Once here, he was sent to Slemish Mountain in County Antrim to herd sheep. But on his escape, he had a vision and returned to Ireland to spread the word of Christianity to Ireland. It was on this island that he remained for the rest of his life, preaching, baptising and building churches until his death in 461 in County Down.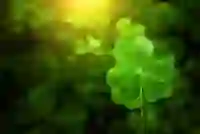 Why do we celebrate with shamrocks?
It's said that when St Patrick returned to Ireland, he chose a shamrock as a tool to teach the pagan Irish about the Holy Trinity. As he spread the word about Christianity, Patrick used the three leaves of the plant to represent the Father, the Son and the Holy Spirit and the shamrock has been associated with the saint ever since. You'll see them everywhere around St Patrick's Day – even in the White House as we present a bowl of shamrock each year to the US President.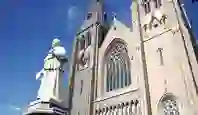 Where did he go in Ireland?
There are sites all over Ireland associated with St Patrick, which goes to show how far this 5th century saint travelled. The Rock of Cashel, County Tipperary, and Croagh Patrick, County Mayo, are among the most famous, but there are lots more besides. Follow St Patrick's Trail in Northern Ireland and you can visit Armagh's two impressive cathedrals dedicated to the saint, as well as Saul Church and the St Patrick Centre in County Down.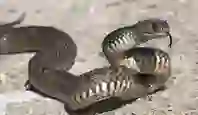 Did St Patrick really banish snakes?
Tradition has it that the reason there are no snakes in Ireland is down to our patron saint, who chased them into the sea. It's a good story all right, but most scientists now believe that snakes never existed in Ireland in the first place. Interested in more of Ireland's natural history – including reptiles? Drop into the wonderful Museum of Natural History on Dublin's Kildare Street, to find out more about our island's fauna in a lovely old Victorian building.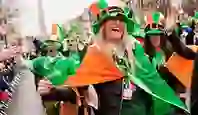 Why do people wear green?
Green is a colour now synonymous with St Patrick's Day, as people of Irish descent all over the world wear a piece of green clothing on March 17. But the wearing of green only became a tradition in the 19th century. Up until then, the colour most commonly associated with St Patrick was actually blue. Today, it's all about jade and emerald, moss and olive, so if you're visiting Ireland on or around March 17, make sure to pack something green.