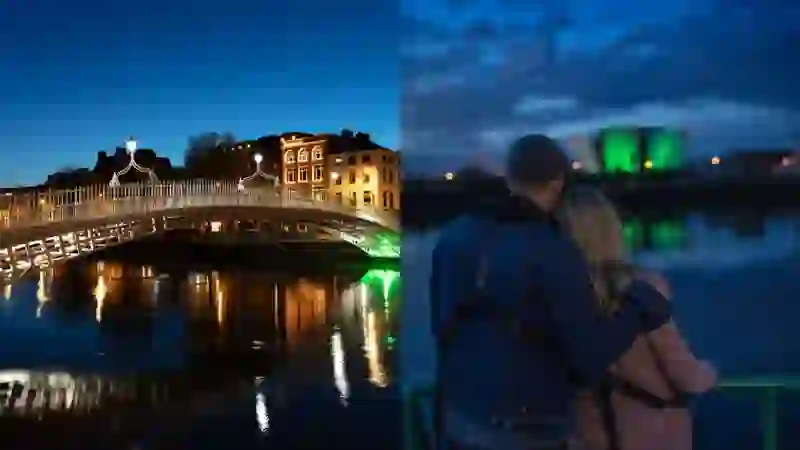 5 cosy ways to spend an evening in Dublin & Belfast

Dublin
Stretching from South William Street to George's Street and from Stephen Street Lower to Exchequer Street. The chilled atmosphere spilling out from the cafés and bars reflects the free-flowing creative culture of this area, which was once home to Dublin's clothing trade, Now, a whole host of creative designers and artists have made it their own and their finely decorated boutique stores and galleries are filled with treasures for curious shoppers.
Belfast
The oldest part of the city, Cathedral Quarter was once home to Belfast's old trade and warehousing district. Now, it has blossomed into a bustling hub of dynamic culture and arts, complemented by stunning architecture. Its narrow, cobbled streets and alleyways are home to cosy pubs, contemporary restaurants, and some underground music venues.

Belfast
Built in 1826, the Crown Liquor Saloon oozes Victorian elegance. Sip in style here beneath a mosaic ceiling and surrounded by original gas lamps – the most decadent of looks! Stop in for a wee dram at The Duke of York, and while you're there check out the amazing public art in the outdoor area and the artefacts, posters, and advertising signs indoors that give the place a vintage charm. For a more modern setting, The Dirty Onion may be based in one of Belfast's oldest buildings, but it gives the authentic Irish pub a modern twist. And if you're in the mood for something quirky, head to Cuckoo – a chic bar and self-proclaimed 'geekeasy', this place has everything you need for a great evening, with ping pong, board games, and even an arcade!
Dublin
The Brazen Head lays claim as the city's oldest pub, open since way back in 1198! It's such a Dublin institution that it even got an honorary mention in James Joyce's epic novel Ulysses. Traditional music fans will love James Toner's, combing a lively atmosphere with nightly music sessions. The Long Hall's Victorian splendour (think ornate carvings and elegant chandeliers) is one of the city's most beautiful pubs, and a local favourite. If you're looking for somewhere laidback with a touch of chic, the secret No Name Bar will serve you up just that – and a signature cocktail too! At the cosy Cassidy's Bar you can have a chat over a drink while you break out the board games, and for a pub with pedigree, try The Stag's Head: built in 1770, this is a pub so pretty it's starred in films such as Educating Rita and A Man of No Importance.

Dublin
Once a bookshop, the elegant Georgian setting of The Winding Stair is packed with vintage charm, a creative menu, and a bookshop on the ground floor. For traditional and contemporary Irish food an award-winning option is Johnny Fox's Pub, the highest pub in Ireland, where the rustic setting makes you feel right at home with a delicious Irish lamb stew. Meanwhile, haute cuisine meets chilled atmosphere at the Michelin-starred Chapter One. It's French-inspired cooking with a contemporary Irish twist. If it's casual dining you're after, try Mexican-meets-Irish at the urban 777, or head to Matt the Thresher where they are all about fresh wild Irish seafood.
Belfast
The Victorian-style Rayanne House offers a five-star, nine-course meal that was served to first-class passengers on the Titanic. Imagine Filet Mignon topped with Foie Gras for starters. For a pre-theatre bite, try James Street. With a seasonal menu and local produce, food is as fresh as it gets. Meanwhile, the Mourne Seafood Bar is tucked behind a fishmonger's shop, so you're guaranteed the catch of the day (just be sure to book ahead). If you're looking for casual dining, Yardbird above The Dirty Onion is famous for its chicken, or you can break the rules at Maggie Mays, where they serve breakfast and dinner all day!

Belfast
Once a Victorian church, The Belfast Empire Music Hall is now home to some of the finest rock, jazz and traditional music acts in the country. Meanwhile, The Grand Opera Hall is the oldest theatre in Belfast (1895) and has been honoured by performances from a galaxy of stars, including Pavorotti and Van Morrison. For something eclectic, the Oh Yeah Music Centre is a not-for-profit that supports young and upcoming acts. Looking for a bit of edge? Try The Limelight, a pub/nightclub renowned for its live rock and indie music. Oasis, Manic Street Preachers, and Kaiser Chiefs have all graced the stage.
Dublin
The 3Arena is a state-of the-art-venue with an intimate atmosphere, and they have hosted some of the biggest names in music (Lady Gaga, Bon Jovi, Beyoncé), while Whelan's is a Dublin institution: part traditional pub, part live music venue, it mixes trad, indie, and rock over two levels (look out for the Stone Man propped against the bar). Vicar Street is a cosy setting for smaller performances, with a strong emphasis on soul, folk, jazz, and foreign music. Meanwhile, The Grand Social's three differently themed floors hosts live music, DJs, and even pop-up flea markets.

Dublin
The Abbey Theatre, founded by WB Yeats and Lady Gregory, is Ireland's national theatre, putting on everything from classics to cutting-edge. The Gate Theatre, where Orson Welles, Geraldine Fitzgerald and Michael Gambon began their acting careers, offers audiences shows from overseas as well as home-grown plays in an intimate venue. Smock Alley, the first Theatre Royal built in Dublin, opened in 1662 and is now Ireland's 'oldest newest theatre', hosting drama, comedy and more. The Gaiety Theatre is buzzing with musicals, west end hits, pantomimes and plays.
Belfast
Northern Ireland movie legends Liam Neeson and Ciaran Hinds got their start in the world-class Lyric Theatre. Recently refurbished, the building hosts a state-of-the-art theatre in a cosy setting, with spacious bars overlooking the river. The Black Box is renowned for its eclectic atmosphere, and it is a home for Belfast's emerging local acts. Expect everything from film to cabaret. Looking for alternative cinema? The Queen's Film Theatre is a small independent theatre at the prestigious Queen's University Belfast, showcasing new and classic films, while the award-winning MAC is Belfast's newest arts venue, putting on world class theatre, along with art, photography, and sculpture.