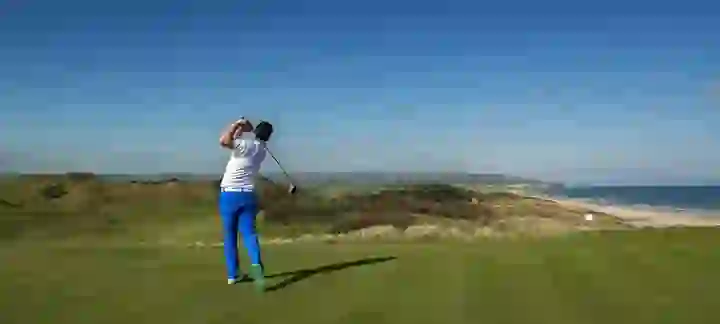 Ireland – a links paradise
For most of us, the finest links courses in the world remain tantalisingly out of reach. We might grab little peeks of them through the gates or perhaps we've seen Rory, Dustin, Justin or Jordan destroy 18 holes on TV, but that's as close as we get. Not on the island of Ireland.
The whisper among golfers about easy access to Ireland's links courses is turning into a roar. A look at courses like Royal Portrush on the County Antrim coast or Old Head Golf Links on the Old Head of Kinsale in County Cork might lead you to believe that this is membership only territory. It's not. Here are six open-to-all classics to whet your appetite.

Royal Portrush, County Antrim
It may have started life with just 9 holes back in 1888, but it was only a matter of a year before Royal Portrush was an 18-hole charmer. Among others, Gary Player, Arnold Palmer and Tom Watson have stalked the greens here on Antrim's enchanted coast while the "Royal" part of the club's name derives from its patron, the Prince of Wales (later to be known as King Edward). When 2011 PGA champ Keegan Bradley arrived here for the Irish Open in 2012 he described it as a homecoming. You may well relate. The course had a major upgrade before The 148th Open, the world's oldest Major, was held there in 2019.
Waterville Golf Links, County Kerry
With a location on the world-famous Ring of Kerry, Waterville Golf Links has it all: a heady combination of dunes, gorse and native grasses, sod-faced bunkers and subtle putting surfaces. Right on the edge of the Atlantic Ocean, the landscape at Waterville changes colour with the shifts in weather, making it look just as dramatic in clear sunshine as in cloud. According to Course Designer Tom Fazio, "Everything at Waterville is spectacular – the setting is one of the best that I have seen anywhere in golf". Little wonder then that it regularly features as one of the top 100 courses in the world.

Old Head Golf Links, County Cork
Humpback whales splashing in the swirling waters, swooping seabirds, and scampering hares – you're certainly at one with nature's immense power on this beautiful links in County Cork, at the southernmost tip of the Wild Atlantic Way. Encompassing 180 acres of a diamond-shaped rocky promontory extending over 3km out into the Atlantic Ocean, Old Head possesses cliff-top drops for half of its 18 holes. Designed as a walking course, this is where memories will be made – just remember to keep your eye on the ball.
Royal County Down, County Down
"Every blade of grass is perfectly manicured, but it's a layout that feels perfectly unmanipulated". In one sentence, eulogising the perfection of Royal County Down, Golf Magazine had cracked the secret to a perfect links course. Under the shadow of the Mourne Mountains, the course – made up of the Championship and Annesley links – has taken more than a century to get to where it is today. And its status as an extra-special place was cemented when it was voted the world's No 1 course outside the US by Golf Digest.

Lahinch Golf Course, County Clare
Part and parcel of the fabric of Irish golf for 125 years Lahinch's Old Course has undergone many changes since Old Tom Morris came over from Scotland to create it in 1894. Over the years, the course has been enhanced by esteemed architects Charles "Mo" Gibson, Dr Alister Mackenzie and Dr Martin Hawtree, and it now stands as an enjoyable and challenging test of skill and expertise – and was a venue for the Irish Open in 2019. Keep an eye out for the goats while you're here. It's said if they're seen near the clubhouse, the weather prospects aren't so good; if they're out on the dunes, the day is sure to be fine.
Portmarnock, County Dublin
Founded in 1894 on a sandy peninsula that was once only accessible by boat, this wonderful links course is renowned worldwide. A purely natural course, Portmarnock has hosted 19 Irish Opens as well as the Walker Cup and the Canada Cup – now the World Cup of Golf – and its finishing holes are regarded as some of the best to be found anywhere. Often described as a true test of golf, Tom Watson noted on one of his visits that at Portmarnock, "There are no tricks or nasty surprises, only an honest, albeit searching test of shot-making skills."
Your golfing odyssey doesn't end here. Check out our other courses around the island, and remember – there's more to a golfing trip to Ireland than just the golf…