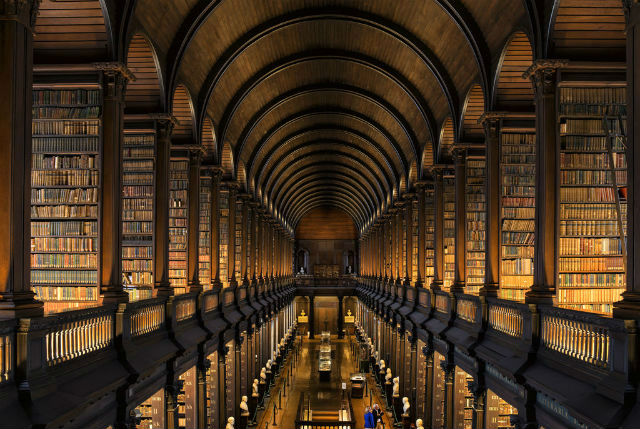 Samuel Beckett
Perhaps best known for his avant-garde writing style, Beckett was a novelist of renowned distinction, with a unique and amazing turn of phrase. Born in Dublin just after the turn of the century, he was apprenticed to James Joyce in Paris during the 1920s, and stayed on as a member of the resistance during World War II. Between World War II and the 1960s he produced some of his most prolific works, including Molloy, Eleutheria and, of course, Waiting for Godot.
James Joyce
One of Ireland's most celebrated writers, James Joyce was born and raised in Dublin, before he moved to Paris to further his study in medicine. During his lifetime, the prolific writer lived in Croatia, Italy and Switzerland, fleeing the encroaching World War I. In 1914 his first novel, A Portrait of the Artist as a Young Man, hit the shelves, closely followed by Dubliners, which followed the lives of several citizens over the course of a day. In 1922 his most famous work, Ulysses, was finally released after nearly a decade of writing, immortalising him in the Irish canon, and spawning the world-famous Bloomsday festival every June 17th.
Seamus Heaney
Born in Castledawson, Northern Ireland, in the 1930s, Seamus Heaney is one of Ireland's most beloved sons. Growing up in Northern Ireland, he had a strong background in rural Ireland, and images of farming and the beautiful countryside of his hometown fill his work. His poems Digging, Mid-Term Break and Death of a Naturalist are perhaps some of his most famous and popular, and contributed to his winning the Nobel Prize for Literature in 1995.
Oscar Wilde
Is there a more quoted literary figure from Ireland than Oscar Wilde? Known for his piercing wit and scathing satire, Wilde is renowned as the author of The Picture of Dorian Gray and The Importance of Being Earnest, among many others. One of the proponents of the aesthetic movement that focused on beauty for the sake of beauty itself, he is remembered for his run-in with the law following the revelation of his homosexuality, and his immensely quotable works: "We are all in the gutter, but some of us are looking at the stars."
Emma Donoghue
One of Ireland's most interesting contemporary novelists, Emma Donoghue has a list of accolades to her name. Room won both the Man Booker and Orange prizes, and she adapted it into the wildly popular feature film of the same name, for which she was nominated for an Academy Award. Dublin-born, she now lives in Canada with her family, and writes extensive works of fiction, non-fiction, books for children and, of course, screenplays. 
John Banville
Wexford's John Banville is perhaps best known for his Man Booker-winning novel The Sea. But this author has been writing for years – his career began in 1975 with a collection of short stories, swiftly followed by a number of popular novels. Travelling around the world while working for an airline, his works draw on many different cultures, famous historical figures and experiences around the globe. A must for literature lovers!