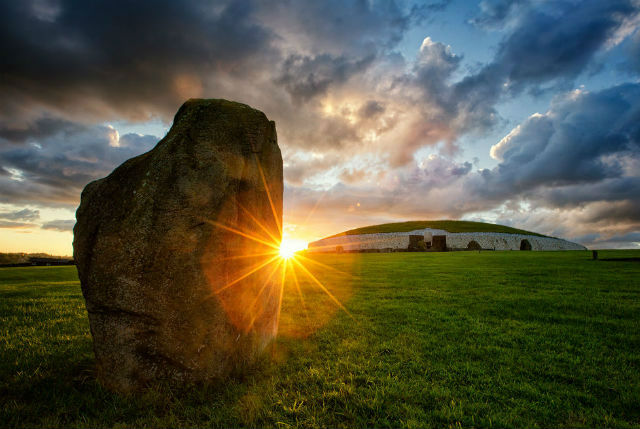 A is for Armagh
And specifically, apples from Armagh. Every year, the Armagh Apple Festival lights up the smallest county in Northern Ireland with harvest-time fun.
B is for Belfast
The largest city in Northern Ireland, one of two capital cities on the island of Ireland and a buzzing hub of music, food and culture.
C is for Castles
The ruins of Dunluce Castle clinging to sea cliffs, the "leviathan" telescope at Birr Castle and getting the gift of the gab at Blarney Castle – this island is covered in fantastic fortresses.
D is for Dublin
The other capital on the island, Dublin features Viking history, top sights such as the Guinness Storehouse and the Book of Kells at Trinity College, plus fabulous festivals almost every week of the year.
E is for Ireland's Ancient East
This beautiful region covers 16 counties, 5,000 years of history and hundreds of thousands of amazing stories.
F is for Football
There are two types on the island of Ireland! Not for the faint-hearted, Gaelic football is a high-speed game incorporating the hands as well as the feet, while the second kind is usually called soccer.
G is for Giant's Causeway
A whopping 40,000 hexagonal basalt columns stretching out into the sea, formed by volcanic activity millions of years ago. Or an incredible area on the Antrim coast created by the giant Finn MacCool? Either way, this is one intriguing landscape.
H is for Hurling
One of Ireland's national sports, hurling is played with a small ball called a sliotar and a large stick called a hurley. It's also one of the fastest field games on earth!
I is for Irish
The Irish language is alive and well around the island! Taught in schools, most people would know "cúpla focail" (a few words) of Irish. Of course, in Gaeltacht areas like Connemara, it's the locals' first language!
J is for James Joyce
One of Ireland's most famous sons, the literary luminary known as James Joyce was born, raised and found inspiration for his works in Dublin.
K is for Killarney
One of Ireland's most famous spots, the picture-perfect town of Killarney sits pretty amidst the naural splendour of the Ring of Kerry – renowned for its friendliness and charm, it's a must for any visitor to Dublin, a UNESCO City of Literature,
L is for Louth
Ireland's smallest county is perched perfectly between Dublin and Belfast, and is nicknamed "the Wee County" for its tiny size.
M is for Music
Whether it's traditional or contemporary, Ireland has a huge music scene that has influenced global trendsetters both on and off the charts.
N is for Newgrange
The chamber of this ancient passage tomb in County Meath lights up with a spectacular light show at dawn every year on the winter solstice. And it was all made possible by Stone Age engineers.
O is for Old Bushmills
Old Bushmills is one of the few distilleries in the world to distil, blend and bottle their whiskey under the same roof, and it's also the oldest working distillery on the island of Ireland. 
P is for Patrick
The patron saint of Ireland, St Patrick spent his early years on Slemish Mountain in County Antrim before embarking on his mission to bring Christianity to the people of Ireland.
Q is for... nothing?
We promise, we're not cheating! The letter Q doesn't appear at all in the Irish alphabet – in fact, nor do k, v, w, x, y or z for that matter.
R is for Rugby
Ireland has a proud tradition of rugby, with a huge legacy of punching well above our weight against some of the biggest rugby nations in the world! Brian O'Driscoll and Jonathan Sexton, anyone?
S is for the Seven Kingdoms
Did you know that you can find Westeros in Northern Ireland? It has more film locations than anywhere else in the world for HBO's Game of Thrones®
!
T is for Titanic
The legendary ocean liner has connections to both Belfast, where it was built, and Cobh in County Cork, where it stopped for the final time before setting off on its ill-fated journey in 1912.
U is for U2
Legends in their own lifetime, U2 originated in Dublin in 1976 as "Feedback", before becoming "The Hype", and eventually adopting the name U2 in 1978. The rest, as they say, is history!
V is for Valentia Island
Off the coast of County Kerry, Valentia Island offers amazing views of the Skelligs, as well as the preserved footprints of the tetrapod, one of the first creatures to venture onto land from the sea.
W is for Wild Atlantic Way
Taking in the Cliffs of Moher, the Skelligs and Mizen Head, amongst many others, this 2,500km journey down Ireland's western edge is the world's longest fully-defined coastal touring route.
X is for Ireland XO
For all you genealogical hunters, Ireland XO is a community of parishes around the island that helps connect the descendants of people who have left over the years with the place their ancestral home.
Y is for Youghal
The medieval walled town of Youghal sits along Cork's perfect coastline, looking out into the Atlantic Ocean. It's famous, too, with Sir Walter Raleigh said to have introduced potatoes to the island from here, while the 1954 film of Moby Dick was made here, too!
Z is for Zozimus
Michael J Moran, otherwise known as Zozimus, was a street bard who wandered the streets of Dublin plying his rhymes to the people. Today you can visit his grave at the famous Glasnevin Cemetery.